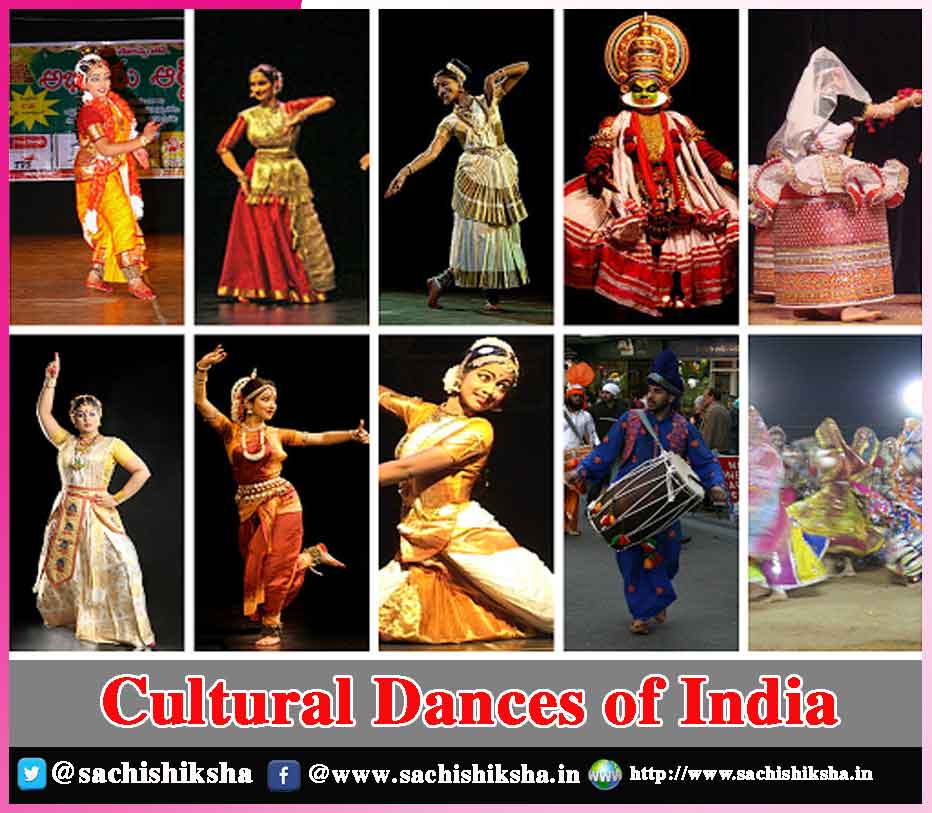 Cultural Dances of India
India is a land of cultural diversity with every state having its own unique cuisines, traditions, and dance forms. This article will lay stress upon some cultural dances of India. The classical dances recognized on a national level are Manipuri, Bharatnatyam, Kathakali, Odissi, Kathak, and Kuchipudi but every state of India has its folk dances and they are considered a way of devotion to god.
Also Read: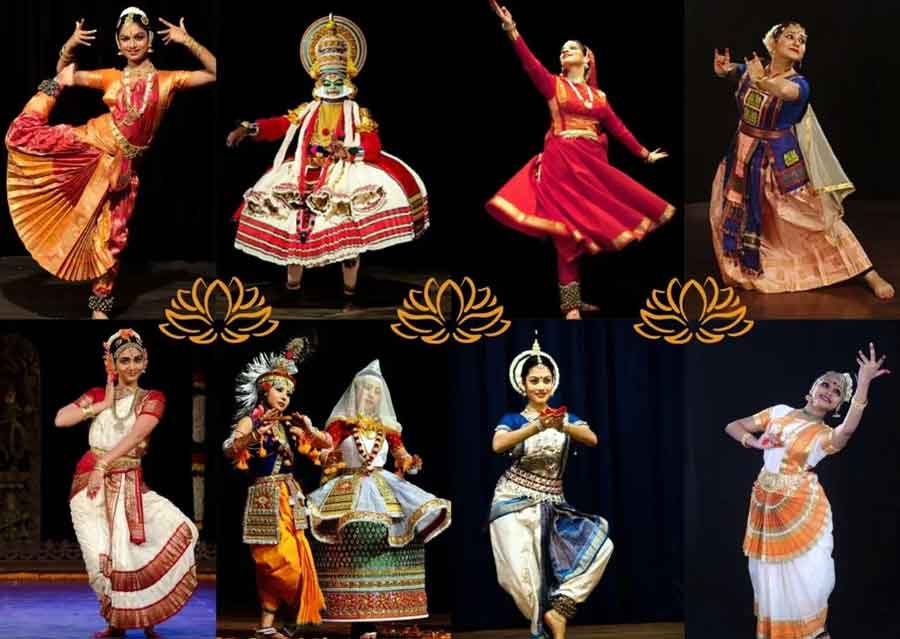 A dance form named as Bharatnatyam is originated in Tamil Nadu and it is performed on celestial tunes of Carnatic music. It was originated in 1000BC from the ancient temples of Tamil Nadu and was performed by the classical period women. This dance involves mesmerizing gestures and body movements which are termed as mudras. It lays stress on leg movement, hand gestures, and facial expressions of the performer. The dance was highly practiced by people before the British era but in the colonial period it lost its prevalence but it is still practiced in the houses by women of the southern region and it is a very respectable form of art.
Kathak is a form of dance that originates from a northern state of India that is Uttar Pradesh. It is derived from the word "Katha". Meaning of Katha in Hindi is the story. Although it is not used to narrate stories in the form of dance. It is considered to be a dance of love and both male, as well as female dancers, perform it. This dance form lays stress on ankle movements and the ankle has to match the beats of the music. Ghungroos is also known as ankle bells are worn on the ankles while performing Kathak because it is the discipline of this dance form in traditional culture. Major places where one can see Kathak performances include Lucknow, Jaipur, and Varanasi.
Another famous dance form of India is kathakali which is used for telling the stories. It is used for translating the storyteller into the language of the country. It is originated from the southern state of India, Kerala. It is a religious dance and is originated from tales of Shiva stories and Ramayana. It involves wearing of heavy costumes and intriguing facial movements which include a unique kind of body mask. One has to paint the body in green color before performing this dance and it is performed on local vocal music which is called Soppanam. Performers narrate both the good and evil sides of the stories by conversing through their facial expressions and body gestures. It is extremely fascinating to watch.
Another famous form of dance is Kuchipudi which belongs to Andhra Pradesh and it is considered to be the most difficult form of classical dance. It is just not a dance but a religious way to devote yourself to God via rituals like the sprinkling of holy water, praying to God, and burning incense sticks. It involves singing also along with dancing. Hence, it requires a lot of dedication and skills in contrast to any other dance form in India. In previous times, this dance form was only practiced by males of the Brahmincaste in the temples but as the time passed, it is becoming common among women also and now it is mostly performed by female dancers.
A renowned and mesmerizing dance form that can be witnessed in northeast India is Manipuri. It is performed in Manipur state of northeast India. It used to represent romantic relations between gods of Hindu mythology, Radha and Krishna. It is also termed as RaasLeela. This dance form is performed with a group or a team with traditional attire and makeup to present the story of Radha and Krishna. This dance form is performed on religious chanting and music produced by classical instruments.
Another amazing dance form comes from the state of Orissa/Odisha  and it is named as Odissi. This dance form is derived from the temples of Orissa. Almost all movements and gestures which are called mudras are inspired by idols and sculptors of Indian temples. It is a way of presenting mythological stories of Hindu gods like Surya and Shiva. The performance consists of a musically composed Hindi poem along with a mythical story. It is the oldest dance form in the country and it is practiced by female dancers only. It involves more than 50 mudras.
The most happening dance form of India belongs to the most charming state of India, that is Bhangra from Punjab. It is a heart-pumping form of dance performed on loud music and dhol beats. It involves wearing of colorful dhoti and Kurtas. It is an active dance form and it requires a lot of energy and stamina. Earlier men used to perform Bhangra and women used to perform gidda on local folk music but now women also participate in Bhangra and it is the most enjoyable form of dance to see.
Originated from Rajasthan, Ghoomarinvolves wearing of beautiful costumes and heavy jewellery. Rajasthani people perform Ghoomar on the beats of music with circular movements along with hand gestures.
Garba is a form of dance that originated in Gujarat and this dance form is dedicated to lords Durga. A couple performs Garba on local Gujarati songs. Sticks are also used to perform this dance form.
Rouf is a soothing form of dance mainly witnessed in Kashmir. It is performed by Kashmiris to mark the celebration of festivals and important occasions. In this, female dancers perform on traditional Kashmiri songs.