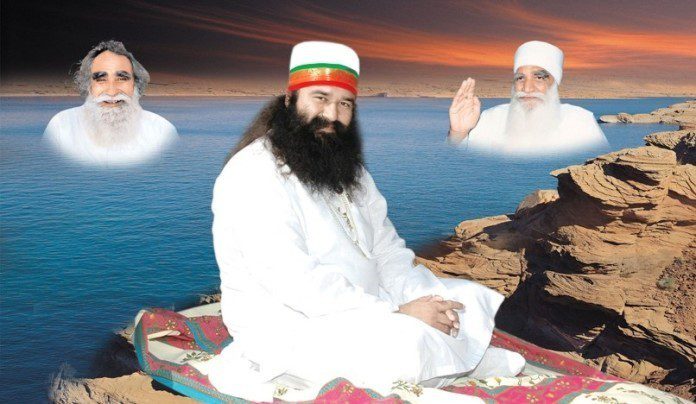 27 Years' Old Sweet Memories of "Revered Param Pita Shah Satnam Singh Ji Maharaj".
Continued from the last issue….
Sisters took seat in the area assigned for ladies and the Brothers sat in the area assigned for gents.
There was some domestic dispute in that family. That brother started urging to Revered Param Pita Ji, "Guruji! This lady is my wife and she calls me by pronouncing 'Oye.' I am literate and so I call her by pronouncing 'Ji' but she still calls me 'Oye'.
I do not call her by her name hoping she would understand the hint and follow me." After listening to this, Bhai Ji (who was one of the main servicemen/sewadar of the Serving Committee) said, "No, you should make her convinced to get bestowed with NAAM (method of meditation)" Then that brother started saying that she would not be able to keep the oath, she would make some mistake and then would become more sinner.
After this Revered Param PitaJi, affectionately did some counselling for them to stay together lovingly.
Today, many out of Sangat (gathering of followers) were describing various issues. Whenever one would stop, the other would start and it seemed almost everlasting. Revered Param PitaJi were answering their queries turn by turn.
Several times, devotees were sharing the same problem again and again (problems that are commonly heard and seen in every household). Revered Param Pitaji when told the Royal solution of a problem then that solution is applicable to every person , every family struggling with that problem, but still most of the affectionate devotees were sharing the same problems again and again.
To this Revered Param PitaJi said, "Bhai! Aaj Ta Bibiyan Te Bhai Shukravaar Tarah Gallan Karan Lag Gayiyan Han. Kite Bas Nahi Kar Rahiyan.
" That means today all the Sisters and brothers are talking as if it's Friday, they are just not ready to stop. Revered Param PitaJi shared what Shri GuruNanakDevJi had said about this situation, "Nanak Dukhiya Sab Sansaar."(The whole world is full of misery).
Revered Param PitaJi said that these words were written about 500-700 years ago, not today. If we see it in today's perspective, things have changed a lot now as compared to that time but even then these words are true as such.
Grievous Kaliyug (era of kaal – the death god) is here and it is still in its youth phase, it is not getting older soon. Tomorrow would be even worse than today. Don't expect any thing good. After that Revered Param PitaJi counseled the Sangat benevolently and compassionately that devotees need not go to the legal court of law.
They should settle their disputes with the help of their 'Gram Panchayat' (village court) which is all time cheaper than going to the judiciary court. "Even if you have to spend 50-100 Rs. extra, it should not bother you as it is still cheaper than the court settlement". This way Revered Param PitaJi affectionately and lovingly counseled the Sangat.
After that Param PitaJi was requested by the poets to speak a few words from the spiritual poems (shabads), one poem was as follows-
"Preet Guru Se Lagate Hain Aise Premi Kabhi Kabhi,
Lakar Od Nibhate Hain, Aise Premi Kabhi Kabhi."
After that Revered Param PitaJi directed them all to go and he himself came back to "TeraVas".
Here also Revered Param PitaJi met some Sadh-Sangat and a few service-men (sewadars) and gave them holy Prasad, they felt infinite joy and happiness to be graced by Revered Param PitaJi.
Date : 6th April 1986
Kind and Generous Revered Param PitaJi took His seat like any other day on time in Majlis with the devotees. There was a lot of rush. Followers had come all the way from Chandigarh, Ropad, Jaito, Mandi, Moga, and Dabwali and from several other villages and cities. With Revered Param Pitaji's permission, Prasad of flowers was distributed among the devotees. Revered Param PitaJi, by one or the other means kept telling humorous laughable things and made them laugh and also gave them the happiness to view His Divine Contenting Graceful Smile.
After that everyone requested Revered Param PitaJi to say a few lines, one such poem (shabad) was as follows-
"Bande Naam Dhya, Kharcha Age Ka Bana,
Man Ko Jeet Le, Main Ko Haar Ja."
One more poem was sung as given below-
"Baheno Te Bharavo Karo Kuch Te Vichar,
Naam De Bagair Jaanda Janm Bekar."
During this, one Quawwali was also sung heartedly. The tek (main line) of the Quawwali was as follows-
"Sab Bhul Gayiyan Rasma Riwazan
Jadon Da Sohana Peer Dekhya."
This educational and lovely Quawwali was written by Revered Dear Param PitaJi Maharaj by using very expressive and impactful words and it was also sung very well by the poet brothers. Revered Bestower was very happy and was gracing the Sadh-Sangat present there with His Divine Glance. After wrapping the Majlis program Revered ShanshahJi Maharaj granted permission to the followers to leave and he came walking tenderly and engrossingly to TeraVas.
In the evening, Revered ShahanshahJi Maharaj arrived at 4:45 PM to start the Majlis with the devotees and the Spiritual Majlis started. Bhajans and Holy Shabads were sung/ recited by some poets. Revered Shahanshahji Maharaj wore His spectacles and recited a few lines for the devotees from His Esteemed Diary. The Diary was very beautifully made.
"
[Ithe Baith Kise Nahi Rahna , Mela Bande Koi Dam Da,
Reha Utte Jahan Utte Koi, VaddeVadde Ho Guzre.
Jinna Kaal Pawe Naal Banneaan Duniya Te Uh Vi Chale Gaye .
Sohna Yusuf Si Putra Yaakub Da, Mull Peya Soot Di Atti.
Maan Chad da Kise Di Nahi , Maan Data Jehe Chale Gaye.
Jinha Uddan Khatoleyan Te Siddhe Maare Teer Rab Nu.
Aj Naam Unha Tha Na Koi Jane , Supne de Vang Chale Gaye,
Jinha Daava Si Khudai da Kita, Duniya To Uh Chale Gaye.
Aine Chal Ge Asan Bhi Chal Jana,
Seetal Ta Fer Jag Te Aavna. Aavna! Is Duniya Nu Hai Chadd Jaavna.
"
(This Shabad follows the same rhythm and music as that of Guddi's)
Revered Satguru Ji! Dear Giver! Shared this poem with the followers, "So Brother! The life is very short, just a few days. Life is of 50-60 years. In this grievous Kaliyug, everyone says, this is mine! That is mine! What the person does not remember is 'Death'. Fathers and forefathers also had to abandon their land here itself, nobody could ever carry even an inch or even a scratch of land from here".
"Mein Mein Mara Jag Sara, Mein Ko Kisi Na Mara.
Is Dhundh Dariya Mein Dooba Jag Sara"
Continued….