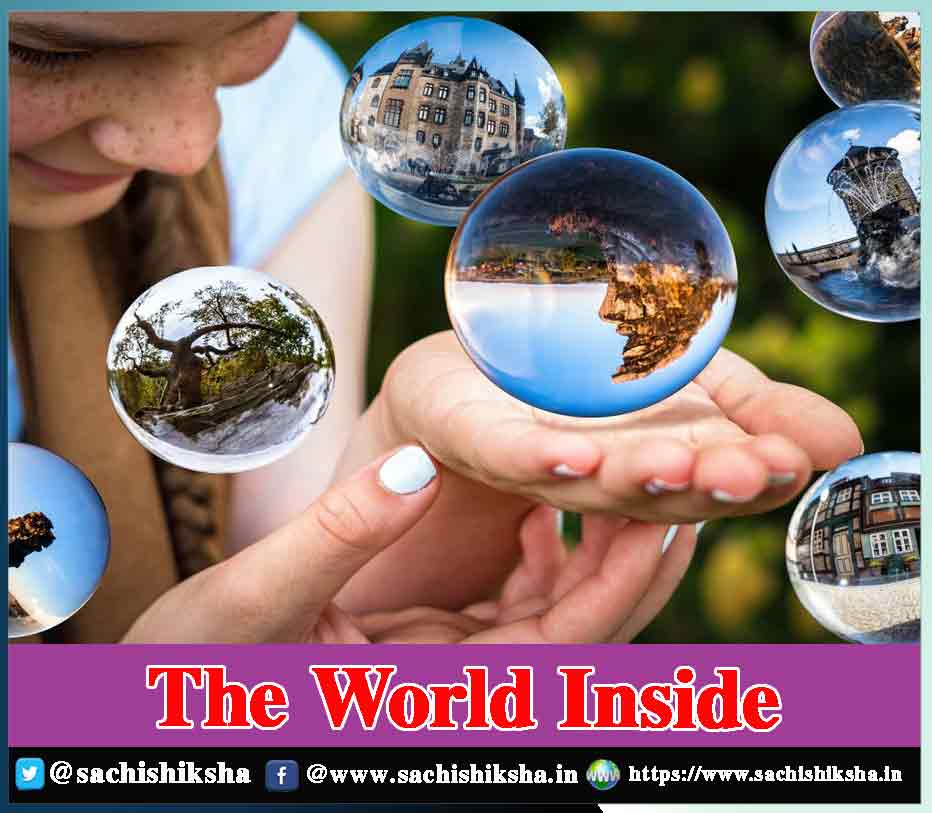 34th Day, 11:10 am, Satish was sitting in his spacious patio, sipping a steaming cup of coffee. In the background, some Saas-Bahu saga was unfolding a tale ofbickering andSatish's wife Sudha was totally engrossed, oblivious of Satish's state of mind.
Since the past few days his heroic nonchalance was being reduced to smouldering-ashes, his past continuously bearing into his conscience. As the sands of time flew away he remembered his childhood like it was yesterday.
A young Satish, of about 7 was trying to ride a bicycle and his father was holding the rear handle. Satish knew that his father wouldn't let him fall. Laughing the father-son duo made their way to their house.His mom was waiting for them to have dinner. They watched television, talked a bit and went to bed.
This was a usual happy routine at the Gupta's. Though the Gupta household managed with limited resources, it still flourished with happiness and contentment. Satish's parents absolutely adored him and he in turn ensured that he worked extremely hard at school scoring good marks and securing every award and prize in studies and sports alike.
Being a bright student he crossed another milestone when he got selected for IIT Kanpur. And four years later out came a young lad determined to prove his mettle. His dream of working for an MNC came true when he got selected in the campus placements for HP.
Remembering that day clearly,Satishreminisced how his father had made sure that their relatives and friends were stuffed with desserts and he had danced till the wee hours, at the end of which he cried emotionally like a child. This had to be the best day of his life. Starting his career, Satish threw himself into work, slogging hard.
He only desired to bring his parents to the city so that they could live together. Shortly afterwards he added another feather to his cap by acquiring a flat. Quickly he made arrangements and called his parents. And then marriage talks started & concluded in a year with the entry of Sudha in their lives.
Sudha, a highly educated girl became the apple of Satish's parent`s eyes. They showered her with just love and warmth. But Sudha neglected their care and concern and took it for interference. She disliked their opinions.Meanwhile Satish got so engrossed in his work that he failed to notice this insensitive behaviour of Sudha.
At times he overlooked all this and often found himself between his mother and wife. Somewhere in the craze foracquiring wealth he had forgotten the love for his parents. He also started disrespecting them taking his wife's side. One day such a fight erupted that the lone thread which was still binding the relations broke off. And then Sudha became hell-bent for separation.
In anger and frustration Satish decided to shift his parents to Sunshine Old Age Home. His parents were shattered and completely heartbroken. They pleaded and cried. But to no avail. Satish had made up his mind and sentenced his parents to isolation for their remaining life. Even their tear streaked faces couldn`t move him.
Those eyes which always longed to see him and those lips which always prayed for him had been neglected severely by Satish. With a parting wave and cursory glance Satish dropped themoff at the gate of the old age home. Satish met his parents once in a year and that too was perfunctory. He never called them and they lived in the hope that Satish would reconcile with them.
As the Saas-Bahu saga ended he aroused from his thoughts. This lockdown had been tough on him. His business which he had developed over the years was closed. He had enough time to introspect, bringing along these painful memories of separation. He didn't know that he had been missing his parents so much.
But the feeling of being locked up 24/7 made him realise his parents' ordeal. When he was yearning for freedom, his parents had been in this solitary confinement for years just because of him and his better half. He felt ashamed of himself. What had he become in this quest of luxury?
He stood up, kept his half drunk coffee aside and reached for his phone. Satish made a few calls to some undisclosed people, asking for help in these difficult circumstances, acquiring the required permissions. Two hours later he dressed up smartly and beckoned Sudha into his study room. In a sharp and clear voice he told her "Get Maa and Papa's room ready, they are coming back home and don't ever do anything to hurt my parents, this is their house."Satish hurried off quickly leaving Sudha tending to the homecoming arrangements.
Probably this lockdown is giving people the time to pause for a moment and think about all their mistakes, opportunity to rectify them. Deep in our minds thrives a wonderful world seldom explored by us. Take this lockdown as an opportunity to delve into the world inside and finish some unfinished work or tie some loose ends!
Follow us on Facebook, Twitter, LinkedIn Instagram, and YouTube to get more updates related to Sachi Shiksha – The Famous Spiritual Magazine in India. Also Read Our Hindi and Punjabi Editions.