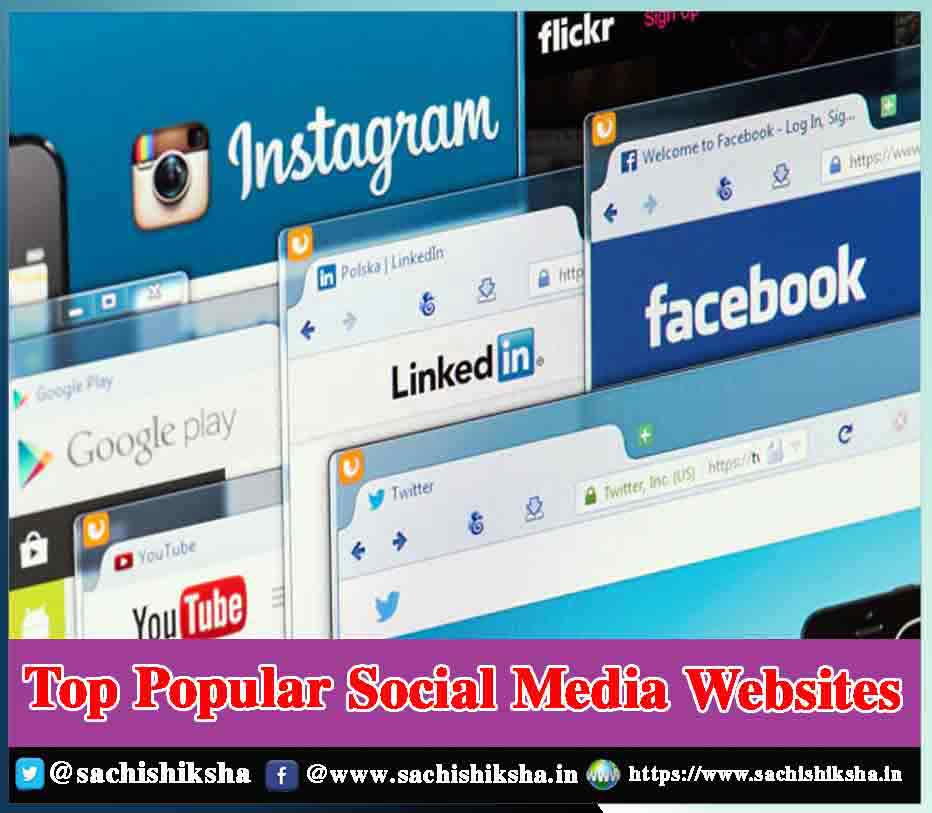 Top Popular Social Media Websites
The nature of human beings is naturally programmed to be socially active to some extent. Some people are highly functional, whereas others are less. However, humans always look to network and connect with each other.
In the era of digitalization, they have got ways to be socially active on the internet, which can be done via various social media apps and platforms. In this era, relationships start and even end on social media itself.
This article will discuss some popular social media websites used by the world population today.
Facebook
Facebook is the largest and most widely used social media website in the world. It was the first social media website that surpassed 1 billion accounts. It allows you to connect with family members and friends. It also works as a  market of products and allows a user to sell them online by promoting the brand or business by using the feature of Facebook ads. Recently it has lost the trust of its millions of users because it allowed third parties to access 87 million users' data. This was a massive break of faith, and users are deleting their user accounts and choosing other social media platform.
Whatsapp
It was acquired by Facebook in 2014. It is an instant messaging platform and has its entity. It was launched much later than Facebook, but it captured millions of users by offering them the facility to share the information instantly by communicating via individual chats and groups. It provides a call feature which is like icing on the cake.
QQ
Its full name is Tencent QQ, and it is usually known as QQ, another platform for instant messaging. It was launched in China, and then it was introduced in 80 more countries. It is used to connect with friends via voice chat, video calls, or simple texts. It also offers an in-built translator for translating the conversations.
WeChat
It is an app for all-in-one communication app for calling and messaging, just like WhatsApp, which allows you to connect with an individual of your choice. It was developed in China by Tencent.
QZone
It is another social media website like WeChat and QQ developed recently. It allows you to share pictures and watch videos, write blogs, listen to music and maintain diaries, etc. It permits you to select the accessories and customize the look of web-pages.
Tumblr
It is a social media website that has been owned by yahoo since the year 2013. It is a micro-blogging platform that is used to search and follow things you prefer. It allows you to post stuff like blogs or multimedia. It offers flexibility to customize everything.
Instagram
It is a unique social media website that is purely based on sharing photos and videos in the form of stories and posts. It allows one to capture best moment of his/her lives with the camera and transform them into artwork. This can be done as Instagram offers various filters to edit pictures and quickly post them on other social media websites like Twitter and Facebook.
Twitter
Twitter allows posting short texts, which are named tweets that have limited characters up to 280 which convey the message to the world. As the craze for online shopping is increasing and it allows promotions of business and brands
Skype
It is a social media website owned by Microsoft.It is very popular for communication as it allows you to connect with people via video calls and voice calls using text messages or webcam. It enables us to conduct group conference calls also. This is an effective social media website as calling is entirely free, and one can communicate with anyone located in any part of the globe.
Viber
It is a multilingual social media website that allows you to chat instantly in more than thirty languages. It also enables the feature of voice messaging. One can also have pictures and videos.
Snapchat
It is a social media website based upon image messaging, which allows you to chat with your friends via pictures. It permits you to check out live stories of current happenings and also explore the news.
YY
It is a video-based social media website based in China that allows group video chats. It allows more than 1 million people to watch one person doing a specific activity. Activities can involve singing or dancing&tutorial videos. Italso enables users to use the virtual currency, which can be converted into cash later on.
Pinterest
It is a social media website that allows you to share pictures or visual bookmarking. It also helps you find new ideas for your projects and helps you in DIY tasks, planning for home improvement projects, etc.
Linkedin
It is social media website for professional communication available in about 20 languages. It is used worldwide and is a perfect platform for connecting with various businesses, hiring candidates, etc. It has more than 450 million users at present.
Telegram
This is an instant messaging social media website just like WhatsApp and is available in about eight languages. It is mainly focused on the security and privacy of the sent message over the internet. It allows you to send texts that are self-destructive and encrypted. Telegram has always provided the feature of encryption.