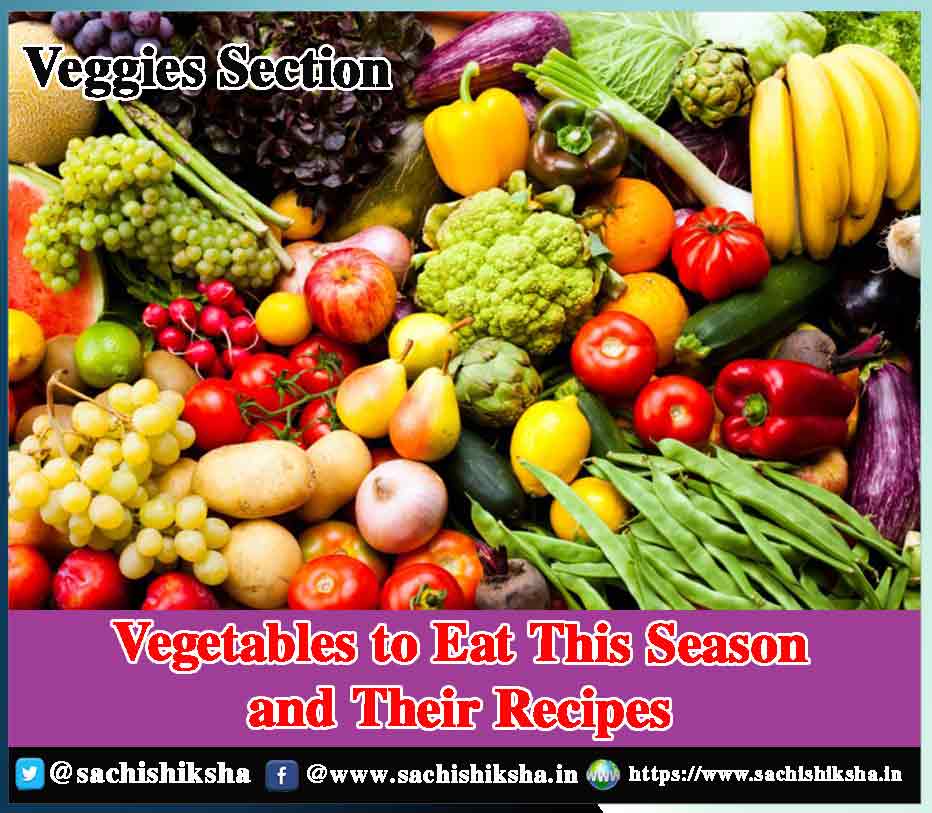 Vegetables have numerous health benefits. Individuals who consume more vegetables in their diet are fit and have less threat of some chronic illnesses because vegetables provide vital nutrients which are required for growth and maintenance of body. They are low in calories and fats and have no cholesterol.
They provide all necessary nutrients like vitamin A, vitamin C, folic acid, potassium and fibers which help in the maintenance of the blood pressure of the body, decrease blood cholesterol and chances of heart diseases also. Consumption of fibres gives activity to the body and assist in proper functioning of the bowel. It declines the risk of constipation and diverticulosis. Veggies containing vitamin A helps skin and eyes to fight against infections and vitamin C helps in healing bleed cuts and wounds and keeps in keeping gums and teeth fit.
Some delicious veggies tips for this season are discussed here. The most popular ingredient that is loved by Indian families is Indian cottage cheese and it can be used to make various dishes. For instance, "Teekha Karara Vegan Palak Paneer." It is a healthy creamy version of Paneer.  It is made up of Indian cottage cheese and spinach. For this a pot of water should be taken and water must be boiled.
Then add a pinch of rock salt followed by spinach. Boil the leaves of spinach for 2.5 minutes till they become flaccid. Then they should be taken out and should be kept in cool water so that they retain their color. In a mixer, blanched spinach must be put with green chilli, 2 cloves of garlic, ginger and tomatoes. Make a paste of it and keep it aside. A pan should be heated on medium oil and 2 cloves of garlic should be added to it.
Saute it until the color begins to transform and add cut onions. Cook it until it becomes soft. Then add the spinach paste to it along with half cup of water. Cover the pan with lid and heat for 10 minutes. It must be stirred at regular durations so that it may not stick at the bottom.
Once it is cooked, salt, red chilli powder, turmeric powder and garam masala must be added to it and mixed for 70 seconds. Then add coconut cream or milk and stir. Add pieces of tofu and let the curry get simmered for 3.5 minutes. Turn the flame off and add a bit of lemon juice and mix it well. Teekha Karara Vegan Palak Paneer is ready to be served with Parantha, Jeera rice, Naan or Tawa Roti.
Another delicious dish that can be tried this season is "Punjabi Dum Aloo". This can be prepared by blending three mugs of water, tomatoes and onions in a pan. Stir them well. They should be kept at medium flame for 13 minutes until it become translucent. Then it should be kept for cooling. Then mix it in a grinder for smooth paste and keep it aside.
Take a pan, sauté cloves of cardamom and cinnamon at medium flame for 40 seconds. Add onion and tomato paste to it and for 5 minutes sauté it at medium flame by continuous stirring. Sugar, salt, cream should be added to it and cook it for 1.5 minutes. Cook it for one more minute after adding coriander. Cook it for 1.5 minutes at medium flame after adding fried potatoes. Punjabi Dum Aloo would be ready and they can be garnished with coriander leaves and served with naan, laccha parantha or rotis.
One more dish for this summer can be "South Indian Mix Vegetable". It would require carrot cubes, cut French beans, shredded cabbage, cauliflower florets, green peas, curry leaves, ginger, fresh coconut, urad dal, green chillies, asafetida, mustard seeds, salt, turmeric powder and oil. Firstly, all the vegetables must be taken ¼ cup in quantity and they should be chopped and mixed with turmeric. Put it in oven for 4.5 minutes and keep it aside. Put oil, mustard seeds in a pan and heat it until it crackels. Then add urad dal.
Heat it until the dal turns pink and then add curry leaves, ginger chilli and heeng and heat it for a while. Put cooked veggies in it and sauté it for 5 minutes. At last, put some grated fresh coconut to it and sauté it. It is ready and can be served with fried, mixed or jeera rice.
Another delightful and yummy veggie to cherish this season is "European Kalimirch Baingan". For making it eggplants should be properly rinsed in the water. Cut them and put in salty water for 20 minutes. Take a pan, put olive oil in it and heat it until it becomes hot, add the chopped baingans.
Baingans should be sauté at medium flame for 5 minutes. Turmeric powder, white pepper powder and paprika should be added and mixed properly. Baingans should be sauté at low flame until they become soft. Finally they can be garnished with fresh parsley leaves and can be served with chapatis. Cooking and eating vegetables is going to be fun and healthy this season.
Follow us on Facebook, Twitter, Instagram, and YouTube to get more updates related to Sachi Shiksha – The Famous Spiritual Magazine in India. Also Read Our Hindi and Punjabi Editions.