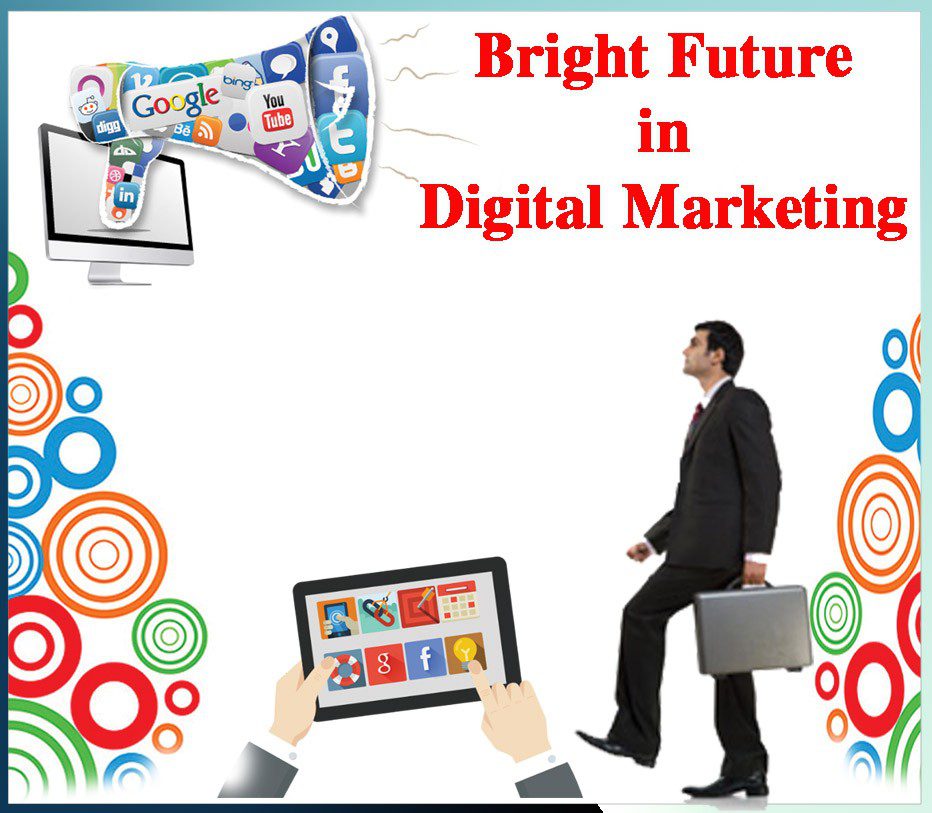 Today everyone's mobile keeps getting messages, number of times in a day, regarding marketing of one or the other products or services Earlier we used to be very surprised how this company has sent this message but now we do not get any surprise because generally the companies are busy in advertising their products.
New type of marketing
Digital Marketing marketing is done by mobile, internet and social media. For this, different kinds of tools like Social Media, mobile, email, Search Engine Optimization (SEO), Search Engine Marketing (SEM), Social Media Marketing (SMM), Social Media Optimization (SMO) are used.
The objective of these are also like the traditional marketing, i.e. to make aware the people at large, towards any product or service, and attract more and more customers. Because in digital marketing targeted advertisement, articles, discussions, links and comments are included.
Hard work of a large group of experts is there. This is the reason that job opportunities in this field is increasing continuously. According to a report by the Internet and Mobile Association of India, upto the year 2018, approximately 15 to 20 lac of new job opportunities will arise in this sector.
Where the Jobs will be
With the increase in importance of Product and Service Sector, the career opportunities are also increasing. Especially in the youth having knowledge of Traditional Marketing skill and Technology, Digital Marketing has come forward as a better career option. They can easily get jobs in Digital Marketing Agency or E-Commerce companies as Copywriter, Story Board Artist, Animator, Programmer, Web Designer, Campaign Manager, Online Executive, S.E.O. Manager, S.M.O. Manager, Email Manager, Social Media Manager.
In addition to increase in their digital attendance, most of the companies are establishing their own Digital Marketing Team, where Digital Marketing Professionals are given priority. There are large number of opportunities in Online Cab Service Companies and Retail Chains. In addition to this you can also open your own marketing company.
Salary Package
This is the Technical Career Field of New Era, hence salaries are also attractive here. In the beginning, Digital Marketing Professionals get 15 to 25 thousand per month. After experience of one or two years, and with their smartness, they can easily make 30 to 50 thousand per month; and after 5 to 7 years of experience, smart professionals get 10 to 12 lakhs annual package. Though for this reach you need to be a multi-tasker.
Field of Work
According to Samar Abbas, Director, Institute of Marketing Communications, India (IMCI), today the Digital Marketing Specialist is in great demand and has great importance too. These are the prime members of the marketing team and they have the sole responsibility of preparing the digital marketing content. These professionals prepare web banner ad, emails and websites and do branding for the companies.
They prepare marketing campaign for internet and digital technology which is advertised and telecasted by mobile phone and social media. The internet and communication skill of the professionals, working in this field is always very good. They have good knowledge of direct sales and digital marketing platforms.
Personal Skill
To make a successful Career in Digital Marketing, the most important factor is that you have to continuously increase your skills and knowledge in digital and marketing media. In addition to creativity, you may need the best technical skills. Technical skill means, you must possess good knowledge of web designs, social media and web related software; and in addition to this one must be updated with new software.
In this work comparative and review skill, leadership and communication skill is expected. You have to be mentally prepared to sit before computer, for hours together. If you are doing free lancing, for a project; you need to sit for hours at home and even you need to be active till late night.
Courses and Qualifications
For making career in digital marketing, you may need degree or diploma in Marketing, IT, Communications, Advertising and Sales. Some Institutes are offering professional courses like PG Diploma and Executive Diploma in Digital Marketing. For seeking admission in Post Graduation Diploma in Digital Marketing, candidate must be a graduate.
For the youngsters, who are graduate in Marketing, Mass Communication and Graphic Designing , this course can be more beneficial. Generally during the course, students are given information regarding Target Market Identification, Advertising strategy, Marketing campaign analysis, communication strategy, Technology, Basic Marketing Concepts, Search Engine Marketing, Search Engine Optimization, Social Media Marketing, Social Media Optimization, Email Marketing and Content Writing; so that the message can be conveyed satisfactorily to the mass.
Main Institutions
Institute of Mass Communications India, Delhi.
Bhartiya Vidya Bhawan, New Delhi.
TGC Animation and Multimedia, New Delhi.
Delhi School of Internet Marketing – Branches across India.
– PRITAM SINGH
Follow us on Facebook, Twitter, LinkedIn and Instagram, YouTube to get more updates related to Sachi Shiksha – the Famous Spiritual Magazine in India.