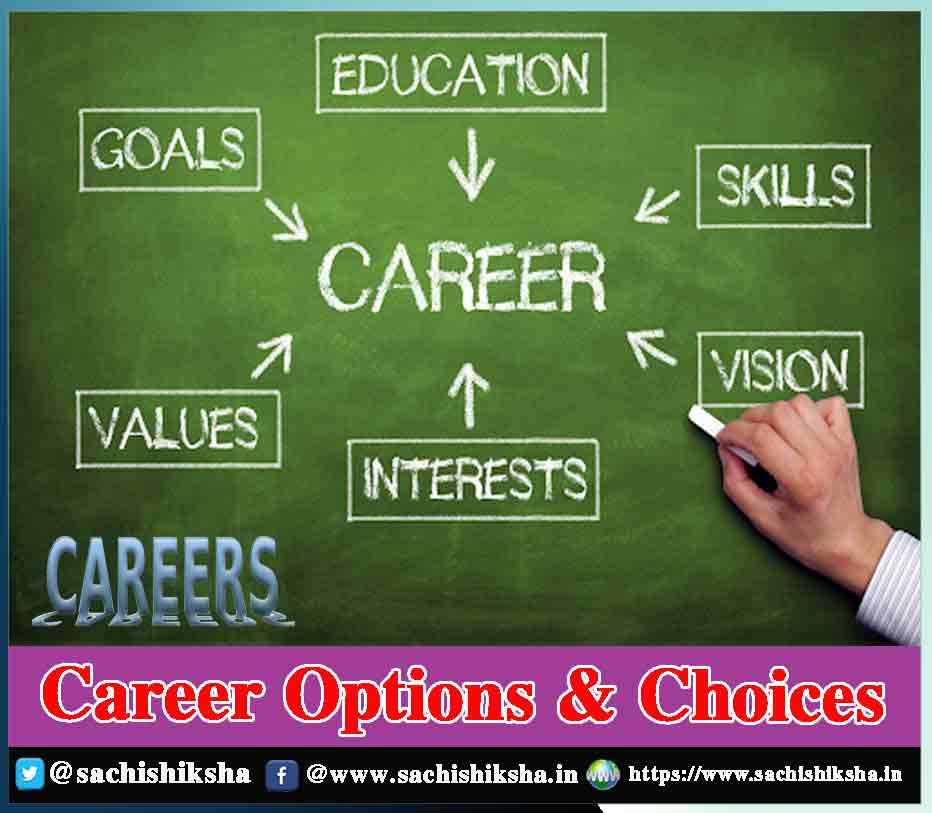 Career Options & Choices
It is extremely hard to choose an appropriate career option from the thousand available options. For choosing the right career, an organized process must be followed which will enhance the probability of making a better choice.
Assessing oneself will help in taking the correct decision. One must be aware of one`s aptitudes, soft skills, interests, and personality types. Career tests and self-assessment tools can be used for gathering details regarding traits. A list of different occupations should be created and should be carefully explored. One must also explore the professions one is not aware of.
Then, one should search for training, educational, and licensing needs and use government-produced labor marketing details to get information regarding job outlook and earnings. While choosing the right career for oneself, a person must never get influenced. One should select it on the basis of one`s own skills, interests, and passion. One`s own strengths must be kept in the mind. Choose jobs you know you can be good at.  Moreover, consider your goal and financial needs, they must align with each other.
This article discusses some popular career choices.
Flight Attendants
are the people who guide passengers in an airplane. They guide them regarding safety measures, greet them, serve food and perform a safety check.
Teachers
in schools teach students some specific subjects in a classroom. They evaluate the academic performance and development of a student by giving them grades on the basis of their tests and assignments.
Professors
in college draft syllabus, create curriculum for the course, and lecture pupils on specific topics. They also provide assignments, dissertations, research papers and assess the progress of the students. They act as a mentor for college students.
Nurses
are medical professionals who take physical examinations of the patients, evaluate their health history, and administer medications and treatment. They guide their patients for treatments plans and give them medical counseling.
Sales Representative
is an individual who sells wholesalers' or manufacturers' services and products. They guide consumers regarding these services and products.  They also generate consumer leads and keep looking for new markets.
Engineers
are the individuals who use their mathematical as well as scientific knowledge to build or design an engine or machine. They target to use scientific discoveries to solve different problems. A few of their rules involve the preparation of budgets, creation of project specifications, and making sure that every project finishes on time and within the set budget.
Physical Therapists
are the people who diagnose movement dysfunction in the patients. They create a treatment plan and tell them, particular exercises to assist them with their diagnosis. They also massage patients to heal the aid and eliminate the pain.
Database Administrators
check databases of the companies in different industries. They supervise the creation of the database and make sure that it works efficiently and also monitor its security. They also store and organize data sets and have roles regarding installation, configuration as well as troubleshooting.
Pharmacists
are the individuals who use their medicinal knowledge to make and dispense prescription drugs. They make sure that the doctor's prescription is correct and advise patients for safe and appropriate medicine usage.
Nurse Practitioners
are the nurses who do advanced practice and determine the requirements of a  patient, diagnose illness and create treatment plans and perform diagnostic as well as laboratory tests. They prescribe the needed medications and record symptoms of the patients and conduct physical examinations as well.
Pediatric Physicians
oversee the care of young children and infants. They make medical programs to assist their patients with physical as well as mental development, take exams to assess their health and development, and make a diagnosis on the basis of the exams.
To conclude, it is extremely crucial to take a strategic decision for a career which makes sure that you feel satisfied in life and happy at the workplace. While taking the decision, passion, skill set as well as interests must be keenly considered. They must align effectively with the chosen field.