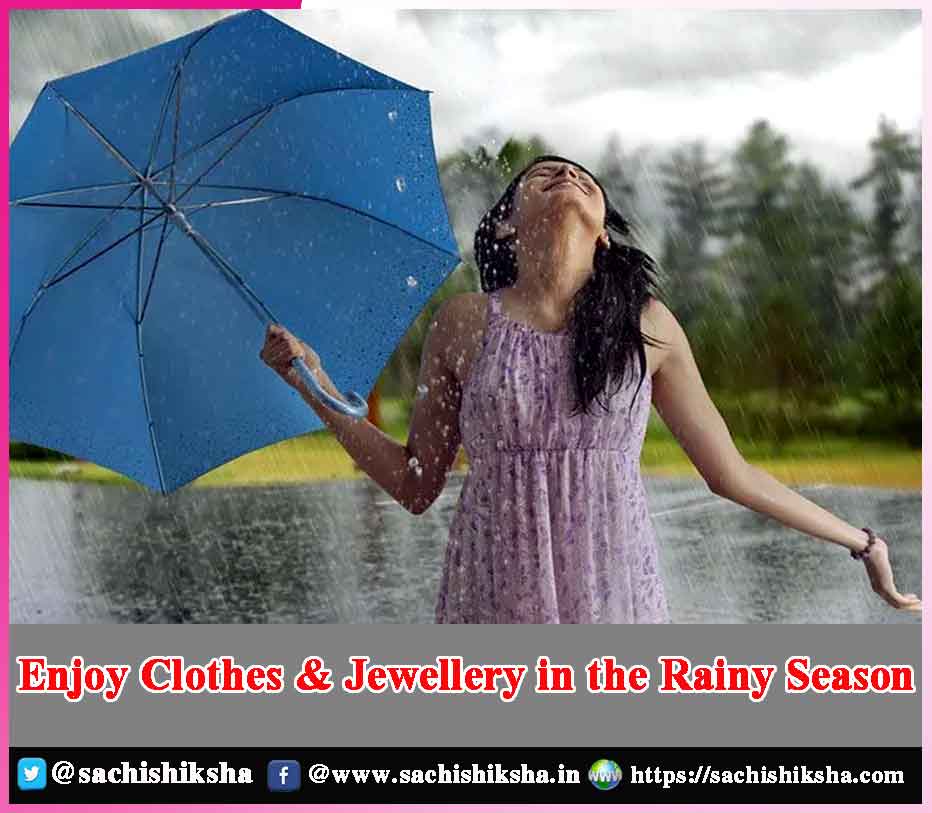 Enjoy Clothes & Jewellery in the Rainy Season
Everyone wants to look attractive in every season, be it rains, summers or winters. Attire and makeup complement each other. This works as icing on the cake. If the weather is romantic and you are looking different even in that season then no one will be left without talking about your smartness. You too can look different in the rainy season by taking a little care.
Also Read:
Selection of Clothes:-
Use silk clothes more in rains which dry quickly when they get wet.
Wear light colored clothes as little as possible because soil stains are easily visible on them. Wear slightly darker clothes.
Do not wear sarees with starch, because such sarees shrink when wet and fold when dry.
Wear cotton and Lizi Bizi blouses with sarees.
Don't wear clothes that are too tight. If they get wet, it is difficult to dry them.
Wear trousers instead of jeans which are comparatively light, easy to dry and work only with a light press. You can wear cotton top and T-shirt with trouser. You can also wear cotton cloth dungarees.
In the rainy season, instead of leather bags, keep rexine or nylon bags. Keep folding umbrella, tissue paper, comb, light fluff water proof make up items in your bag. By the way, nowadays raincoats sealed in packets are available. You can wear a raincoat while going on a scooter.
Heavy gold ornaments do not suit on rainy days. These days pearl jewelry looks dainty and nice. A light chain set or a small neck set can be worn on any occasion.
Silk sarees with light work suit a lot on the occasion of marriage. Do not wear heavy silk sarees during rainy days. Do not put pins on sarees. There is a fear of tearing of the saree when it gets wet in the rain.
Whatever clothes you wear, the dignity of your age, husband and your position should be maintained. Make a difference whether you wear saree, salwar kurta or western wear.
Makeup:-
Never apply heavy makeup. In case your makeup is washed off in the rain, pay special attention to the fact that your face does not look ugly.
Do not use talcum powder, compact, foundation etc. in rainy days. When it gets wet, distinct spots will appear on the face.
Wear light colored lipstick. By applying the outline, you can reapply the lipstick.
Apply eye liner water proof, otherwise it will flow on the face when it gets wet.
Do not apply dry vermilion bindi or wet bindi. Apply a dot matching the fabric to be glued. Take it off when it gets wet and throw it away.
You don't have to be ashamed of using waterproof makeup items.
Wear rainy shoes on rainy days. Don't wear high heeled shoes. There is a danger of slipping on the wet and muddy road. Don't even wear clothes and leather shoes.