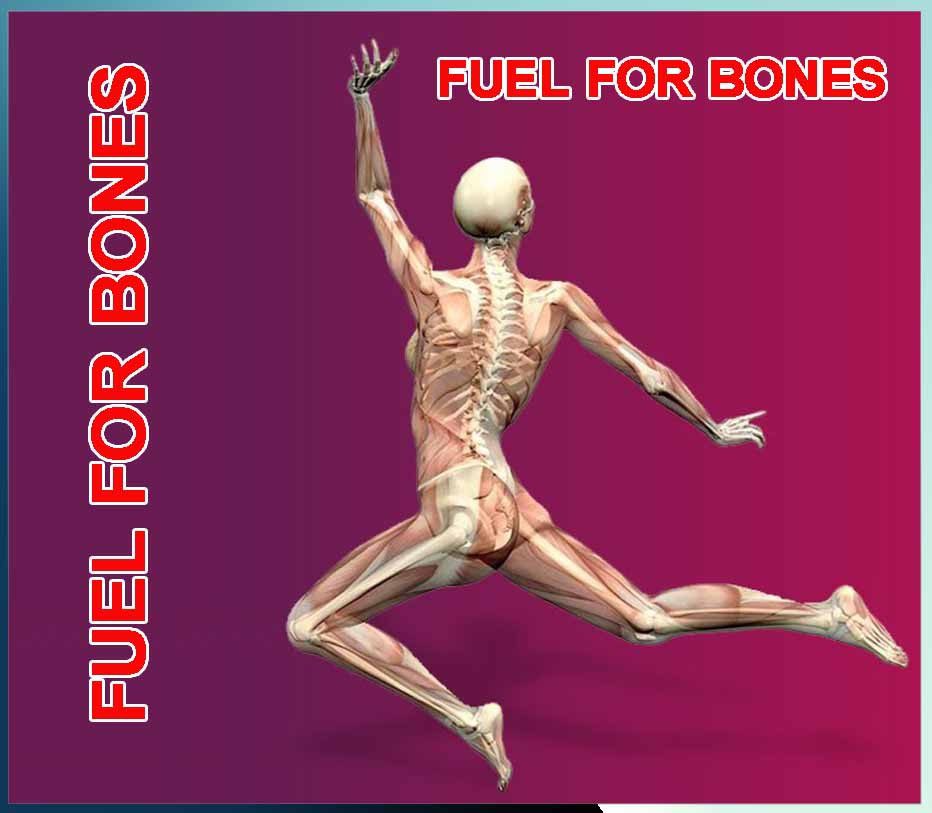 Fuel for Bones To make your bones strong and healthy, special nutrition is needed. All know that for the strengthening of bones, Calcium and Vitamin D is needed. But Magnesium, protein, Omega 3, Fatty Acids, Vitamin A, C and K are also needed for bones. Here are given some foods, nutritive products and fruits and vegetables which are necessary for our bones.
Orange Juice
Vitamin C is in abundance in orange which is helpful for the construction of colegan and helps in maintaining the health of the bones.  Orange is also a good source of Vitamin A, which is good for the development of bones and its nerves. If you are taking packed orange juice, take Calcium fortified juice.  This is more healthy.
Milk is Beneficial
Milk is the best source of Calcium which makes the bones strong.  Frankly speaking with one cup of milk, 1/3 of the daily Calcium need is fulfilled.  Milk is fortified with Vitamin D, so that the Calcium and excess Vitamin A is absorbed If you are calorie conscious you can go for low or non-fat milk
Fig
In fig there are minerals and Vitamins which are beneficial for the health of the bones.  In one cup of fig in addition to  approximately 180 gm of Calcium, Vitamin C and K is also available.  In fresh fig there is less calorie and excess fiber.  It is better to take two figs daily. Take fresh figs immediately and do not store it for long in the fridge.
Spinach
Spinach has all which we can get from a plant.  Spinach is good for bones because in addition to Calcium, it has Vitamin A, C and K. With this you can make variety of dishes.  Spinach has very less calorie.
Use spinach in salad, parantha, puri and sandwich. In preparing pulses, you can add leaves of spinach or you can grind it also.  Kofta can also be made.
Seeds of Pumpkin
Though pumpkin does not have much protein and Calcium, yet it is a best source of Magnesium  and Omega 3 fatty acids.  It is also rich in fiber. So it is better to take it as snacks. You buy cover less pumpkin seeds, you can easily taste it.
Kiwi Fruit
Kiwi is very good for bones. Kiwi has Vitamin C and Magnesium in abundance.  Kiwi also has Vitamin C, Vitamin K and Calcium. Put slice of it in the yogurt and serve cool.
Cashew Nuts
Cashew nuts has Calcium and Vitamin K in less quantity, but it has Magnesium and minerals in abundance. It has healthy plant protein. In some dishes instead of peanut butter you can use cashew butter.
These are also Good
Soya Milk, Tomato juice, Apricot, Yogurt, Beet and its leaves are also good. As Vitamin D is found in the sun rays, it is better to have at least 20 minutes morning sun rays in summer (at 8 am) and in winter you can take sun rays anytime.  It is a natural Vitamin D, which is free.
Prefer Solar Cooker Preparations
Solar cooker preparations are easy, without labour and free.  Moreover it the food prepared in solar cooker absorbs heat of the sun which is the best source of the Vitamin D.
Very easily you can take Vitamin D.
Some Homemade Oils
So many oils, jellies, creams and other things are available in the market for knee and back pain. They do give relief and especially in winter when there is stiffness in the joints, these things really work. If you do not want to go for these, you can make these oils at home.
Mustard Oil
It is a boon for the bones.  Take half katori of mustard oil and warm it well.  Put 4-5 pieces of garlic, ajwaain and ginger in it.  After getting it boiled, keep it so that it is cool.  Fill in a small bottle and apply it in night at the time of sleep.
Pure Ghee
In olden days there used to be a saying, though now young generation rarely believes in it.  'NA MAA KARE NA PIU, JO KARE GHYU"   means "Mother and father cannot do, what the pure ghee does for us".
It shows the secret of ghee power.
Take half katori of ghee and one spoon of rock salt (sendha namak).
Put on gas the ghee bowl and warm it well.  After taking it down from the gas stove, immediately pour one spoon of rock salt.
At night, when you go to bed, take some ghee with the finger and from the bottom take some salt also.  Massage it gently till the ghee is absorbed.
Within a week or so you will find the results.
Gingilly (Til) Oil
Take til oil from the market and when want to apply do it a little warm and then apply gently.  Til is a blessing in winter.
This is why we take til in different forms till Makar Sankranti.
Colour Therapy
Colours have their effect on our body and mind.  For example green colour is best for digestion, eyes and other stomach diseases. Once a Colour Therapy Specialist gave a lecture in the class.  He said that a man became insane. This can be due to many reasons.  Stressful life, lack of sleep and other problems. It can be hereditary also. But the specialist suggested his parents that take all other treatment, but take one advice of mine also.
Try to get the room painted with blue colour (sky blue), curtains of doors and windows should also be sky blue, put one blue colour gelatin paper on the bulb or tube. After a fortnight when the man went to doctor again, the results were surprising and pleasing.
This blue colour cooled down his mind. He could take sound sleep.
This resulted in improvement. The colour therapy treatment for bones is red, orange and brown.
When you prepare the oil for the massage, after putting in the bottle wrap red colour gelatin paper on the bottle and let it be outside, in Sun.
When it comes in touch with the sun, it starts becoming medicine. In case of severe bone pain, knee pain, back pain, sit in the sun (morning) try to wrap red gelatin on the place of pain.
20 minutes sun rays passing through red gelatin paper will work wonders. You put water bottles of brown colour and fill it 80% and keep the bottles in sun for 8-10 hours.
The brown water is ready which you can even keep in fridge also.
Taking medicine with the water will be a boon. In winter you take only this water. This will keep your appetite and digestion intact.
After the age of 40 you must give proper care to the bones.
Take supplements if needed under the guidance of the doctor.
– Kumud Mitra
Follow us on Facebook, Twitter, LinkedIn and Instagram, YouTube to get more updates related to Sachi Shiksha – The Famous Spiritual Magazine in India.