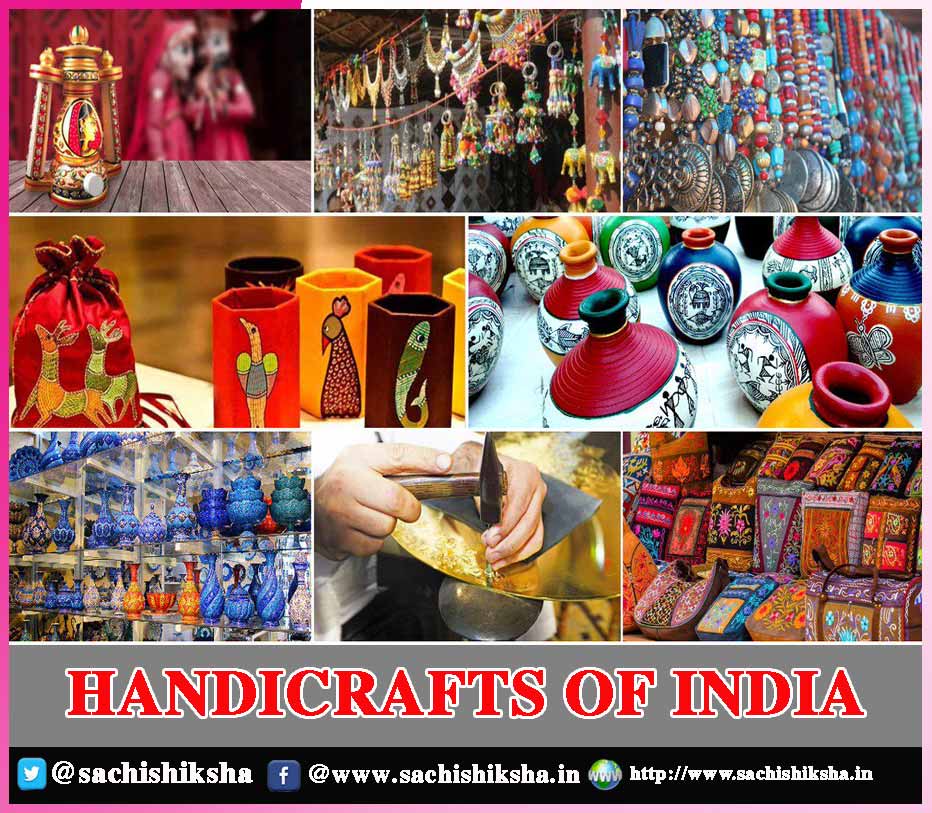 Handicrafts of India India features amongst the top most rated culturally rich countries in the world. The handicrafts of India have been loved and respected worldwide and have left everyone awestruck.
USA tops in demand for India's handicrafts followed by UAE, Germany, UK, Latin American countries, Italy, France and more. Handicrafts are a mirror of the cultural identity of the ethnic people who make it.
Also Read:
From time immemorial,
India is known for its customs and capability to display a plethora of creativity in the field of handicrafts. India is home to more than 3000 craft forms with artisans, spread across the country. Every state has its own art and culture which is unique and reflects the diverse history of that region. Kondapalli toys and Kalamkari painting in Andhra Pradesh, Thangka painting in Arunachal Pradesh, Kathputli in Rajasthan,
Bamboo and Cane Handicraft in Assam, Madhubani paintings in Bihar, Dhokra Craft in Chattisgarh, Azulejos hand painted tiles in Goa, Bead craft and Khavda pottery in Gujarat, Sarkanda Craft in Haryana, Wood carving and Chambarumal in Himachal Pradesh, Jadupatua painting in Jharkhand, Sandalwood carving and Mysore painting in Karnataka, Kathakali Masks and Coir products in Kerala, Warli painting and Kolhapuri Chappals in Maharashtra etc. This list of handicrafts is like the tip of an iceberg.
The art of making items and crafts by hand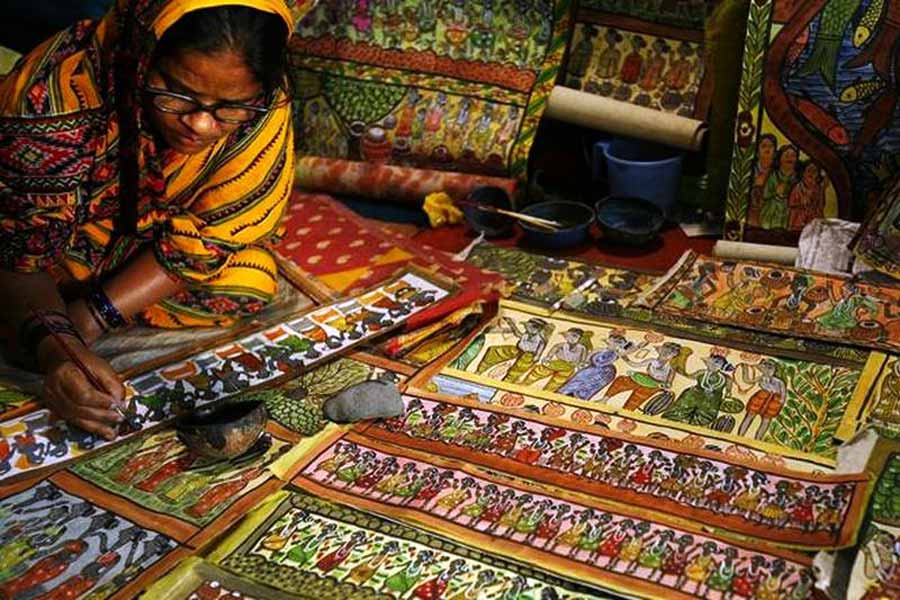 is known as Handicrafts. The word comes from the Old English handcræft, "skill of the hand." In ancient times hands were used to make items that were needed daily. Weapons to hunt, tools for farming, pots and pans for cooking, containers to preserve and store food – all these were handcrafted. Then human ingenuity moved from daily needs to toys for children, jewellery for enhancing beauty, decorative items for home, painting and embroidery synched with the regions culture, raw material and demand.
The art of handcrafting
is deeply rooted in the lap of Indian history. The tradition goes back to 5000 B.C. when handmade crafts were used to revolve around religion. Around 3000 B.C., during the Indus Valley Civilization, several forms of arts and crafts originated, which can be found in museums today. The Vedic Age experienced a significant development in crafts, which kept evolving in the spheres of textile, stone, metal, painting, pottery and wood.
A shift in trend happened during the Mauryan Age with the art of sculpturing and contemporary jewellery making. Further, the craftsmen during the Gupta period excelled in jewellery making, woodcarving, sculpting, stone carving and weaving. During the British period, handicrafts suffered setbacks due to decline of patrons like princely states, mechanizations and the policy of suppressing local crafts by Britishers.
After India got independence,
the plight of the artisans and craftsmen was taken into accord and various measures were taken to improve their conditions and preserve the traditions. The Handicraft Board was set up to ensure that the traditions do not disappear. Slowly demand for handicrafts grew both in India and abroad. Despite the growth of the handicrafts industry in India and the measures taken by the government to promote handicrafts, the average earnings of a craftsmen when compared to that of other fields is very low.
Hence the younger generation is moving to other fields with only the elder craftsmen being left behind. The country needs younger generation of craftsmen to carry on the tradition of handicrafts, and this is only possible by ensuring the assistance of craftsmen to improve their techniques, availability of quality raw materials, direct marketing channels, credit and better wages and providing them socio-economic benefits.
There are many artisans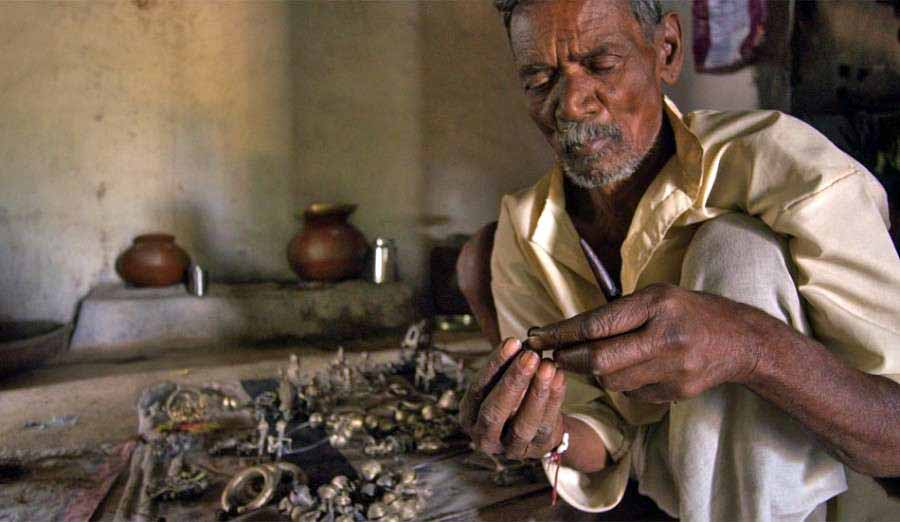 who live in India's numerous little towns and villages and churn out masterpieces with their hands. In a country that is diverse and multifaceted as India, it wouldn't be a surprise if you come across villages and hamlets, where generations of one family have dedicated themselves to mastering a craft, and have enticed people from across the world for the sheer brilliance of their handiwork. Let us present few of India's handicrafts.
Nestled amidst the hills of the Nilgiri district of Tamilnadu, Thiruchigadiis a tribal hamlet that is home to the Kota tribe with a long-standing legacy of traditional claypottery. What makes this particular strain of pottery unique is that only the women of the tribe are engaged in the craft, which they have learned from their mothers and grandmothers through observation.
What connects the ancient Harappan civilization with a quaint village in the Dhubri district of Assam? The legacy of terracotta! Over 300 artisans in Asharikandi, a tiny village in Assam, have kept the ancient craft of terracotta pottery and toymaking alive. Their disposition, experimental attitude, diversification of products and the willingness to upgrade their skill with time, has enabled the terracotta artisans of Asharikandi to make a mark across India.
The exotic village of Aranumula from the Pathnamthitta district of Kerala is home to the mysterious craft of metal-alloy mirrors, also known as AranmulaKannadi. Believed to have existed even during the Vedic period of Indian history, the composition of metals that are alloyed with silver, bronze, copper and tin continues to remain a secret that has been fiercely guarded through generations of the mirror-makers.
Popularly known as Kathputili, it is a form of puppet theatre that originated in Rajasthan over a thousand years ago. Kathputili consists of two words Kath and Putili that translates to a doll made of wood. They are made from the regions of Rajasthan such as Jaipur, Bikaner, Udaipur etc.
The earliest artefacts that employed the lost-wax casting technique of Dhokra were found amidst the ruins of Mohenjo-Daro. The non-ferrous metal casting technique has been prevalent across the Indian subcontinent for over four millennia and today, the Jhara craftsmen from the tribal village of Ektaal in Chattisgarh have been the harbingers of this ancient art of crafting dull-gold figurines of all shapes and forms.
India has a competitive global advantage
with its regional uniqueness and strong legacy. The Indian Handicraft sector has the potential to expand into a billion-dollar market with the right funding and business environment.
This should be reflected in the lives of the artisans whose creativity though appreciated and valued live an existence that is unrecognized, challenged and pitiful. Measures should be taken to ensure that not only the end product but the lives that make these creations are valued, recognized and appreciated. When the hands that make the craft are brought into the spotlight, the craft will survive and thrive, benefit everyone. "The production of all arts are kinds of poetry and their craftsmen are all poets" – Pluto.