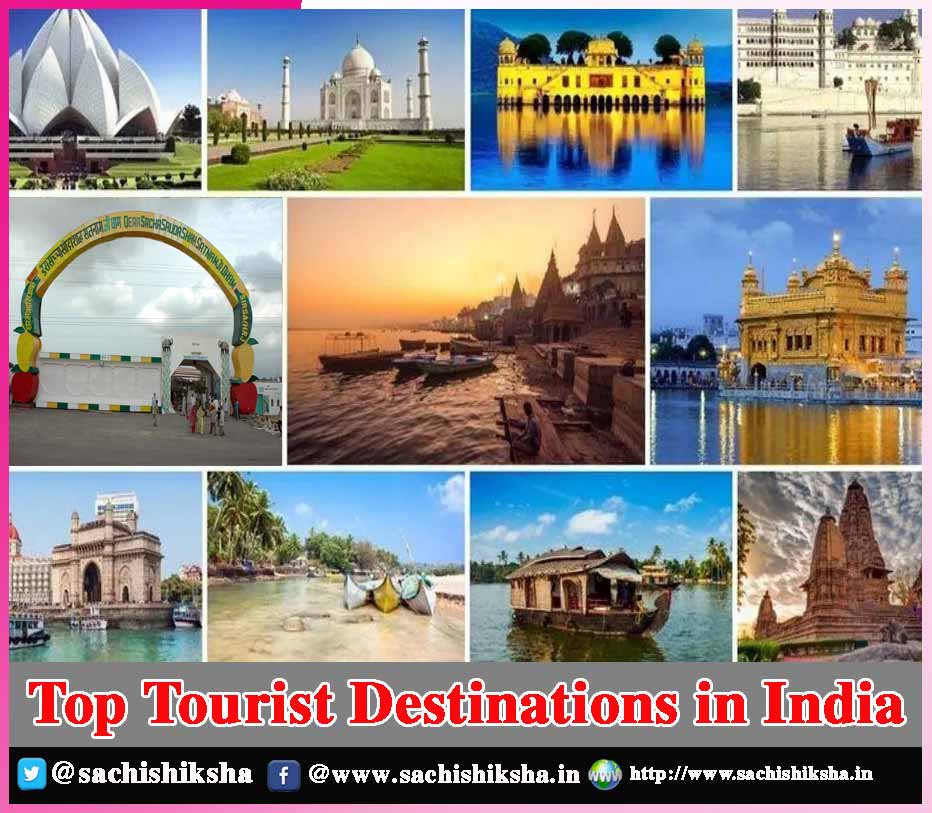 Top Tourist Destinations in India
Tourism is a process of spending time away from daily routine or home to pursue recreation, relaxation, and pleasure while using the commercial provision of services. There are many benefits of tourism in a country, and it creates employment, boosts revenue, develops infrastructure, helps in cultural exchange, etc.
As a country, India offers unity in its varied diversity not only in the matter of tribes, communities and religions and ways of life but this diversity also presents itself in its prospects regarding tourism. No country may have so much to offer in the form of historical sites, geographical diversities, climatic differences and nature's gifts as India has to offer.
According to the United Nations World Tourism Organization, tourism involves the movement of people in the natural environment of the country or outside the country for personal or other purposes. There are 18 types of globally accepted tourisms.
Also Read:
India's rich tapestry satiates people seeking a variety of tourist experiences, such as:
Domestic Tourism:
There's a lot for the local tourist to visit from discovering the backwaters down south to visiting the tea gardens in the east to snorkelling in the Andamans to the floating markets of Srinagar to the mesmerising waterfalls of Paataal Pani in Madhya Pradesh among others.
Business Tourism:
India is emerging as the fastest growing destination for business travelers in the world. People visiting India for business purposes can indulge in several exciting activities after winding up their important tasks to maintain a balance between business and leisure. Bangalore, Delhi, Mumbai, Gurugram etc are the most sought after destinations in this genre.
Adventure Tourism: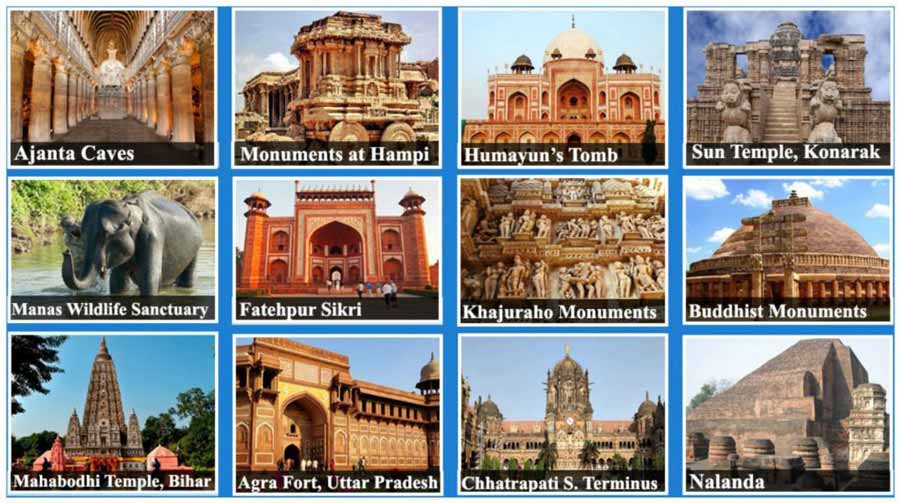 This form of tourism is popular among young tourists who like to come out of their comfort zone and undertake activities such as hiking, rafting, climbing, diving etc. White-water rafting, Ladakh tour, Kedarnath tour, Port Blair and Andaman & Nicobar tour are pretty popular.
Wildlife Tourism:
People travel to different places for observing and interacting with wildlife, flora & fauna in their natural habitat, going on safaris, swimming with dolphins etc. Sariska Wildlife Sanctuary, Hyde Park, Keoladeo Gana National Park, Corbett National Park etc are popular examples of wildlife tourism.
Medical Tourism:
Many people have to travel to India for high-quality yet economical treatment. Several medical institutes have months-long waiting lists to offer state-of-the-art medical services.Chennai is a major hub for medical treatment in India.
Wellness Tourism:
India has been a traditional centre of wellness tourism since ancient times. This tourism mainly attracts those who come to recover from health issues by indulging in physical, spiritual or psychological activities. Ayurveda, yoga, meditation, Panchakarma, rejuvenation therapy are the oldest therapy offered by India. Kerala leads in this form of tourism in the country.
Pilgrimage and Spiritual Tourism:
This happens when a person undertakes the journey to other places for spiritual or religious reasons. Spiritual tourism helps provide support to local cultural activities and handicrafts, generating employment and revenue. Trips to Bodh Gaya, Vaishno Devi, Golden Temple, Dera Sacha Sauda Char Dham, Mathura Vrindavan etc are some places famous for pilgrimage tours.
Heritage / Cultural Tourism:
This is the predominant factor behind India's meteoric rise in the tourism segment in recent years, because from time immemorial, India has been considered the land of ancient history, heritage, and culture. Rajasthan, Uttar Pradesh, Tamil Nadu and Uttaranchal are the most popular cultural tourism spots in India.
Dark Tourism:
Also called black / grief tourism or grief tourism, is related to people's travel to historical places involved with tragedy and death. Since 2016, dark tourism has seen a significant increase (over 1200%). Jallianwala Bagh, Amritsar, Cellular Jail, Andaman & Nicobar Islands, Skeleton Lake, Uttarakhand are some examples.
Culinary Tourism:
Food tourism involves tasting and experiencing local and traditional food in a specific country, region, or city/town/village. Here food is one of the prime components. India is called "The land of Spices" and every state has unique kind of food culture. Today, it is a significant part of tourism.
Celebrity / Film Tourism:
In this form of tourism, tourists visit places where a celebrity currently lives or has lived previously. According to a report published by the PHD Chamber of Commerce and Industry in 2019, film tourism has a scope to generate USD 3 billion by 2022 in India. Popular examples are Ramoji Film City, Hyderabad, Pangong Lake, Ladakh etc.
Educational Tourism:
This is a new pattern of tourism that comprises learning new things. It's used as a tool to complement education by gathering travel experience. Mayo College, Ajmer, Kota, IIT-Delhi, Bangalore, Ahmedabad, Indore etc are prominent examples of the same.
Cruise Tourism:
Holidays based partially or wholly on a cruise ship/ small yachts/big ships etc is said to be cruise tourism. India has many types of tourist cruises. Soon India is going to be including Ocean Cruise, River Cruise, and Lake Cruise.
Rural Tourism:
In this category, people spend some leisure time in rural areas or villages. Farming in rural Punjab, Spiti Valley Rural Tourism, Sundarban and Jodhpur village life, Community Tourism in Kutch etc are some examples.
Beach Tourism:
This is a major element of tourism in modern times. A tourist travels to a beach for leisure, recreational or business purposes. Popular beach destinations in India are Andaman & Nicobar Islands, Lakshadweep, Goa, Puri etc.
Space Tourism:
Russia has been the pioneer in this field. Soyuz spacecraft conducted its first space trip with American businessman Dennis Tito in April of 2001. Entrepreneur Santhosh George Kulangara will be the first Indian space tourist as he booked his spot in a Virgin Galactic space flight way back in 2007.
Niche Tourism:
It indicates a specific feature of travelsuch asa museum, old architectural monuments, buildings, palaces, etc.Some Indian examples are MICE tourism, sustainable tourism, golf/polo tourism, etc.
Eco Tourism:
It entails the sustainable preservation of a naturally endowed area or region. For ecotourism in India, tourists can go to Kaziranga National Park, Assam, Gir National Park, Gujarat, Kanha National Park, Madhya Pradesh etc.
With the first tourism policy, which was announced in November 1982, the Union government has been promoting sustainable tourism as means of economic growth, social integration and to promote the image of India abroad as a country with a glorious past, a vibrant present, and a bright future.
The World Travel and Tourism Council calculated that tourism generated ₹16.91 lakh crore (US$240 billion) or 9.2% of India's GDP in 2018 and supported 42.673 million jobs, 8.1% of its total employment.