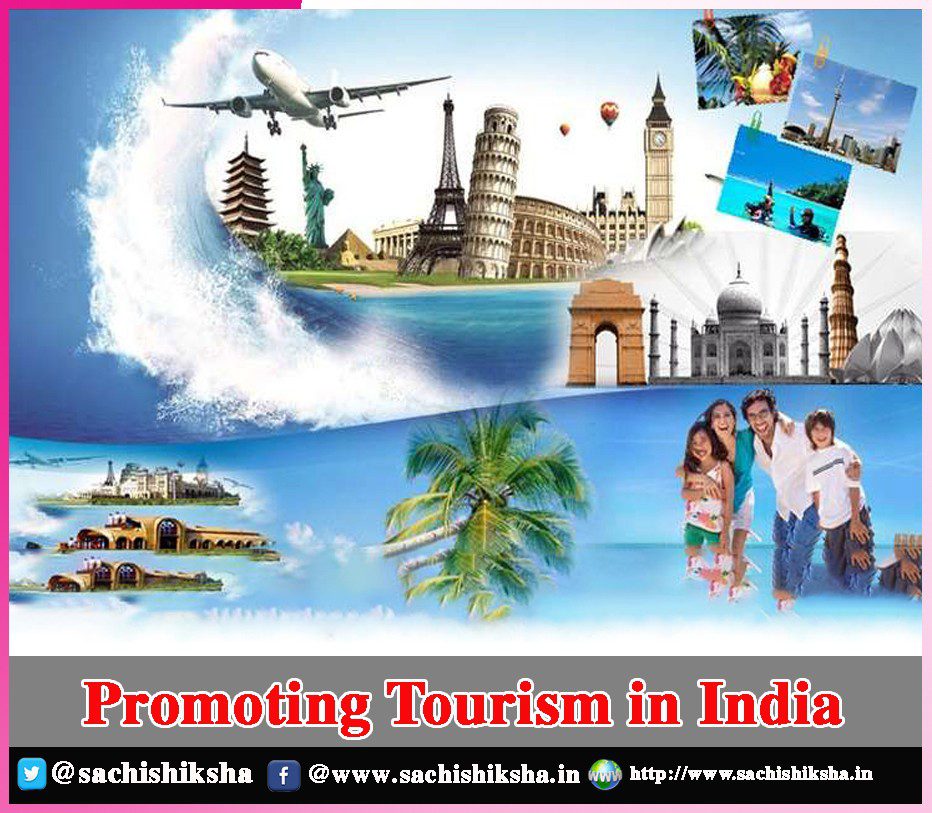 Promoting Tourism in India
India as a country is known for its unique culture, heritage, temple style, variety of rivers and wildlife. It is surrounded by the mighty Himalayas, deep Arabian Sea, Bay of Bengal and the Indian Ocean.
The enchanting backwaters, hill stations and landscapes make India a beautiful country. Historical monuments, forts etc add to the grandeur of the country. They attract tourists from all over the world.
The Indian civilization and culture inherit the tradition of 'Atithi Devo Bhava' (The Guest is like God) from time immemorial. India also boasts for substantially diverse physical, political and multi-lingual society and offers a lot to explore through its voluminous vivid recreation and adventure activities.
The intensifying influence of tourism as an economic powerhouse and its potential as a tool for regional development are indisputable. It is growing progressively and contributing immensely to the inclusive economic development of the nation and employment generation for the stakeholders.
Also Read: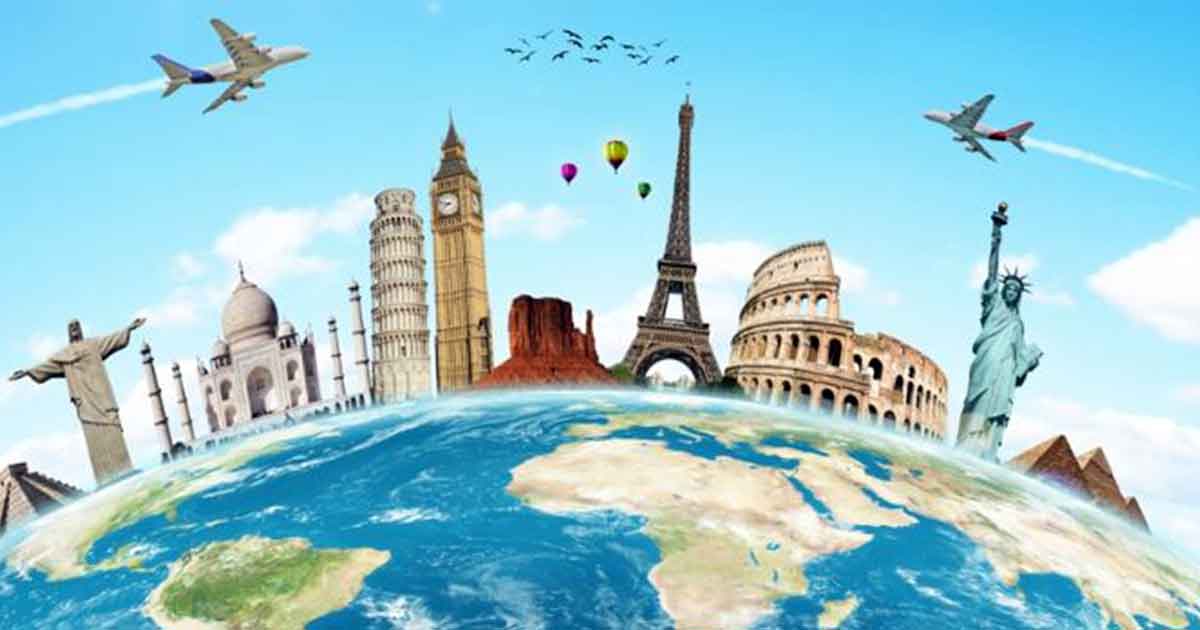 On the basis of its resources and attractions, tourism in India can broadly be classified into cultural and heritage, eco and sustainable, religious/pilgrimage, wildlife and nature-based, medical, leisure, beach, creative, MICE and event tourism etc.
The India Skill Report-2019 estimates that the Indian workforce is to increase to about 600 million by 2022 from 473 million in view of the fourth industrial revolution. The tourism sector will have a major role to play in providing employment opportunities.
India also improved its competitiveness in travel and tourism, from occupying the 65th position in 2013 and then the 40th position in 2017 to the 34th position in 2019, as per the Travel and Tourism Competitiveness Report of 2019.
Tourism development also leads to several undesired impacts over the host population and destination settings. Therefore, close tab on tourism development needs to be kept by the policymakers, planners, residents and other stakeholders.
Therefore, an effort to provide new insights into the existing body of knowledge of tourism in India on emerging consumer behaviour trends, tourism education, local food, marketing and destination marketing/branding strategies are the vital need of the day.
Every region is identified with its handicraft, fairs, folk dances, music and its people. The Department of Tourism promotes international and domestic tourism in the country. The Tourism Advisory Board recommends measures for promotion of tourist traffic in the country. However, Indian tourism is adversely affected by terrorism, tours and pollution. Sincere efforts could help to further develop the Indian tourism industry.
With a number of visa and other policies that have boosted the tourism of India,
this is the best time to decide how our nation can become better and more attractive for the travellers who come here:
Creating travelling experience for tourists:
In order to promote tourism of India, we need to invest time and efforts in building travelling experiences for people brim with tour guides, culinary tours, interactivity for the tourist with the culture of the place, etc. Ideas such as India on shoestring, India in luxury, royal India, urban India, the common man's India, historical India etc would also go a long way in this regard.
More facilities and amenities:
Needless to say, we absolutely lack in basic amenities such as restrooms near attractions, changing rooms at the beaches and garbage bins. Further, even if some of our attractions might have those, they are left in horrible conditions enough to leave visitors puking. Disabled access is something that we still need to explore and fix.
Preserving historical monuments:
Any other nation in this world can hardly match up the number of historical monuments that dot the landscape of India. But we seriously need to put punitive measures against anybody who harms these treasured relics. Further, our monuments also demand a lot of attention and resurrection to bring them out of obscurity.
Marketing strategies for image building:
When it comes to tourism, social media is the best recourse these days. Due to its phenomenal reception and quality, social media and marketing are giants in defining a tourist quotient of a city, state or a country.  From broadcasting 'Incredible India' campaigns abroad, holding tourism seminars or offering Indian locations with facilities to promote foreign film productions in the country, social media is the best option.
Friendly reception:
A friendly smile on the face of the host at times gives the best whiff to tourism. And this is one thing that we can implement at our own level to ensure a hospitable image of India before others. Security concerns also go alongside. A country that serves well prospers.
Festivals to promote Indian traditions:
We recognize Christmas with the west, Tomatina festival with Spain and Rio carnival with Brazil. But India is a garden of festivals, thanks to our rich diversity. But our festivals do add a dash of colour and light when it comes to defining tourism in India. So let us just make them more popular and tourist-friendly to offer a quintessential Indian experience to the travellers.
Adventure-friendly infrastructure:
India has yet to cover miles when it comes to offering secure adventure facilities to travellers. With more and more of people coalescing adventure and tourism, this is an essential infrastructure that we need to upgrade from its present sorry state.
Bollywood, India's tourism storyteller:
One of the Incredible India quotes states – "It's a bit like a Bollywood dream sequence. Only, you are in it!" Since many nations know us via our film industry, it is a great idea to use it as a beacon of our tourism.
Understand tourism's gravity:
The day we understand how tourism can change the face of our nation, half of the battle will be won. It can definitely bring more value, income and an image to our nation making us top contenders for the list of travel destinations in the world.
Embrace digital revolution:
The travel and tourism industry in India is fragmented, hindering the ability of the sector to achieve its potential. This area needs to be nudged to embrace the digital revolution to promote public-private initiatives and the growth of medium and small-sized enterprises while ensuring that India follows best practises from across the world.
Use of block-chain technology:
Block-chain is a system of recording information in a way that makes it difficult or impossible to change, hack or cheat the system. Indian start-ups could also explore strategies along these lines. Block-chain ledger coupled with IOT devices for healthcare could have a positive impact on medical tourism.