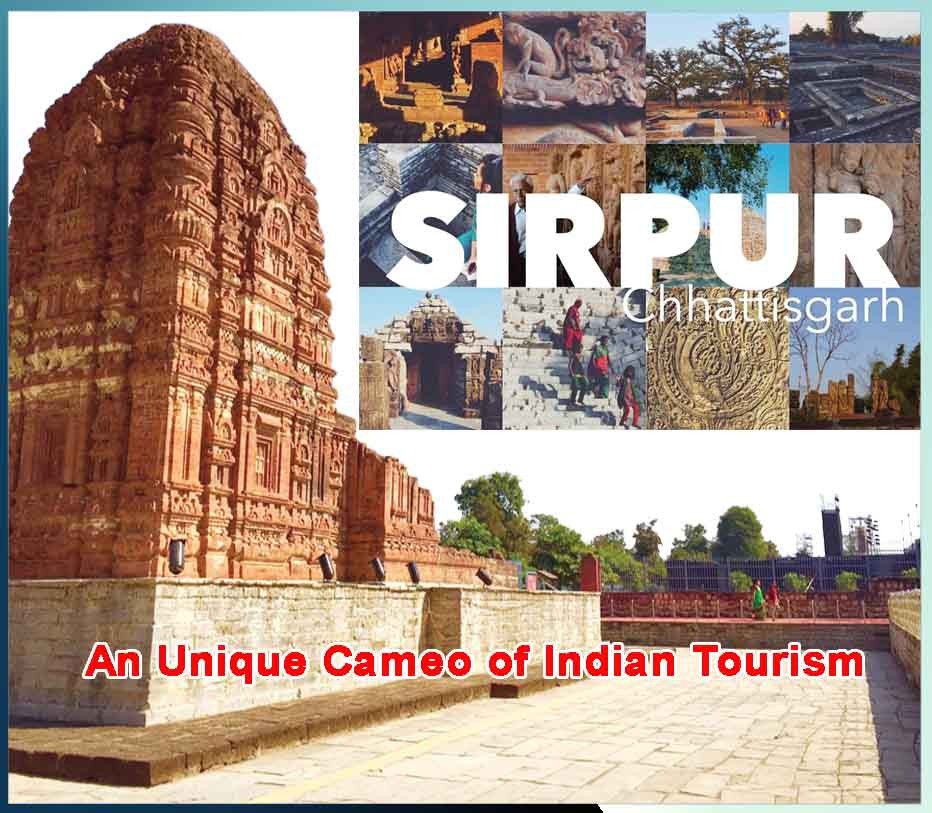 An Unique Cameo of Indian Tourism Sirpur – Chhattisgarh
Sirpur, a small village located in Mahasamand Tehsil in Mahasamand district of Chhattisgarh, is a place where history and legends lingers.
Today Sirpur may be a small place but in ancient times, it used to be a famous place besides being the main socio-cultural hub of Chhattisgarh. Sirpur is a historic city situated on the banks of Mahanadi River in the district of Mahasamand in Chhattisgarh.
Here, it is worthwhile to mention that Mahanadi River in Sirpur has got the same importance as mother of all rivers Ganga has for India. Situated on the Banks of Mahanadi River, the glorious past of Sirpur is reflected through the ancient sculptures and architecture that scatter all around this place. This place is also full of diversity.
Also Read:
Sirpur has always been the centre of attraction for its rare archaeological remains. Sirpur had been known as Shripur in ancient period, and was the capital of the Kingdom of Somvanshi Kings of Southern Kaushal Dynasty. The 22 Shiva temples, 4 Vishnu temples, 10 Bodhi Vihars and 3 Jain Vihars are there in Sirpur. There also are ruins of ancient Ayurvedic bath tubs/bathrooms found during the excavations at Sirpur.
They reflect the prosperity that Sirpur had attained in those ancient days. Sirpur is famous as a Bodhi Pilgrimage which had been visited by thousands of people from different parts of the world since the days of antiquity. Take the case of Huen Tsang. This famous Chinese scholar of Buddhism visited Sirpur and described in details the Bodhi Stupas that were present here in his travelogue.
The famous tall idol of Lord Buddha is known worldwide for its sculptural grandeur. The tourists from India and all across the world throng here every year to have a glimpse of ancient serenity. In fact, Sirpur has historical legacy of other the ancient and the medieval period.
Temples are a Major Temptations for the Tourists
Laxman Temple
The massive Laxman Temple portray the importance of Sirpur post Gupta period. Varieties of carvings have been done on the Torans. The Shaya Shayee (lying posture) idol of Lord Vishnu is there on the top. Lord Brahma is seated on the Lotus emanating from the naval of Lord Vishnu and the Goddess Laxmi is in the feet of Vishnu.
Near to this is exhibited the Gandharv with musical instruments. These sculptures are a result of unique symmetry. It is first ever temple built with the bricks. The ornamental symbols and erogenous pictures of the Krishna Leela gives the temple an uniquely sacrosanct feeling.
It feels as if the walls, pillars, arches are telling stories of the Gods that hailed from the rich land. Inside the main house, sits a beautifully crafted statue of Naagraj. Believed to be constructed by the Mother of Mahashivgupta Balarjun Vasta, the Laxman temple was built in the memory of her husband Harshgupta in 650 A.D.
Gandheshwar Mahadev Temple
There is another temple named Gandheshwar Mahadev in Sirpur. This ancient and historic temple is situated on the banks of Mahanadi. This temple mesmerizes the tourists due to its rare statues. An endless galore of interesting architectural remains from ancient temples and viharas enthralls all.
The statues of Buddha touching the earth, Nataraj, Garuda Narayan and Mahishasur Mardini are very rare and equally enchanting. Tourists flock to visit the rare face of Ravana, a popular attraction of this temple. The many Shiva-Leela pictures at the top of the entrance are just a glimpse of the wonders that are waiting to be explored inside.
There are scriptures engraved on the stupas. It is said that Chimnaji Bhonsle got this temple renovated. It is gathered that this temple is actually built by the material of remains of other temples and stupas.
Other Places
Anand Prabhu Kuteer Vojar, Swastik Vihar and Surang Teela are other attractions of Sirpur. The joy of watching sunset on the banks of Mahanadi River is beyond description. Every year in the month of February, the National Dance and Music Programme is organized at Sirpur. The tourists and artists from all over the world attend this function.
Buddha Vihara
The rising popularity of Sirpur can be accredited to the various Buddhist excavations discovered here. Truly blessed with the scenic beauty, the Buddha Viharas exude warmth and portrays religious harmony.
Brick constructions and underground rooms stand testimony to a mystical era. The tone blend reminds of the Gupta dynasty's temples and residential buildings. You can witness the unmatched designs and architectural brilliance as you come across the six feet tall statue of Buddha.
Let mystery enchant you as many residential, meditation and study rooms give you a glimpse of Lord's long lived glory. The Buddha Vihara is also the meeting point of Avalokiteshwar and Makarwahini Gange.
Metal idols
Sirpur was known for the mastery of creating metal idols in the 7th-8th A.D. Metal idols were discovered in Sirpur as early as in 1939. Metal idols found here are showcased in Raipur, Nagpur, New Delhi museums and Mumbai's Bhartiya Vidya Bhawan. Sirpur has always been in international limelight for its amazing excavations including the metal idols.
These idols have also been sported in Germany, England and America. Sirpur's metal idols include Buddha, Avlokiteshwar, Padmapani, Vajrapani, Manjushri, Tara and intricately crafted Vishnu and Rishabhnath idols. These statues are sculpted with such excellence that the tranquility on their faces, the peacefully closed dove eyes and intricately carved out palms and fingers depict unmatched artistry and faith!
Rajmahal Avashesha
During the period of 2000-01, Sirpur saw another glorious excavation. This majestic palatial finding was discovered by Dr. A. K. Sharma who gave it name 'Rajmahal'. A beautifully constructed residential structure, the Rajmahal is magnificent and extremely strong in built. Between 2001 and 2004 Dr. Arun Sharma, Retired Indian superintendent of ASI, carried on his work along with the help of Archaeological Survey of India and Nagarjuna Bodhisattva Organization, Mansar.
The mesmerizing findings here were
Barnawapara
15 km away from Sirpur, Barsur opens up an invigorating land of lush greens! The Barnawapara Wildlife sanctuary derives its name from the two forest villages- Bar and Nawapara, which form the heart of the sanctuary.
A visit to the Barnawapara wildlife sanctuary is an adventure ride through undulating terrains and dense forests. The Indian bison (Gaur), cheetal, sambhar, neelgai, wild boar are common sightings in this sanctuary. Home to over 150 species of birds, this site promises unlimited thrill and adventure for tourists.
Sirpur National Dance and Music Festival
Popular for its internationally acclaimed archaeological excavations, Sirpur has always been the grounds for celebrations. It has also retained its importance as pilgrimage site for the followers of Jainism, Buddhism and Hinduism as well as for art lovers.
Intricate carvings, elegant statues and highly innovative discoveries have made this land the perfect abode for art. All this makes it the most preferred venue for the wonderful Sirpur National Dance and Music Festival.
It brings together artists from various platforms in a cultural extravaganza. Along with the dance and music festival, three important workshops based on folk dances, handicrafts and musical instruments of Chhattisgarh are organised.
Painting competitions for school children are also conducted during the festival.
How to Reach By Air
Raipur is the nearest airport (85 km) and well connected to Mumbai, Delhi, Nagpur, Bhubaneswar, Kolkata, Bangalore, Indore, Hyderabad, Bhopal, Goa, Pune, Visakhapatnam and Chennai.
Rail
Raipur is the nearest railway station on the Mumbai-Howrah main line while Mahasamund railway station is the nearest railway station on the Raipur-Waltair line.
Mahasamund city is well connected to Mumbai, Delhi, Raipur, Bilaspur, Durg, Nagpur, Vishakhapatnam, Puri, Bhubhneshwar, Ahemedabad, Jodhpur, Ajmer, Sambalpur, Titilagarh.
Road
There are regular buses from Raipur and Mahasamund to Sirpur.
Taxis are available at Raipur and Mahasamund (35 kms)
Where to Stay
The best option for staying is the tourist resort of Chhattisgarh Tourist Board. More to that, some other hotels are also available.
Follow us on Facebook, Twitter, LinkedIn and Instagram, YouTube to get more updates related to Sachi Shiksha – The Famous Spiritual Magazine in India.