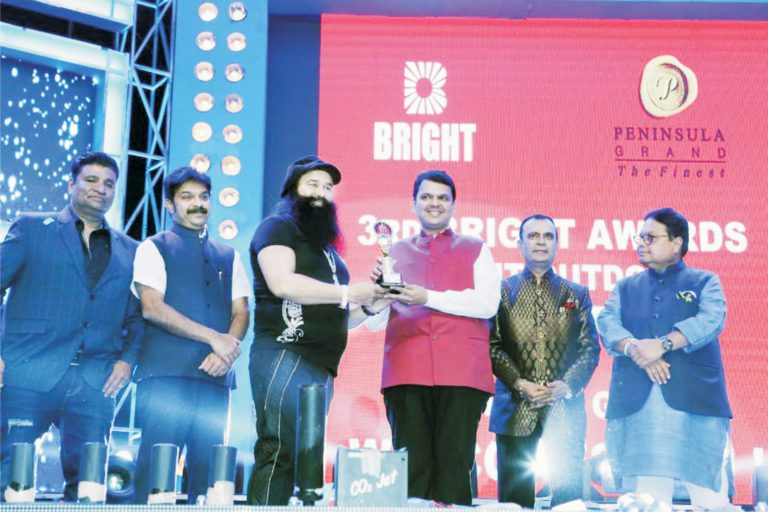 Best Actor Award for Dr. MSG Famous Film Reviewers Praise the Film The poster of 'Hind ka Napak Ko Jawab' (MSG Lion Heart-2) is also being liked by the film lovers a lot.
Along with the film lovers, many film personalities and film reviewers have also liked the film poster and shared it with friends.
They liked the poster of the film on Facebook. Film reviewer Tarn Adarsh, Atul Mohan, Komal Nahata, Manak Gupta and famous singer Mika also shard the poster on their twitter account and lavishly praised the film.
Singer Mika especially praised the songs of the film and appealed to the film lovers to listen to the songs.
Bollywood superstar Dr. MSG has been conferred with the 'Bright Award' for Best Actor and the Most Versatile Personality of the year. Revered Saint Dr. Gurmeet Ram Rahim Singh Ji Insan was given the award on February 6 at Hotel Peninsula Grame in Andheri, Mumbai during the 3rd Bright Awards.
The award ceremony was a grand occasion. Maharashtra Chief Minister Devendra Fadnavis handed over the award to the Rev. Guru Ji. With the release of second film earlier-'MSG-2 The Messenger' in the year 2015 and third film, 'MSG The Warrior Lion Heart', Dr MSG has in such a short time achieved fame and glory in the Indian Film Industry which even the best of film personalities have not been able to achieve in their whole life.
For the second film, 'MSG-2, The Messenger' He received the 'Dada Saheb Falke Film Foundation Award' for Best Actor, Writer & Director at a programme held in Mumbai. Earlier Dr MSG had played 30 credits in the film, 'MSG The Warrior Lion Heart'.
In the fourth film, 'Hind Ka Napak Ko Jawab (MSG Lion Heart 2) He has played not one or two but 43 credits in the making of the film. He has managed to enter His name in the Asia Book of Records with this fete.
There is hardly any role in the film that that this multi-talented personality has not played. These film stars were also present at the award ceremony; Actor Hrithik Roshan, Ranbir Kapoor, Abhishek Bachchan, Circketer Yuvraj Singh, Vinod Kambli, Actress Gul Panag, Daisy Shah, Rakhi Sawant, comedian Sunil Pal, singer and music composer Salim, Shailesh Lodha, and many others were present at the glittering 3rd Bright Awards ceremony held at Hotel Peninsula in Andheri on Feb 6, 2017.
Revered Guru Ji plays 43 credits in the film 'Hind ka Napak Ko Jawab'
Reverd Saint Dr. Gurmeet Ram Rahim Singh Ji Insan, who has inspired patriotic feelings, is a multi-talented personality in film making. From acting to direction to other things, altogether He has played 43 credits for the film, 'Hind Ka Napak Ko Jawab'. Here is a list of all the roles that Revered Guru Ji has played in the film.
1. Director
2. Actor
3. Director of Photography
4. Action Director
5. Editor
6. VFX Supervisor
7. Choreographer
8. Script Writer
9. Screen play Writer
10. Dialogue Writer
11. Art Director
12. Music Director
13. Singer
14. Casting Director
15. Music arranger, Programmer
16. Sound Designer
17. Backing Vocalist
18. Voice over Artist
19. Background Scorer
20. Dance Performer
21. Lyricist
22. Production Head
23. Post production Supervisor
24. Action Designer
25. Stunt Performer
26. Production Designer
27. Pyro technician, Explosives
28. Costume Designer
29. Makeup and Hair Designer
30. Visual promotion Head
31. Special Effects Designer
32. DI Head/Colourist
33. Visual promotion Head
34. Lighting Director
35. Ariel DOP 36. Cameraman
37. Publicity Designer
38. Title Designer
39. Set construction Manager
40. Crew safety Advisor
41. Programmer
42. Making and still photography Head
43. Prop Maker
Roles played by Royal Daughter Honeypreet Ji Insan in the film
1 Director
2 Actor
3 Assistant Director of Photography
4. Editor
5. Assistant VFX Supervisor
6. Assistant Art Director
7. Assistant Choreographer
8. Casting Director
9. Assistant Sound Director
10. Voice over Artist
11. Assistant Background Scorer
12. Dance Performer
13. Assistant Post Products Supervisor
14. Assistant Production Designer
15. Assistant Costume Designer
16. Stunt Performer
17. Makeup and Hair Artist
18. Assistant Colourist
19. Assistant Publicity Designer
20. Assistant Title Designer
21. Making Advisor
22. Cameraman
Follow us on Facebook, Twitter, Google+, LinkedIn and Instagram, YouTube to get more updates related to sachi shiksha Spiritual Magazine, articles.