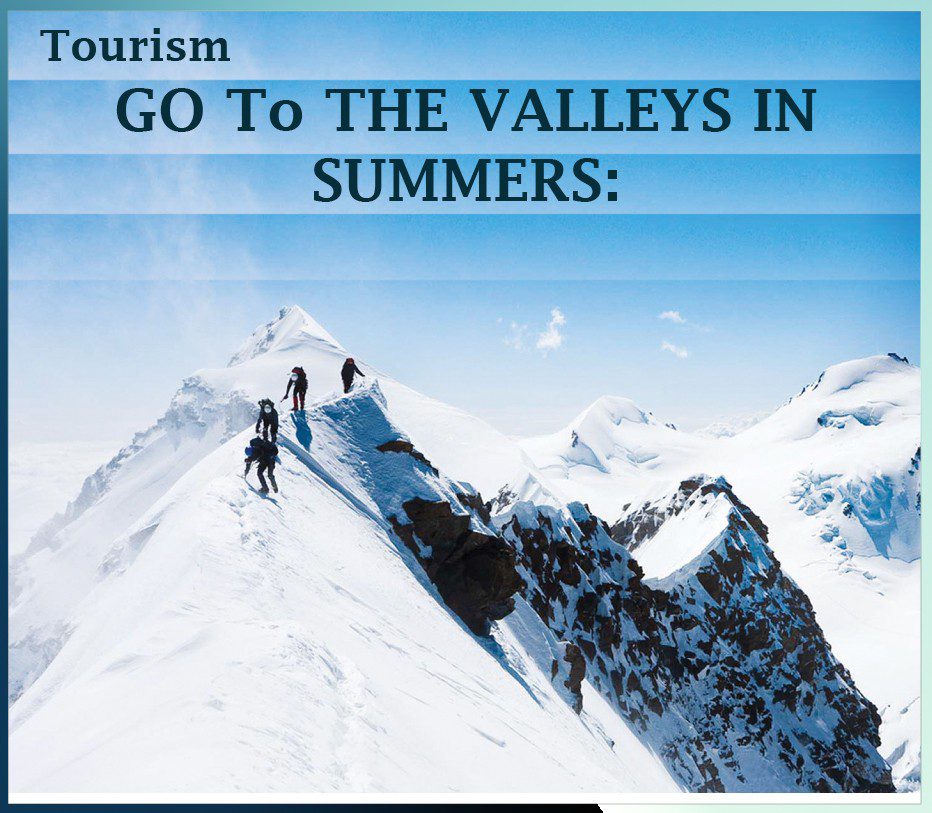 Go to the valleys in Summers Tourism
Whenever you think of going out in summer, the planning starts with Kashmir, Manali, Dharamshala and Shimla.
You may also be thinking of such places, where you do not feel the touch of summer and you enjoy the vacations fully. More to that you have thrilling games and natural scenes with which you can enjoy with your family fully.
So we are suggesting some destinations, so that your vacations become a remembrance:
Kashmir – Ladakh:
Beauty of Kashmir is like a heaven on earth. This summer you can visit Kashmir. You can spend time with your family and for that you have beautiful picnic spots like Pahalgam, Gulmarg, Sonmarg and Srinagar. In Pahalgam you can have hotels and resorts according to your budget. If the kids are grown up you can enjoy River rafting in lidder river and skeeing in Aru Valley. Whereas in Gulmarg you can enjoy riding.
Though with family travelling Sonmarg is an offbeat destination. But here you can enjoy camping and fishing activities with your family. If we talk of Srinagar, this is a best place for family vacations. Here with family you can enjoy hunting ride, house boat, riding and water skeeing. More to that Chashmeshahi, Mughal garding, Shalimar Bagh, Nishat Garden and Hazrat Bal Shrine and Hari Parvat Fort are worth seeing places. When we talk of Laddakh, you will not find anywhere else what Laddakh has? You can visit Leh and near by areas with the family. In summers also the weather is pleasant here.
In addition to visit 800 years old Kali Mandir , you can see Shanti Stupa, Leh Palace and Bodh Maths. And if your health permits you can visit Pengong Lake and Nubra Valley too. You will feel fresh after coming here. There are direct flights for Leh, from Delhi and Jammu. There are two routes to reach Leh. One is from Srinagar (434 kms) and second is from Manali (473 kms). Both the routes are opened from June to November.
SHIMLA MANALI:
Shimla is an ideal place to enjoy vacations with the family. The natural beauty of this place is rarely found. In summer also the weather is pleasant here. If you are fond of eating and shopping go to Maal Road. There is a beautiful church near by. You should not forget to visit there. If you have time, you must visit Jakhoo. A very big idol of Hanumaanji is there. Kali Bari Temple is also an attraction of this place.
If you visit Maal Road, do not miss to have photographs of family in traditional dresses. Though you will feel a little uncomfortable, but these will be events of long remembrance. Nature has blessed Manali with unlimited beauty. Specially in summer, the number of tourists increase very much. If you visit Manali once, you will like to visit it again and again due to its natural beauty. The Hidamba Temple, Solang Valley and Rohtaang paas are worth seeing places. Bhuntar is the nearest Airport which is 50 kms from Manali.
From here you can take bus or taxi service to reach Manali. Joginder Nagar Narrow gauge is the nearest railway station of Manali. Kullu and other nearby places are connected by bus.
Darjeeling – Kalimpong:
This is the most popular summer hill station of India. This is also called the "Queen of Hills". Though Darjeeling of today has become a busy city, but the old attraction is still there. The Sun rising and Tea Estates add beauty to this place. Here is an AC Toy train. You can enjoy the beautiful journey with your family. This train runs between New Jalpaiguri to Darjeeling. After reaching here one must visit Rocks Garden and Water Falls.
Another beautiful place situated in West Bengal is Kalimpong. Due to many cultural heritage, it is a colourful destination. This is also famous for orchid flowers. Delo, Durpin, Relipala, Lolegaon, Kafer, Labha are worth seeing places. The nearest airport is Bagdogra airport (70 kms) and the nearest railway station is New Jalpaiguri (70 kms).
Siliguri is well connected by road with Kolkata, Guwahati and Patna.
Nainital – Mussoorie: Nainital and Mussoorie is a perfect spot for family holidays. It is 1938 mts. high from the sea level. The Naini Lake is very popular here, where you can enjoy boating with your family. So many beautiful spots like Satal, Bheem Tal, Khupaltar are also worth seeing. In addition to this one must visit Naina Devi Temple, Tibet Market, Snow view, Tiffin Top and China Peak. Whereas Mussoorie is called "Queen of Hills". This is one of the most popular hill station of India. Greenery all around will make you feel fresh.
Gun hill and Lal Tibba are the places for enjoyment. You can go to Gun hill either by ropeway or cable car. If you have to buy a gift for the family, go to Mall Road. In addition to this Kempty Fall is the most popular tourist place here. Mussoorie is 269 kms from Delhi. You can hire a taxi from Dehradun to Mussoorie. This place is 55 kms away from Jolly Grant Airport.
Coonoor-Ooty:
If the green valleys attracts you, you can plan for Coonoor Hill Station in Tamil Nadu. Coonoor is 1800 meter from sea level, and it is the 2nd biggest hill station of Nilgiri Hills. Here you can see Dolphins Nose view point, Labs Rock, Draoog, Lodge fall and Katari Falls too. 20 Kilometers from Coonoor is a very beautiful Hill Station Ooty. If you want to view the beauty of nature, no other place is beautiful than ooty. After coming here do not forget to see Botanical Garden and Dodabeta Hill. You can go to see Ketty Valley Fall with your family which is a very beautiful hill station. This is 3 kms away from Ooty Lake. Ooty is named on the name of the Lake Ooty. The nearest airport is Coimbatore and this is well connected with road and rail route.
Mahableshwar:
One time the summer capital of Mumbai presidency, Mahabaleshwar is a very popular hill station. Five rivers Krishna, Koyna, Savitri, Veena and Gayatri flow through this area. You can visit Krishna and Mahableshwar Temple which are very popular. If you want to see sunrise, go to Wilson Point. Vena Lake is a popular tourist place. This lake surrounded by small hills all around gives a very fascinating view. In addition to this Partap Garh Fort, Panchgani, Lonavala, Khandala are the other attractions of this place. Pune is the nearest airport which is 120 kms from Mahabaleshwar. The nearest railway Vathar is 62 kms.
Vainaad:
If you want to visit Kerala, you can visit Vainaad in addition to backwaters. This is a very beautiful natural place. 22 kms from vainaad, Centinal Rock Falls are worth seeing. Here you can hear the water falling noise. Kantanpara falls of this place is also very beautiful place. If your children are with you then visit Vainaad Sanctuary too. The Palm Trees on the side of Thotada Beach add colour to its beauty. Nearest Airport (25 Kms) and Railway station is Kozhikode
Coorg:
The natural beautiful hill station Coorg of Karnataka is called Scotland of India. Here visiting sanctuary with the children, you can enjoy tracking trails, golf, ankling and river rafting. Most of the tracking trails are situated on the western ghats of Brahamgiri hills. If you are in Coorg do not forget roaming in the Tea Estates. While viewing and roaming in the Tea Estates, you can view the nature very closely. You can see Bizon, Elephant, Deer, Sambar and Foxes, animals and birds very easily in the Nagarhole Wildlife Sanctuary. Mangalore is the nearest Airport.
Mount Abu:
Mount Abu is the only hill station of Rajasthan. You can see the beauty of nature in the Aravali Hills situated this small hill station. Mount Abu is a Pilgrimage of Hindu and Jain religion in addition to a hill station. From the Nakki Lake you can view the beauty of the hills all around. From the picnic point of view also it is a best place. You can enjoy boating with your family. Sunset point is there a few kilometers away. From here you can see the beautiful scenery of the sunset. In addition to this you can see beautiful idols in Dilwara Jain Temple. Nearest Airport is Udaipur, which is 185 kms away and the nearest railway station is Abu Road which is 28 kms away.
Follow us on Facebook, Twitter, Google+, LinkedIn and Instagram, YouTube to get more updates related to sachi shiksha Spiritual Magazine, articles.