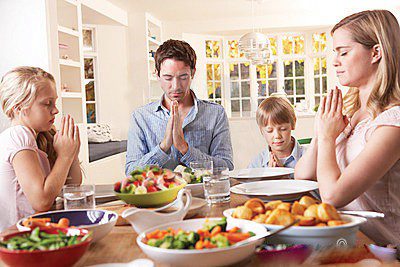 It is said that saints and holy men can look into the future and can tell if a person would make a fortune or incur losses. But only a few can prevent catastrophic happenings or suggest a way to get around it.
Dera Sacha Sauda's Revered Guruji Saint Gurmeet Ram Rahim Singh ji Insan is such a saintly figure, who has time and again propagated and preached that a man's noble 'karma' not only helps him overcome his future problems, but also addresses his current issues.
It is because of Revered Guruji's inspiration that today more than five crore individuals in India and abroad are leading a peaceful and satisfied life. And this is not the end for Guruji has been spreading enlightenment to newer boundaries.
Only a few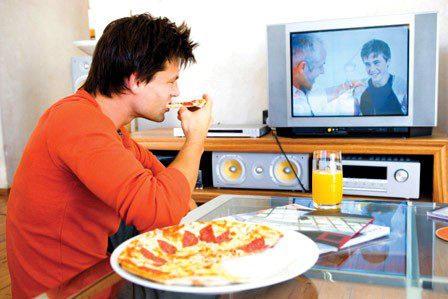 days ago, Revered Guruji during one of his spiritual discourses asked all Dera devotees to take vow for abstaining from watching television during eating. For those, who had developed a habit, he said they could hear his bhajans or spiritual discourses.
In today's world of technological breakthroughs, media has become stronger than ever and a person's life revolves around information obtained through television or newspapers. In such a scenario the television, via its audio and video capability, is probably the most influential medium in a person's life.
However, television isn't just a medium for obtaining information it is also a tool for entertainment. And while television has played a pivotal role in spreading information and news to far flung places, it has also added to the social ills in the name of entertainment. For in the name of entertainment it has been constantly spreading violence, impudence and indecency.
Today, every household has a TV or two and there are an ever increasing number of channels to choose from. While, there has been a growth in channels broadcasting sports and knowledge-based programmes, channels airing worthless programmes in the name of entertainment have also grown. In the race for higher TRPS, channels have been broadcasting just about anything and everything without even giving a thought to its impact on the masses.
Addressing devotees about the ill-effects of television, His Holiness, cautioned and asked everyone to avoid watching television unnecessarily. Now, let us look into why Revered Guruji did so…
Watching television while eating does not have any health benefits, on the contrary it divides our attention and as a result either we end up eating more or fail to get our correct fill. This in turn makes us ill and prone to diseases – a fact that has been documented by scientists.
The habit also has an adverse impact on our mental health. The violent and indecent programmes change our mindset, pushing us away from spiritual well being, which in turn makes us prone to criminality.
According to recent reports, watching too much television as a pastime too can be dangerous as it reduces our brain activity and in extreme cases can lead to dementia (a brain disease that causes long term loss of the ability to think and reason clearly).
Dementia is a fom of neurological degeneration Alzheimer's disease and occurs because of damage to nerves in the brain. Dementia usually strikes elderly persons, often leading to acute memory loss. Patients suffering from dementia also experience illusions, they even forget the most basic details like the way to their home.
Age, family history, depression, vascular disease, hypertension, diabetes and head trauma injury are some of the causes for the disease. National Institute of Mental Health and Neurosciences (NIMHANS) Vice-Chancellor Dr. P. Satishchandra said this during his lecture on 'Ageing and dementia: Can this be prevented' at the foundation day ceremony of Geriatric Mental Health Unit of King George's Medical University, Lucknow.
Dr. Satishchandra said elderly persons are more prone to dementia as they have minimal work at hand. During their spare time senior citizens like to spend time sleeping, thinking, watching television or sitting alone in their thoughts.
According to Dr. Satishchandra, 85 per cent of people suffer from dementia, but in most cases it increases with age and once a person crosses the 80-year mark, the disease starts spreading, rapidly eroding his cognitive abilities. Providing figures, he said, currently 1.8 million Indians suffer from dementia and by 2020 the figure may reach 3.7 million.
The picture is crystal clear – watching television for long hours is a health hazard and should be especially avoided during eating.
It won't be wrong to say that many a programmes on television have actually provided anti-social elements with ideas for carrying out criminal activities. In fact, many criminals have come out in the open saying that they took to crime after watching a particular programme. The same can be said about crimes like theft, armed robbery, loot, murder or rape.
In today's India, where every household boasts of a television set and close to 40 per cent houses have a TV in every room, there everyone, young or old is addicted to it. They maybe oblivious or may have turned a blind eye towards the ill-effects of watching television for long hours, but there's no denying the fact that they are most prone to diseases.
No wonder, the bad habit of keeping glued to the idiot box has declined outdoor games and sports and this has led to a drop in physical activities and fitness. Often young men are seen watching TV, instead of going out and playing.
Revered Guruji Saint Gurmeet Ram Rahim Singh ji Insan, has especially taken it upon himself to educate the youth about the harmful effects of watching television for long hours. He opines that if a particular programme increases your knowledge then it is worth watching, otherwise it's better to go out and play as that not only helps in keeping you physically fit, but also ensures your mental agility.
Prof. T.N. Chugh, Former Principal Shah Satnam ji Boys College, Sirsa, too is of the opinion that watching television for the sake of learning is okay, but beyond that it's worthless. Violence and indecency shown in the name of entertainment in TV programmes adversely affect young minds.
He too makes it a point to turn off the TV while eating or better still listen to Revered Guruji's spiritual discourses. This has helped him a lot, for not only does he keep fit the practice ensures love and respect within the family.
Today, more than five crore individuals or Dera devotees have been benefited by Revered Guruji's teachings. They only listen to his spiritual discourses or bhajans while having food. In this way they and their families have kept harmful effects of watching television for long hours at bay.
It is time that you too exercise restraint on your urge of watching television for long hours or during eating and adopt a healthy lifestyle.
Anil Kakkar
Sirsa
Follow us on Facebook, Twitter, Google+, LinkedIn and Instagram, YouTube to get more updates related to sachi shiksha Spiritual Magazine, articles.