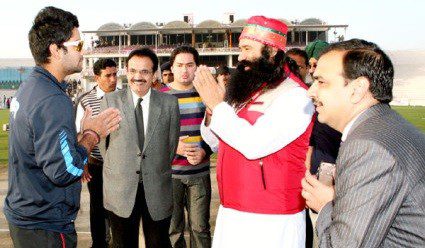 Those Blessed Are Different!
Vijender, India's boxing poster has not had much luck after the 2010 Asian games where he blanked out World Champion Abbos Atoev.
The same year also saw him win a silver medal in the Champion of Champions in China. The 2010 commonwealth games were also a high point when he scripted history by winning a Gold medal, defeating Frank Buglioni from the UK.
After that, he hit a rough patch when he lost the Olympic quarterfinals to arch rival Abbos Atoev of Uzbekistan. Then, he was sucked into a vortex of events, that were ostensibly meant to shield the high and mighty. A movie offer that had came his way, in the meantime, kept him in the news. In the film Fugly, with a trademark rustic performance Vijender gave an insight into the man he was.
But one of the brightest things to have happened to this young man was his visit to the 101st spiritual music concert by His Holiness Saint Gurmeet Ram Rahim Singh Ji Insan, on 27th April, 2014 in Delhi. It was his 3rd year of medal drought. Circumstances had at one time, appeared like ghastly clouds over his future. But somehow, he clawed back into training.
When he met Guruji, he admitted that Guruji's teachings that were on the internet and Youtube helped him cope. And, he opened his heart about how he felt rejuvenated with optimism and positivism, being in front of Guruji.
And Guruji's word were prophetic. Guruji called him an iconic boxer who had done the country proud. Blessing him and his parents for inculcating the right values, Guruji said that his contribution to the nation was immense by winning international laurels.
And then Guruji, prayed and uttered these invigorating words, "May God give you the power and the strength to scale even greater heights." Furthermore, Guruji implored the 100,000 plus crowd to chant a prayer in unison to take him to the very pinnacle of success so that India could be recognized as the pioneer and the pre-eminent beacon to the rest of the world.
Those blessings have indeed ended a 3 year medal drought for Vijender who landed a silver at Glasgow.
Pacer Zaheer Khan was down in the doldrums. His bowling had lost its sting and direction. In December, 2005, he came to the Shah Satnamji International Cricket Stadium to represent Baroda versus Haryana in a Ranji Trophy tie.
At the toss, the coin was flipped by Guruji. As the players learnt about Guruji, they requested for a meeting. Zaheer Khan also met Guruji. Guruji taught him the method of meditation and told him the secret of unlocking his self confidence
Soon after the fixture, he was back in the Indian side. Someone who had lost his place in the national team came back as the main strike bowler for the Indian team for a long time to come. In the 2011 world cup, he topped the charts amongst bowlers and picked up a huge haul of wickets.
Shikhar Dhawan, alongwith Virat Kohli visited the Shah Satnamji Stadium to participate in the Vijay Hazare trophy in February, 2010. Till then, he had not yet got an opportunity to be in the Indian team. He met Guruji and asked Him if he still had a chance to represent the country. Guruji taught him the meditation and asked him to be positive. His selection was announced in the very next ODI series after which he has been a constant member of the Indian side.
Before that particular match, Virat Kohli had also been flitting in and out of the national team. He met Guruji who shared a couple of practical pearls. The first was to go out and play his natural game. Secondly, Guruji asked him to play fast and not wait to settle down. The most important bit was that he learnt the meditation and Praanayam. Post that, Virat was selected in the very next tour and he became a legend in his own right. When the sportspersons from the Shah SatnamJi Cricket Academy see him on TV, they cannot help commenting that whenever Virat plays as Guruji told him to, he ends up scoring well, otherwise, he is plagued by an indifferent form.
This is not to take away credit from these remarkable athletes for their performances, but only to reiterate the fact that meditation works and the blessings of a True Master always bear fruit, provided one has a modicum of faith.
Yusuf Pathan played in the Shah SatnamJi Cricket Stadium for the state side and sought Guruji's blessings and he made it. Praveen Kumar played tournaments here as a youngster and Guruji told him that he would make it to the national side and he did. Joginder Sharma, Ashish Nehra and countless other have experienced the magic of divinity in a single encounter with the master.
Well, what does happen is that if the pupil does not keep up the tryst with the True Master's instructions, he may eventually forget where the midas touch came from. The three cardinal rules that Guruji teaches with meditation are abstinence from liquor and non-veg, and adherence to a strict code of morality and giving up immorality. That has always been the basis of peak performance in sports and meditation as per the glorious Indian tradition.
True Saints are showering blessings on the humanity all the time, and have no inclination for scoring points by counting those whose lives they have transformed. And none of their benevolent actions demand reciprocation in the form of gratitude.
While skeptics and naysayers can have their views, for the 25,000 fans present in the stadium, Guruji had publicly announced beforehand that a host of players would make it to the national side at the conclusion of the Vijay Hazare matches.
Virat Kohli, Shikhar Dhawan got their call within a couple of days, while Parvez Rasool had to wait for a couple of years. Praveen Kumar when still a teenager, was told upfront by Guruji that he would play for the country. Likewise, Guruji had spoken about Zaheer Khan and Yusuf Pathan publicly after the Ranji trophy tie.
Players like Amit Mishra, too, were publicly named by Guruji as would be India players, which has happened.
Follow us on Facebook, Twitter, Google+, LinkedIn and Instagram, YouTube to get more updates related to sachi shiksha Spiritual Magazine, articles.