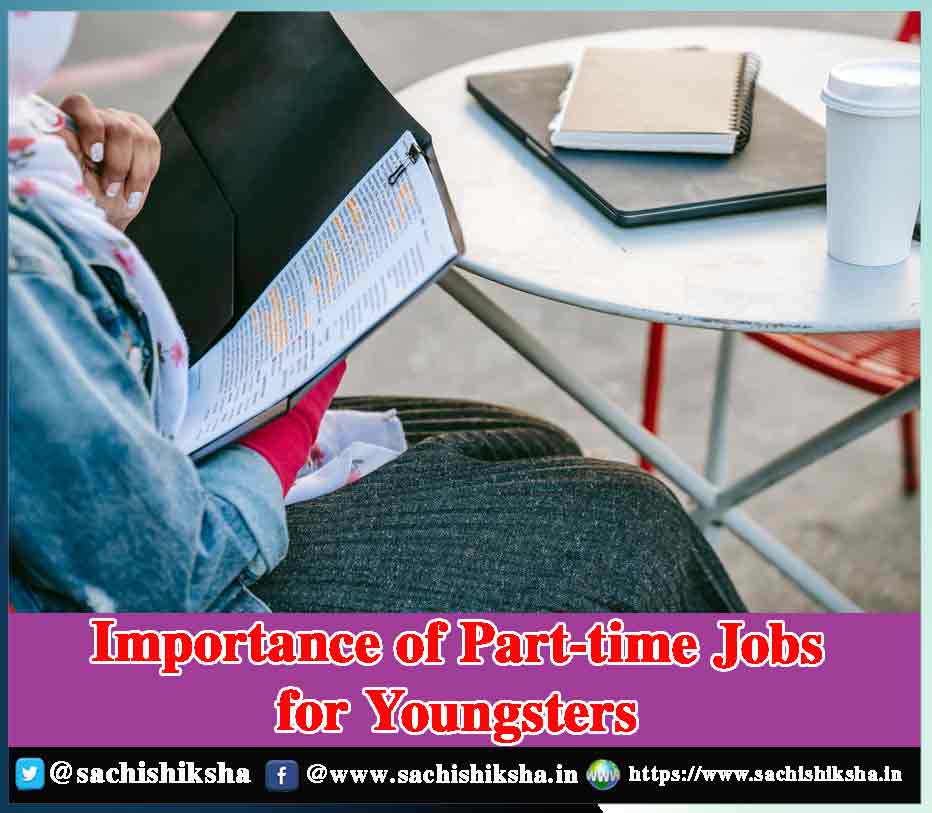 Importance of Part-time Jobs for Youngsters
After college, job might sound burdensome and too much heavy labour for parents and their college-going kids in India but it has been a popular practice in many western countries as an age-old tradition. Unlike Indian youngsters who are asked to be focused on their college studies aiming at a highly rewarding government or private job and not worry about the expenses that occur, college-goers in many other countries prefer to be independent as soon as school is over.
They opt for various part-time jobs according to their interest and capabilities and earn some extra bucks whilst studying. Even many Indian students who go for studying abroad also seek part-time employment to be independent in paying for additional bills, fun activities, travel, etc.
The same students while living in India do not even think of looking for a part-time job for the very reason that parents here willingly take all the responsibility of the child even after their adolescence. Meanwhile in other countries, parents want their children to be independent and gain some work experience before they finish their professional studies.
However, the world has always been  divided when it comes to the pros and cons of early age part-time employment. On one hand, many feel that it is good learning and earning experience for youth and on the other hand, many opine that part-time jobs may divert young minds and may also result in lower grades.
Agreed that a part-time job after college hours may not be everyone's cup of tea but it definitely has some probable perks that will surely yield you better results in the long run.
Some beneficial aspects of opting for a part-time job during your college days are mentioned below:
Helps You Develop as a Mature Person:
As youngsters are in the transition phase of adolescence to adulthood, an after-college job might help them become more responsible as they get to shoulder more responsibilities and take accountability for their work. This would help them handle the upcoming responsibilities ahead both in personal and professional life.
Trying out Assorted Fields:
It's a known fact that once a person gets into the professional world as a full-timer, it gets difficult for one to switch job profiles. However, a part-time job in your college days gives you the liberty to try out various job profiles in diversified fields and then decide their passion and gain insights about their field of interest.
Build Connections: 
A job, be it part-time or full-time, allows you to grow your social circle and develop some beneficial connections. These connections may also be of help in the professional as well as personal life ahead. Being in a job you come into contact of  different people and learn from them at the same time. You never know when a connection can help you reach your dreams in life.      
Finance and Time Management: 
Once you start earning even if it is a small amount, you get to learn to manage your expenses in that amount. The ability to purchase things for yourself and pay your bills will also gives you that sense of independence. A part-time job also cuts off your extra time just giving you a chance to learn better time management as one needs to manage college, work, and personal life at the same time. You get to learn to adhere to your schedule and will know the importance of prioritization of tasks. Being in a tender age where one can easily get carried away on the wrong path, a part-time job will keep you busy enough not to indulge in risky habits.    
Skill Development: 
A part-time job will help you develop many important skills that cannot be learned in any university or college. Skills like communication, customer service, problem-solving, management, leadership, teamwork, etc are some key skills that youngsters can easily learn with the help of a part-time job. These skills will also be an add-on to your resume and will show up your transformation from a fresher to an experienced candidate.
Apart from all these benefits the youngsters and their parents should understand that low grades can never judge how successful a person can be. We have plenty of examples who are appreciably successful but had low grades in schools or colleges. Bill Gates and Mark Zuckerberg who are today known as one of the richest people in the world were college dropouts.
Talking about the Indians, the God of cricket, Sachin Tendulkar studied only up to class 10, Azin Premji who is also a college dropout and later became the chairman of IT giant Wipro Ltd and the list is never-ending. A practical experience of work will always give you an edge over fellow competitors and will give you the ability to handle bigger obstacles in life ahead.