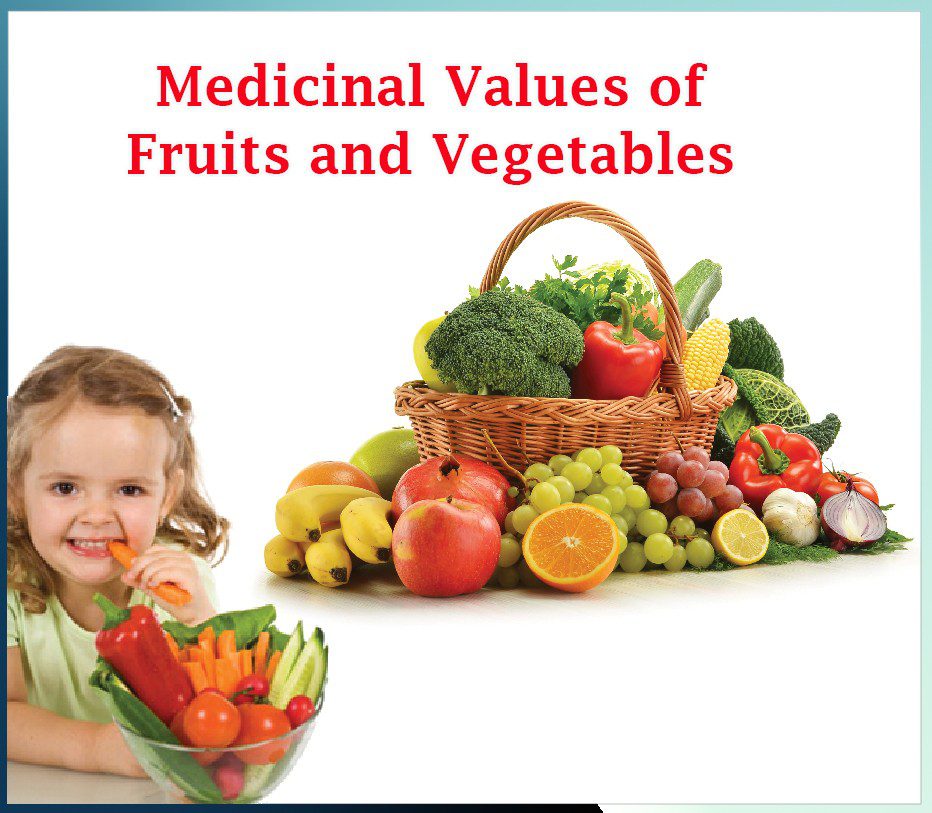 Best when eaten raw, uncooked or semi-cooked. Whatever we eat has an either positive or a negative effect on our body. But vegetables and fruits are certain edibles that would never have a negative impact on your body. Come-on, let us explore some interesting medicinal values of fruits and vegetables.
To top it, must know that they also have immense medicinal values for our bodies. Let us see which of them affects our bodies and in which ways.
Remember that proper benefit from the vegetables and fruits can be extracted when they are eaten raw, uncooked or semi-cooked. The medicinal values from the vegetables are wasted while frying or cooking. Take the fruits as they are. Prefer those vegetables dishes that are semi-cooked, boiled or baked, for example.
Bitter Gourd
Bitter gourd is a vegetable that reduces gas, kills bacteria of the stomach and save you from cough.
Kakdi
Kakdi is cold in nature. This controls your thrust and reduces heat in your body. But it takes time to digest. That is why your stomach becomes heavy when you eat it.
Lemon
Lemon gives cold effect. It increases your hunger and food taken by you is digested immediately. It is also very useful when you feel giddy. Lemon is very useful for the liver and stomach.
Plum
Plum is a cold natured fruit which is digested easily. Daily use of plum saves you from constipation. Used in limited quantity is beneficial.
Amla (Gooseberry)
Amla is a cold natured fruit and increases your hunger. It is called 'AMRIT' and gives strength to your brain and eyes.
Mango
Mango is a hot and TAR nature fruit. This is an energetic food and provides with feeling of contentment. It is best for constipation. But may make you fat is taken in abundance.
Cucumber
It is cold in nature. In case of constipation use it daily. Its daily use saves you from urinary inflammation and any type of urinary problem. It is a blessing in summers.
Muskmelon
Muskmelon is a hot natured fruit. It is good for constipation and urinary problems.
Jaggery
Jaggery is hot by nature. It improves your digestion system. It improves your energy and power. Thin people should use it after the meals. Thus the food is digested easily and make you put on the weight.
Tea
It is hot by nature. By using it your tiredness is finished and so also the cold. But more of its usage reduces your hunger and sleep. By pouring more milk and milk cream, you can lessen its bad effects.
Rice
It is cold in nature. Rice is easily digestible. However, taken in abundance, it can cause constipation.
Muttha or Chaas
It is prepared by mashing the curd. This is cold in nature. It is very helpful digestive and energetic drink.
Tomato
It increases you hunger. This is a gentle eatable. It helps to digest the food easily. This reduces your stomach gas and is good for health.
Apple or Round Gourd
It reduces burning sensation in your hands and feet. It is cold and tar in nature. People with cough problem must avoid it.
Tori
Tori is digestive. It improves your digestive system. It purifies your blood and increases your hunger.
Curd
Curd is hot and oily in nature. Heart patients should use it daily. But curd prepared from low fat milk only is beneficial for them. It gives strength to brain and intestines.
Papaya
Papaya is an easily digestible hot nature fruit. It is the best solution and very useful for constipation.
Onion
It is an acquisitive and hot by nature. Uncooked onion taken in summer saves you from Heat Stroke.
Follow us on Facebook, Twitter, LinkedIn and Instagram, YouTube to get more updates related to Sachi Shiksha – The Famous Spiritual Magazine in India.