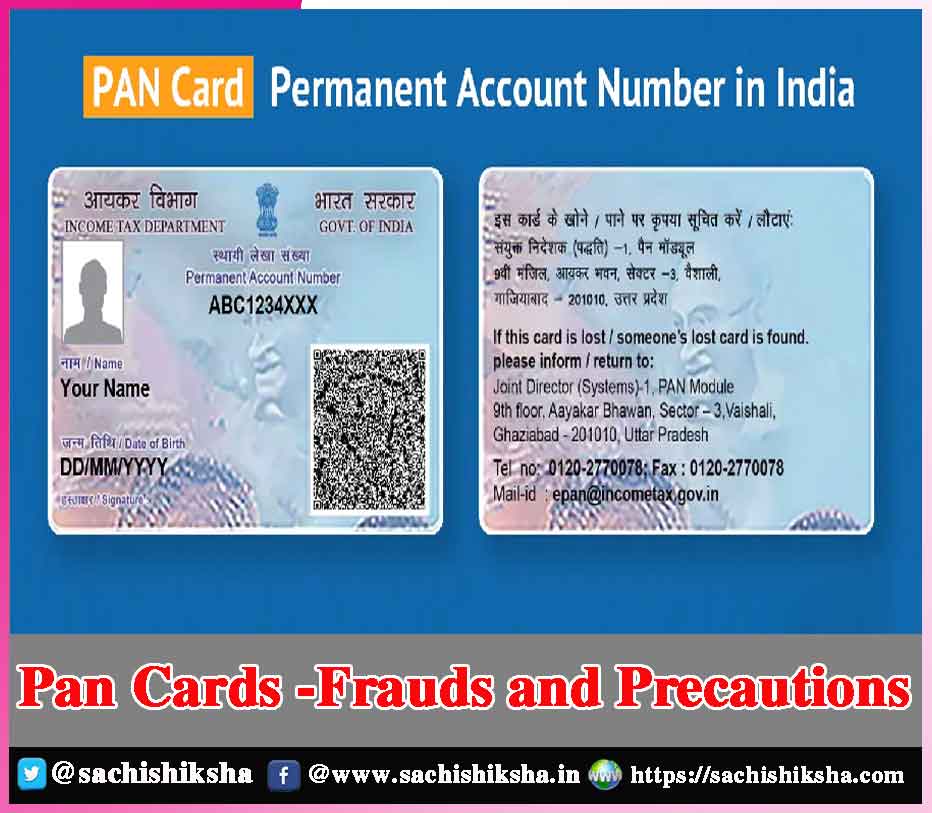 Pan Cards -Frauds and Precautions
Introduction: Permanent Account Number or PAN is a unique ten-digit alpha numeric identification number issued by the Government of India to both individuals and organizations. It is assigned by the Income Tax Department under the Government of India predominantly to taxpayers. The taxpayers can be individuals, companies, LLPs, trusts, or any other form of organization.
Just like Aadhaar Card has all our biometric information, PAN card has all our tax-related information stored against our number. It is important to note that one individual/ organisation can have only one PAN assigned to them. PAN card contains the individual's name, photograph, and DOB; hence, it can be used as proof of identification or birth certificate. Since it is used as proof of identification as well, any major individual can apply for PAN, and it is not restricted to income earners or taxpayers alone.
Also Read :-
Requirement of Pan Card: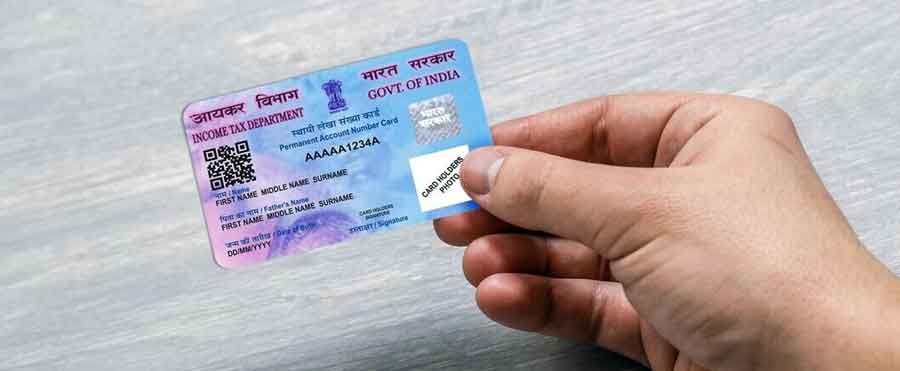 PAN card can be obtained online from the designated websites using the Aadhaar card or by visiting the nearest PAN card facilitation centres. The details and FAQ on PAN can be found in the official NSDL and UTI website, which are the official websites used for obtaining PAN card.
Although PAN is predominantly used while filing income tax returns and paying taxes, it is to be quoted while making some high value transactions such as purchase of immovable property worth more than Rs.5 Lakhs. For a common man, PAN card is mainly used to open a bank account and information regarding a few high value transactions stored against the PAN. Debit and credit cards and in the recent times, e-wallets also require PAN to be accessed and utilized.
Frauds are Common:
Now that we are aware of the uses and the critical data that is being stored against the individual's PAN, we need to note that frauds are common too. While we read in the news that celebrities' PAN were misused by fraudsters to get loans or conduct illegal activities, the average population also faces the risk of such frauds. We are all going digital and using various facilities online, from shopping to booking tickets.
While creating new social media profile or booking travel tickets or hotel stays, we are asked to provide our personal information including proof of identity, and all our details are collected by the service provider. Internet is the place where the fraudsters or hackers get access to our confidential information. They collect our details including PAN and use for purposes we don't intend to.
Some Common PAN Frauds
Credit cards or loans: The fraudsters use the individual's PAN card details to obtain loans and later default on the same, at the end of which the innocent individual is responsible for not repaying the loan he never took.
Bank and UPI Frauds: Our Aadhaar and PAN and bank accounts are linked, which means if hackers manage to get information relating to one of them, all our sensitive information is compromised and can be used to conduct high value illegal transactions and still remain hidden behind the stolen details.
Purchase of Immovable Property: Real estate is a huge opportunity to make money and the fraudsters use the stolen details to sell the properties and while the lump sum amount goes into fraudsters' hands, the details of this transaction remain unknown to the PAN card holder.
Purchase of High Value Jewellery: During the purchase of precious high value jewellery, the declaration of PAN is necessary. The fraudsters use the stolen PAN to make the purchase and may later sell the jewellery in black market. Finally, when investigation comes up, it is the PAN card holder who will be questioned first.
Even bank accounts are opened using the PAN details of people and illegally acquired money is deposited in those accounts.
Preventive Measures:
The following measures can be taken to safeguard our confidential information:
Authentic websites: While providing any of our details online, we must first ensure the authenticity of the website, whether it is genuine and Government verified before we go ahead and provide our information.
Physical PAN Cards: Caution must be taken as to whom we are giving the photocopy of our PAN. It should be avoided unless it is really critical to provide the same.
Name & Date of Birth: Even giving our full name and date of birth should be avoided as the same can be traced back to our PAN details.
Use of Voter ID or Driver's License: These identity documents are much less sensitive as they do not contain any bank related information and we must use these to avoid giving too much information.
Aadhaar Card and Bank: As it is no longer mandatory to link Aadhaar to Bank account, we can de-link the same. This will add another layer of security as all our details are no longer interlinked.
CIBIL Score: After taking such basic precautions, we must also use websites such as TransUnion CIBIL, Equifax, Paytm, BankBazaar to check our CIBIL credit score. In simple terms, our CIBIL score statement also contains details of the loans taken using our
This can be used to know if any fraudulent activities unknown to us are undertaken using our PAN details.
PAN Grievance Website:
Fraudulent cases after taking all the precautions can still happen and the GOI   has provided a means to register a complaint once we spot a PAN scam. TIN NSDL website contains a page for customer grievances where we can inform the Government about the PAN fraud and be shielded from any further misuse of the same. Action will be taken by the Government and our PAN details will be safeguarded from any further misuse.
Conclusion: Like we keep our ATM pin or bank OTP safe from prying eyes, we must also understand that PAN is equally important and safeguard it with utmost care to avoid the information falling into wrong hands.