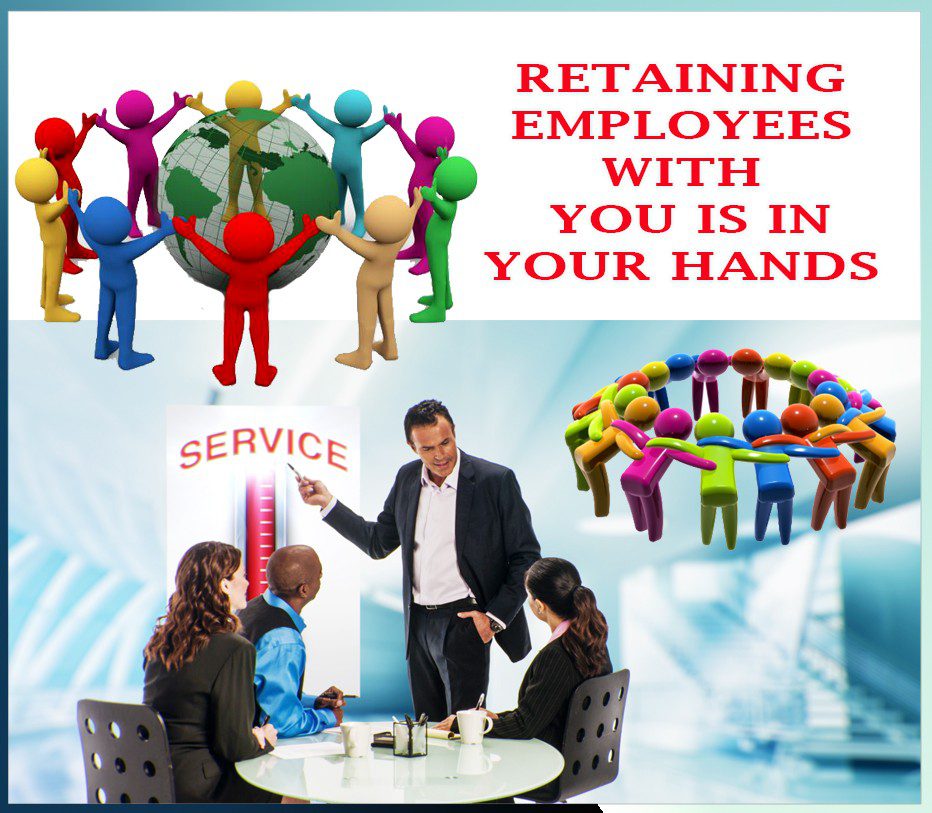 Imagine a life of a Corporate Woman or a Woman film celebrity. She is having maid, cook, driver etc., to assist her. She cannot think of going out in absence of these assistants. All are multi skilled and try to make her life smooth. They also do not want to leave her house and want to become employees working under her.
This is not that they cannot get job elsewhere or the woman is paying high. This relationship is also reciprocal. If the lady is getting all the help from them without any complaint, she is also playing major role to retain the employees.
In today's day to day life, you cannot imagine life without maid, cook, drivers, and washerman etc. On every step the help is needed.
First of all, cultivate the habit of not treating them as your servants. This is a small army around you to help you to get success in your day today struggle.
You are giving them salary; paying them it is not enough. Try to treat them as your family members. Find some time to listen to their personal problems. You are spending too lavishly on you, make a small budget and try to share their burden of school fee, books etc. Always keep the clothes which you do not wear, they should be of good quality and give them on some occasions.
You should also see that for upbringing of your kids, avoid bringing new faces to look after them. To the extent possible you manage with your old known maid servants. If you have your known driver, you can send the kids to schools or market without tension. You can give better productivity at your work.
Discuss open heartedly your problems and listen to their problems and mutually come to a solution. If you are capable enough to spend something extra, you should share the economic burden of your employees rather giving donations in orphanages or NGOs. Charity begins at home.
If every person or family takes care of their 3 to 4 employees, poverty and economic tensions will vanish away. Providing some extra care and help makes your employees loyal towards you. Even if they are offered higher salary elsewhere, they will think twice and will compare with the facilities, love and affection and poignant care given by you.
Whenever we have a difference of opinion or a fight with our maid or any trustworthy employee of our organization, we make it an ego point. We tell him/her to leave the job. Think several times before taking this decision. It is very easy to show him the door going out, but think over it peacefully, that your success lies in solving the problem without an ego, than to break the relationship and then affecting your peace of mind and job.
You should pay them handsomely, be professional but in the inner heart you should be somewhat emotional also, however if needed, without showing it. It is up to you to provide her/ him with medical facility, give some leave to enjoy her/him with the family and go for outing.
When you are going out on weekend, gift her with a cinema ticket to enjoy Saturday night and Sunday. Let them also enjoy in their own way.
You can imagine, the Corporate lady, whose maid servant came and told that a dog has biten her son. She instead of going to office, took her son and the maid to the hospital and arranged all medical help. Though the injections were not available, she searched in the whole city and while going out of town made sure that the injection in available to the maid for her son. How that maid can leave the job. It is really up to our hands. If your employees are faithful to you, it really matters to allow her to use the talcum, soaps and other petty day today needs.
In the summer everywhere you can see the water scarcity. Your maid servants may be from nearby huts. They arrange water with great difficulty. It does not matter if you allow her to take water from your garden tap. She will water your garden also, while taking water. This will solve her problem and time and thus she can give extra care to your kids
According to a survey at Haward University after conducting multiple research four main reasons have come to light which become the reasons for leaving the job.
1. Getting extra work for a long time without any reason.
2. Disrespect for the work done by them.
3. Always try to cut the salary for the leave they are taking
4. Keeping them away from the mutual discussions.
In office and corporate sector also these employees play a vital role in getting you a higher success. In your prosperity their labour and care also plays a major role. Never disrespect your employees. Now the time is not only to love your employees but to give double love and affection, so that you get deserving success in life.
Imagine yourself as Vice President of the organization and one day calling your Manager. He will come in a confused manner, since he always appears to you in a reporting mode. And you wish him on his birthday by offering a bike. You can imagine the happiness on his face. He will become overwhelmed and will start working with more enthusiasm and considering your organization, as if it belongs to him. Imagine if every employee of yours gets this type of sweet treatment, you will touch the limits of the sky.
NO ONE TO LEAVE THE JOB OF THIS AMERICAN COMPANY
The Start up "Boxed" CEO Huang takes care of the families and kids of the employees. No employee of this company ever thinks of leaving job. The company pays the tuition fee, college fee of the kids of the employees. In July this year, the company will be sharing the tuition and admission fee to Brown University, for five children. The CEO says that giving gifts and bonus to the employees is out of trend now. The Company considers that providing fee and bearing the marriage expenditure is far better than giving free snacks. One day the CEO came to know that his employee is not getting married as he has spent all the savings on the treatment of his mother. He is living in warehouse. He called him and asked to call his girl friend and offered to bear all the expenditure of his marriage.
To give salary is not enough. Recently one big company in Gujarat called its staff for lunch. In an address company CEO proudly announced about the progress of the company. After that one of the staff member asked him what is his opinion about the staff who have given their valuable 5 years to the Company. CEO replied that each and every staff has been paid for it regularly. Never a single day delay has been there. What else you expect with salary. Result was that CEO got resignation from that staff member the next day.
Whenever any employee settles himself with the Organisation, he actually does three contracts. First is original written agreement. Second is unwritten agreement. This is between the managers supervisors and the employees that they have to do others work also if the need arises so that the company business is not affected. But the most important is the moral agreement. Whenever there is economic crisis, their salaries may also be cut. When the employees abide themselves by the contract, it is the moral duty of the Company management to look after the employees' welfare. Give them full support when they are in financial crisis, or any of the family member is seriously ill. This is never mentioned in an agreement but it is the moral duty of the Company Owner.
-Madhu Sidhwani
Director – WDPL