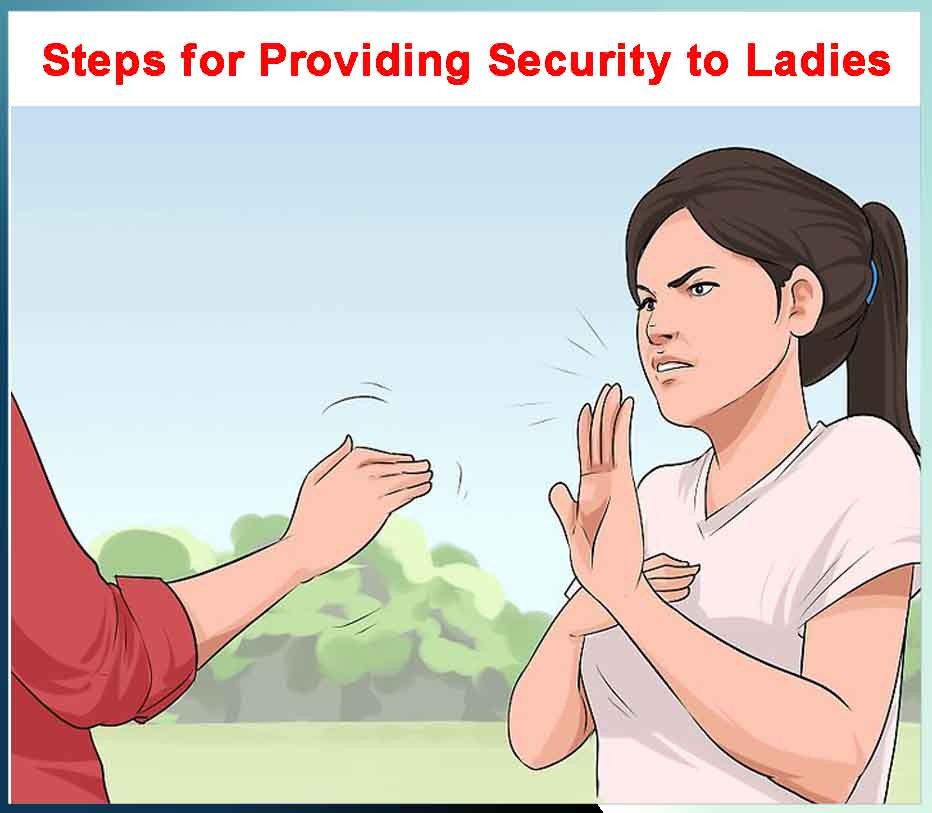 Recently, a survey was conducted by Plan India and it was revealed in the report that 70% of the girls and ladies living in cities and towns do not consider themselves safe and secure.
This report was given by film director Govind Nihalani and actress cum social worker Shabana Azmi. The researches were conducted in Mumbai, Delhi, Kolkatta, Patna, Bhuvneshwar, Varanasi, Banguluru, Hyderabad, Pune and Ranchi. The report of the research says that the cases of eve teasing are rising sharply posing serious threat to the womenfolk.
After the horrifying incident of Nirbhaya in Delhi, serious thinking is needed with regard to the security of ladies. Hard punishment and establishment of fast track courts are being recommended to fight this menace. The Government, Society and the ladies themselves have to become aware so that the past incidents are not repeated again. Some of the remedial measures suggested are:
Oppose
Eve teasing (the boys following you) should not be ignored. We are always told that do not react and leave the place silently to avoid dirty developments. But no, you should strictly oppose them. Speak loudly with direct eye contact. If someone is with you, it is better. See to it that you talk to him once; avoid the situation of talking to him again as after giving the warning, talking to him again can send a wrong message.
Have Some Kind of Weapons
This does not mean that you should have gun or knife with you. Day to day things like car key, nail cutter, deodorant spray, and pepper spray can also be used as a weapon to control the unwanted situations.
Don't Move Out Alone in the Night
No doubt you may be courageous to go out alone, but avoid travelling in night alone. If by any chance you have to return in night or in dark, take help from some male friend or relative and request him to come along with you till your home. If you feel that someone is following you, try to enter in a building or hotel, where there are watchmen. You can also tell the watchmen that you are being followed.
Tell Your Relatives
Considering the followers as mad or crazy and ignoring them can also prove to be very dangerous.  If you see someone following you more than once, immediately discuss with your family members and friends.  If need be, inform the police also.
Take Training in Karate
You can take karate training course from 15 days to 3 months of duration. Taekwondo is best to save yourself from eve teasing. If someone catches your hand you can immediately knock him off. This training is very helpful when two or three people hold you or attack from the back.
Special Upbringing
Love, patience and honesty for others and respect & confidence on yourself. It should be the motto while nurturing your kids. Try to maintain dialogue with the daughter so that she can share everything with you.
Expert says that by adopting some special measures, we can avoid unwanted situations or we can come out of it. Let us know about the following ten steps towards giving security to ladies:
Secured Work Place: When searching for a job for ladies, see to it that the place where they have to spend 8 to 10 hours is fully secured. The employer should ensure that during the work, ladies should feel secured. For female workers doing night duty, arrangement should be done to drop them to their house after the shift ends. Employers should also see to it that female employees are given training for their self security.
Ladies Traffic Police: For securities of ladies, government should increase female police force in Police Department. The ladies will feel more secure with the ladies police on the roads.
Teach Lesson to the Eve Teasers: Whenever your male colleague utters cheap words or sentences about ladies, do not ignore. Do not spare those people who make fun like this or laugh at you and oppose in harsh words. Teach a harsh lesson to the people who abuse ladies by using cheap words. If a person use disgraceful words for the ladies in public and private life, catch their collar and abuse them publicly and if needed, hand them over to the police.
Download the App: Whenever ladies find themselves in a dangerous or untoward situation, they can take help of an app. By pressing just one button on your smart phone, you can alert your selected friends and relatives of the danger. You can alert them by sending SMS through some apps like On Watch or Circle of 6. Through this, they are able to know about your location. Our IT Professional can also design apps, through which the local police can also be alerted.
National Data Should be Maintained: A national database should be prepared and maintained of the sex culprits. The name, address with photograph, the details of the offence should be entered in that. The Courts comments should also be detailed in it as to what kind of danger the society can have from them. The most important is that the general public should have easy reach to this information.
24 Hours Activities Should Go On: Think if the public places like shopping malls, cinema halls and restaurants are opened throughout the day and night, there will be crowd and the roads will not be lone in the night too, the culprits will get less opportunity to do these type of bad activities.
Increase Toilets: Till now there were many states where ladies were facing difficulties in the absence of toilets in the houses. This is also a big cause of sex harassment. Public toilets must be increased and each and every house must have at least one clean toilet. With this, we can control this situation to a major extent. Thanks to the efforts of our Hon'ble Prime Minister Shree Narendra Modi for taking it seriously. Awareness campaign through Great Actor of this Century, Shri Amitabh Ji is worth praising.
Ladies in Police Force: To maintain the law and order, not only more police force is needed but also ladies police force is the need of the hour. With the increase in police force, we must ensure that they remain alert, should be equipped with modern equipments and weapons and can smartly communicate with each other. They can take fast action in the case of slightly tense situation, and thus be able to catch hold of culprits immediately.
Educate the Children: The subject of Gender Sensitivity should be included in entire school syllabus. The children should be taught to raise the question if they see any sex discrimination. It does not matter whether it happens in their house, in any advertisement or in any marketing products.
Prohibition of Drinking in Public Places: In our country, we see that the drunkards fearlessly misbehave in front of the wine shop. After drinking they do eve teasing with ladies on the roads or commit other serious offences. These so called drunkards should be arrested at once or charged with fine if they drink in parks or other public places.
Follow us on Facebook, Twitter, Instagram, and YouTube to get more updates related to Sachi Shiksha – The Famous Spiritual Magazine in India. Also Read Our Hindi and Punjabi Editions.