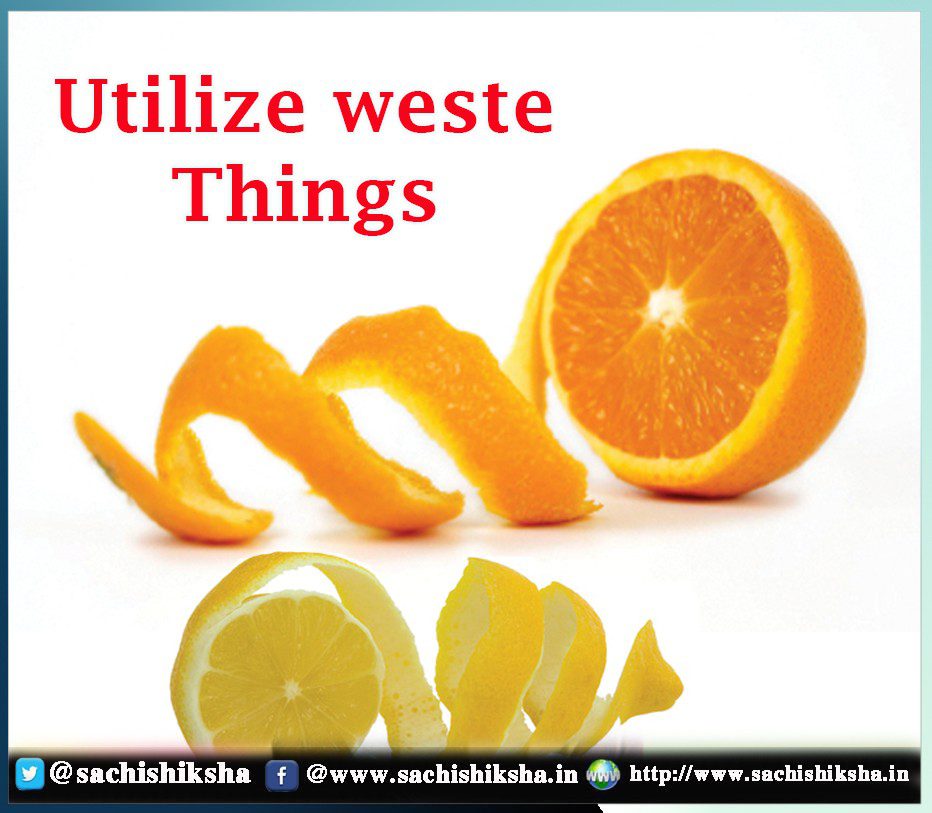 Do you ever think that the things you throw away can be of much use to you? Wait, we shall be giving you some tips, some information in this regard.
By using these ideas you can make best use of the waste materials. When you make lemon water and use lemon for salad, you generally throw away the peel.
Stop. Even the peel can be of much use . Take a dry bottle. Wash these and after making them dry put them in the bottle with salt, chilly and king's cumin. Leave it to dry in the sun daily. In three- four days your pickle will be ready. You can eat it with `khidi' and 'paranthas'. If you do not want to do this, you can make some other use as well.
This can be a good cosmetic too. If you see that your tanned arms are darker than other parts of the body. Scrub the lemon cover on the arms. After the usage of some days you will find that peel on your arms to make it soft.
Your tan will also reduce. You will have a shining skin. These used lemons are very helpful in controlling the dandruff. After you have used the lemon juice you find that there is some very little juice still left sticking to the peel. Rub it on your hair and wait for some time.
You will see after the use of lemon for 3-4 days your dandruff has reduced. If you apply the lemon on a regular basis your dandruff will disappear. When you prepare the tea in a kettle without sugar, you always throw the waste. Do not throw used tea leaves. You can put in the green leaves of the plants and mix with soil. This is a very good manure and darkens the leaves. After doing shampoo you can put these tea leaves on your head for some time and wash the hair.
After the use of this practice for some days, you will find a special shine in your hair and the hair colour will also change. You can mix the tea leaves (used) while doing alkanet (Hina) also. The orange peel is also very useful. This helps reduce skin problems like pimples and dark circles. It can bring glow to your skin. Make the Orange cover dry and make a dry powder paste out of it. Put in a bottle.
Whenever you find your skin dry, put the powder in a bowl, add milk and honey to it and apply it on the dry part of the skin. Put this paste on your face and let it remain so for some time. When it starts getting dry, wash your face. You will find your skin soft. Your skin will glow. Similarly radish leaves are also very tasty. Mix it in any green vegetable or prepare a fried vegetable. It will be very tasty.
Also do not throw the root of cauliflower.
Take them and fry in oil. After that prepare onion, ginger,garlic and tomato paste and put that roots in it to prepare a dry vegetable. It is also very tasty. You can also use the extra bread kept in your fridge. You can prepare variety of dishes from it. Dip the bread in water.
After taking out immediately press it and give shape of a `vada'. Deep fry it and serve it hot with sauce or green `seasoning.' You can also put in curd and prepare `dahi vada'. Make powder of bread, then you can make variety of dishes from it. Thus you will see that using a little common sense, you can use the waste things in a very innovative manner. These will add variety to your taste or help your skin glow. – AMBIKA
Follow us on Facebook, Twitter, LinkedIn and Instagram, YouTube to get more updates related to Sachi Shiksha – The Famous Spiritual Magazine in India.