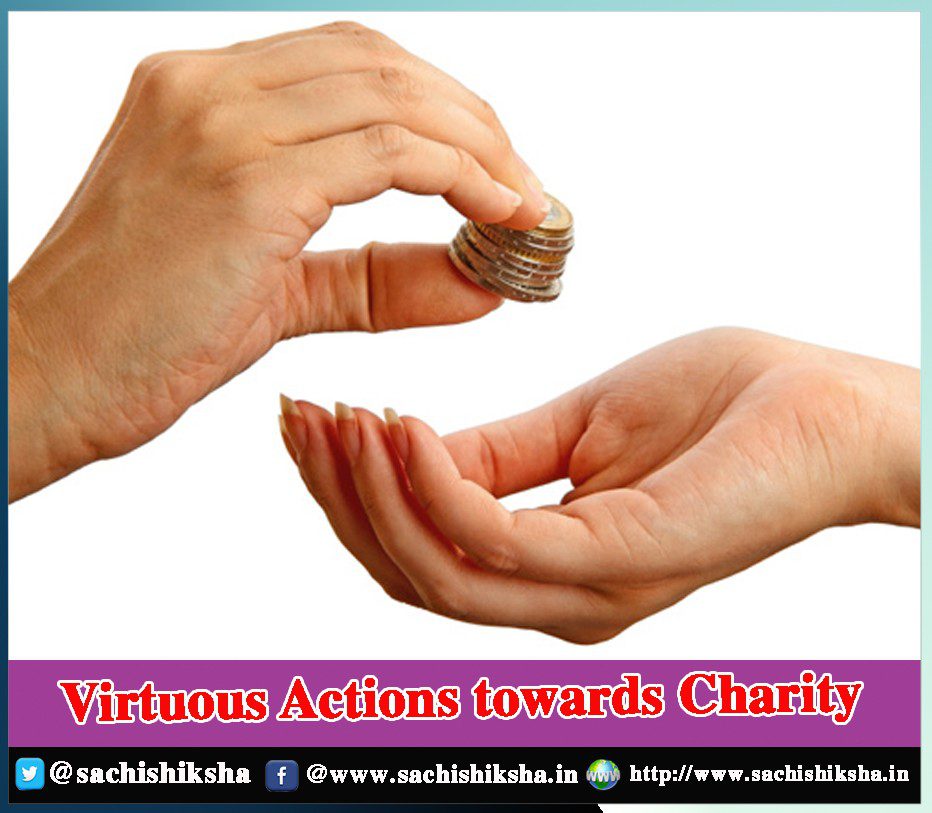 Charity is a praiseworthy and humanitarian act of voluntary help to the needy.
It is generally in the form of money for poor and sick (food or health care).
The charitable style of giving may either be direct or through charitable institutions or other worthy organization. Certain persons consider it as religious alms to orphans, beggars, destitute and injured persons. Thus charity is the benevolent process of 'giving' and 'sharing' the righteous concept of unlimited passion and kindness.
Charity reflects many tender qualities of humanity as kindness, generosity, benevolence, compassion, consideration, understanding, fellow feeling, indulgence, tolerance, liberality, decency, leniency, graciousness etc. The word 'Charity' has been derived from French language 'charitie' and Latin language 'Caritas' which means 'preciousness, clearness and high price'; the Greek word 'Agape ' means unconditional love for others.
Philanthropy
Philanthropy is the self attained craving to increase welfare tendency through physical, financial and moral help to others. It involves initiation for public goodness focusing on quality of life. It justifies regards for humanity in the sense of caring, nourishing, developing and enhancing.
It is better aspect of charity because the benefactor takes keen interest to identify the requirements and the beneficiary tries to concentrate upon the services needed. The word philanthropy is self explanatory (Greek—Philos=loving, Anthropos=for human being). It involves the improvement of human conditions, to save mankind from destruction, expressed through good works benefitting everyone else.
Aspects of Charity
No doubt that charity is a scheme of giving money for the social cause but the general masses perform other reliable actions of manual and mental status to assist the needy (may be through persons who do not spare the amount).
Offer blood donation to the patients or to the Blood banks.
Help in projects of tree plantation for improvement of natural atmosphere, prevent pollution and global warming.
Contribute towards cleanliness of roads, hospitals, educational institutions, canals, manmade water channels, drains or gutters etc.
Help in repair of pathways, near rivers (to prevent floods), streets and roads.
Provide assistance in the construction of rest-house for travelers and pilgrims or alms-house built as an act of religious merit.
Help in raising residence for the destitute or privy room.
Retired teachers can provide free tuition work for the poor students.
Qualified doctors can help in free consultations or medical checkup of patients.
'Charity begins at home' suggests that every person should take care of personal home and family before helping others. Then follow goodwill to all other members of human race with full devotion for welfare.
Elders and experienced persons can perform social tasks for improvement of thoughts, skill, innovative attitude, life style etc., of people. Devote at least one hour per day.
Donate some amount or other useful materials to orphanage and refuge for old or destitute.
Contribute certain amount for the purchase of dresses, blankets etc. for the needy.
Supplement gifts for marriages of girls from deficient families.
Charity can be implemented when the lacking individual is helped to learn and earn on his self dependency otherwise repeated charity may promote certain beggars.
Manage the supply of water, fodder to the vagrant animals and seeds to the birds.
Organizations Involved in Charity
A Non-profitable organization (NPO) for charity is a center for philanthropic objectives as well as social help, educational, religious or other activities of public interest. In India and many other countries, maximum donations are received through religious organizations.
The trustee and the members of the managing committee then take their decisions to spend the amount received. Maximum wealth is utilized in the establishment, expansion and renovation of their institutions.
However, some of them try to establish meditation centers, schools, colleges, libraries, play grounds, hospitals, guest houses (inns) etc., for the benefit of masses. They also plan to organize free camps for medical checkup and operations.
The famous religious organization of Dera Sacha Sauda is very prominent in the task of charity by pleading reverence for all religions and welcomes people of every caste, province and nation.
With the benevolence and guidance of most adorable saint Dr. Gurmeet Ram Rahim Singh Ji Insan, this organization has launched 127 projects of human welfare.
It has established many educational institutions for boys and girls (to provide free education to the trifling), Super-specialty Hospital (with most prominent facilities), International sports stadia (for cricket, tennis, skating hockey, wrestling, swimming), Mobile hospital (Farishta) etc.
The organization also manages free camps for eyes treatment, medical checkup and polio and blood donation. The followers have been advised to adopt the various tasks which do not require any monetary expenditure. They also save at least rupee one per day, accumulate the amount to extend help the needy.
The central and state governments in India have also launched many philanthropic projects to help the poor, for instance, allocation of plots, free construction home, free insurance policies, house hold gas connections, free pension to aged persons, compensations to farmers due to loss of crops, recompense the persons or families suffering death or injury due to natural calamities or accidents etc.
The revered saint Guru Nanak Dev ji has guided that every person should spend good time for meditation, earn through self toil and share the income with the needy which is followed by many religious and social organizations till date in his true spirit.
Certain recognized agencies in foreign countries are, Sunny kids in Queensland (Australia), Revenue agency (Canada), Community development for youth and sports (Singapore), Charity Commission (England and Ireland)  and many more.
Instances of Charity
Great virtuous king Satyawadi Harish Chander, had been most truthful and renowned for enormous charity who donated everything in his possession and attained self poverty. Prince Karan, a close relative to Kourav-Pandav had been very prominent philanthropist.
King Agarsain, promoted the masses to help the persons, who wished to establish their residence, by donating certain amount and a few bricks.  Presently, most eminent international philanthropists are Bill Gates, Millend Gates, Warren Buffet and Charles Francis Freeney.
A wealthy industrialists, Azim Premji, chairman of Indian consulting and IT company has donated more than 8-billion dollars for computer training (Wipro stock. Many international players and dignitaries of Bollywood also contribute a good amount in charity.
 Advantages of Charity
 The donor also gets benefits in addition to the person who receives the donation.
Charity is benevolent goodwill and love towards humanity is an educational ideal.
Charity is the sense of generosity and helpfulness especially towards needy or suffering.
Always be supportive because the resourceful persons gain better success and prosperity when they share their resources.
Tax exemption is permitted up to half the amount spent in charity.
The small charity that comes from heart is better than the great charity that comes from pocket.
When you open your heart to giving, angels fly to your door.
When you give cheerfully and the recipient accepts gratefully, everyone is blessed.
Philanthropist walks in the light of creative altruism instead of destructive selfishness.
The most valued and sacred instants of our life are filled with spirits of love and delight. The development of such pleasure becomes evident of success.
Wisdom of charity helps to discard ego and arrogance.
An eminent philosopher has appreciated the act of 'CHARITY' as cleansing of sin, heartwarming, avert calamities, repel selfishness, increase in blessings, treasure of divine boost, betterment in life and after life.
Charity with Moral Values and Spirituality
Do not concentrate on personal contentions but try to accomplish tasks for others through selfless, voluntary and devotional services with eternal motif. Our prominent thoughts affect our priorities and actions. Optimistic attitude, positive objectives and constructive steps help to seek divine bliss and attain eternity. Almighty Lord is the sole benefactor and we all are His beneficiaries.
Our spiritual guide deserves maximum reverence and remembrance since he is linked with God and conveys the divine message for spiritual enhancement. Let us learn to lead our life with highest ethical purity because spiritual progress is not possible without morality at grass root level. Each one of us exists to carry special mission to seek salvation. Therefore, extend all possible manual, financial and moral help to the needy.
It gets supported through adoption of virtuous qualities of humility, contentment, courage, universal brotherhood, tolerance, and respect for all religions, positive thinking and kindness.
Follow us on Facebook, Twitter, LinkedIn and Instagram, YouTube to get more updates related to Sachi Shiksha Spiritual Magazine.
Dr. Triloki Nath Chugh Insan, Co-ordinator, Shah Satnam Ji Educational Institutions, Dera Sacha Suada, Sirsa.