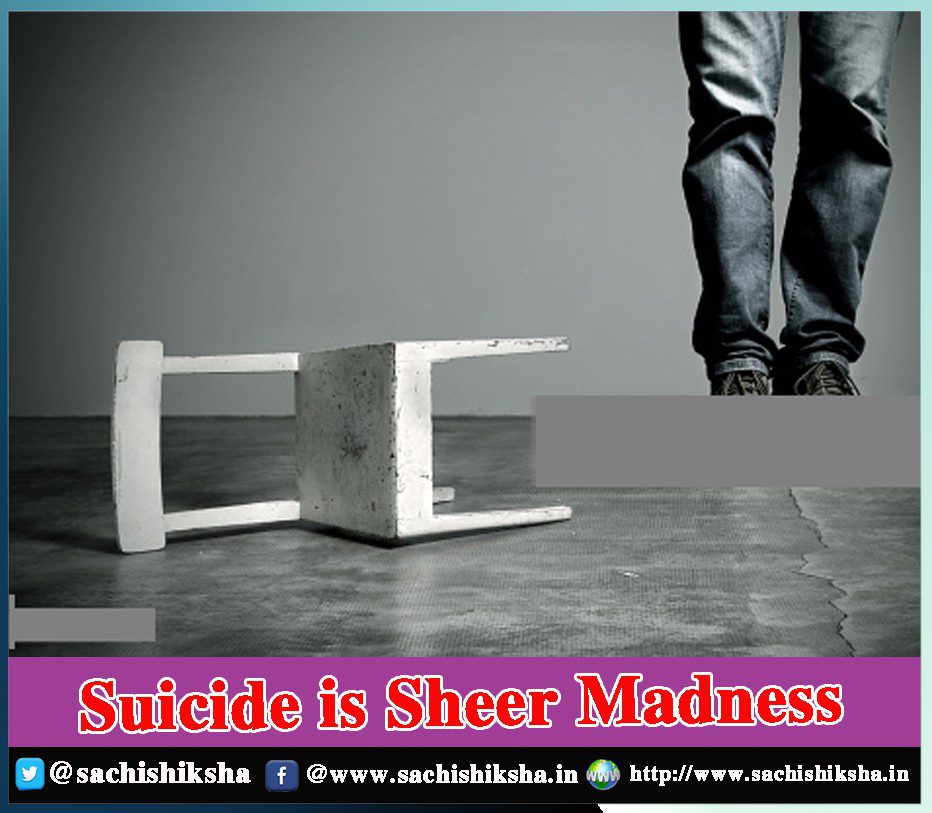 Suicide is Sheer Madness | Suicide is an evil thought of causing one's own death due to wrong intention and mental disorder. The concept of suicide is not only physical, judicial and social crime but also spiritual arrogance.
Every religion traditionally considers suicide as an offence towards honor of God, due to belief in sanctity of life. Approximately 0.5 to1.4% people (about 12 persons per lakh) commit suicide. This number is increasing in developed nations. The word of 'Suicide' has been derived from Latin language which conveys 'killing oneself'.
Human Life
Human race is unique, exalted, supreme and prominent creation of supernatural Divine Entity. The period of existence is vital, conscious, passionate and delightful. But the life span of a person is limited. The cause, conclusion time and place of death remain unknown to everyone.
It is also being regulated through fortune governed by Lord. The management of our life must involve superb thinking, planning, actions and proper utilization of resources with positive aspects to achieve most favorable results. Every person must introspect from time to time to work for better prospects and prosperity.
The persons having good health and refined attributes live for a good period. Even the elderly and experienced persons feel rejoiced to convey that living should be peaceful, enriching and productive without distress. No one should fear natural death because this event is certain but no one can predict the death clock.
Causes of Suicide
Suicide is not only the process of self killing but an act of self murder. Persons developing the tendency of suicide seem to suffer from psychological distress, physical disorder, intoxicants, financial problems, social difficulties etc.
Suicidal tendency starts from simple tension to depression and ultimately ends in self killing. Depression involves temporary disturbance in body structure, functions and status of mental imbalance. The person gets engrossed in grief to develop reduction in vitality (creating hollowness). The chemical imbalance is in the form of serotonin and nor-epinephrine. The person feels to lose the ability and imagination of proper hope, happy future or past.
Socio-economic problems in the form of poverty, homelessness, unemployment, loss of job and discrimination trigger suicidal thoughts.
Schizophrenia, personality disorder, mental health and stress disorder.
Acute intoxication is mainly due to major depression that people may use heroin, alcohol, benzodiazepine, cocaine and excess of cannabis etc.
Health problems in the form of chronic pain, brain injury, kidney failure (requiring repeated blood dialysis), AIDS, cancer, swine flu, severe anemia and many more.
Hormonal imbalance, hypothyroidism, insomnia, Alzheimer's problem, brain tumor and much increased use of medicines.
Disturbed psycho-social status, such as loss of pleasure, anxiousness, egoism, poor ability to resolve social problems, facing insults through juniors or young members of family.
Family problems involving untimely or unexpected death of parents, spouse, close relatives or best friends; infidelity, accidents, social isolation, quarrelsome situations among family members, problems related to partition of family property etc.
Loss to farmers, damage of crops due to improper irrigation, increase of pests or harmful microbes, un-natural fire. Over two lakh farmers of India have committed suicide in about past 15 years. In china, rural suicide is three times more as compared to urban areas.
Losses due to speculation, irrational loans, gambling, undesired imprisonment due to injustice.
Thoughts of superstitions, ostentations and evil spirits.
Certain ladies feeling scared and more anxious in home of in-laws.
In children obstinacy, wicked behavior, weakness in body or memory and failure in examinations.
Non-fatal attempt of suicide (about ten million per year) cause injuries and long term disabilities. Such attempts are more common in young people and women, with the desire to end one's life that does not result in death.
Emotional changes like powerlessness, loss of self control, anger outburst, and declining association with a group previously enjoyed, deteriorating physical appearance and neglect personal welfare.
Trend of 'Satteeverta' It was being followed in certain regions of India during ancient period. 'Sattee' used to be a faithful wife who vowed to burn herself (commit suicide) along with the cremation of her dead husband (due to her devotion). This misconception was finished with the virtuous guidance of spiritual saints.
Certain persons commit suicide under forced circumstances and not through choice. Now a few young person's or terrorists make planning of suicide for name, fame, wealth, sex and success.
Efforts for Prevention of Suicide
People should always shun and invalidate the thoughts and methods of self killing. Always try to reduce the factors of suicide through motivation of self care activities.
Everyone should make concerted efforts to escape and avoid routine causes of depression. More so, suffering from depression is involuntary and treatable illness. Escape from adverse conditions of stress and strain leading to severe tension.
Share feelings with selected persons of confidence, parents, relatives, neighbors and reliable friends who can resolve many problems.
Try to remain busy in personal and professional activities because empty mind is devil's workshop. Acquire skill and experience in job to excel others.
Get involved in voluntary, social and religious service with noble thoughts and dedication.
Gain self control through regular and rhythmic exercise so as to release serotonin. Promote breathing through yoga to regulate heart beat. Consume green vegetables and fruits rich in vitamin B-6, vitamin-C (citrus and myrobalan), omega fats (walnut) and protein (soya bean and pulses but not non-vegetarian source). Take nutritional supplement with calcium and phosphates.
Achieve treatment through expert physicians. Lithium and a few more proper medicines are effective in reducing the risk of uni-polar depression. Do not take medicines which cause addiction or promote sleep.
Certain supporting groups of social organizations and health professionals contribute to provide relief to the persons suffering with problems. In USA, there is a 'Foundation of Suicide Prevention' and in London 'The Department of Salvation in Army'.
Reduce the risk factors of suicide. Make future plans and prepare for new events in life.
Life can only be understood backwards but it must be lived forward.
Life is Precious
A prominent poet has conveyed, 'The lives of great men all guide us, we can make our life sublime and departing leave behind us. Life is real! Life is earnest! And the grave not its goal.' Life is for living and not dying.
Regular prayers and meditation change human vices of anger, lust, greed and ego to patience, respect, humility, contentment and love for humanity. The sense of tranquility and eternal peace gets instilled in mind. Tension, stress, strain and distressing factors stack away.
Negative persons create problems for others, therefore, try to avoid their company. One may not do great things in this life but can do many small things with love and respect. Never do wrong to anyone.
Therefore, think good, do good, be good and you will enjoy with its fruits. Human beings must learn to inspire the mind with the spirit of love in order to get over the inconsistencies of life.
Carry firm Belief in Divine Power
Lead the life with highest ethical purity because spiritual progress can be possible through morality at grass root level.
The properties of good habits, strong character and amiable behavior form the basis for realization of God. Our virtuous thoughts and righteous actions become everlasting and eternal. Each one of us exists to carry special mission to seek spiritual elevation and attain salvation.
Fulfillment of these major objectives shall prevent transmigration (rebirth). We must continue our sincere efforts to achieve Divine so as to understand the purpose and meaning of life.
We should get involved in regular meditation with commitment, patience and humility without expecting and demanding anything in return. Our concentration on third eye, with 'God words ', provides us the benevolence of 'soul power tonic'. During birth our body is bestowed through parents but the soul is blessed by Eternal power.
Why should anyone try to damage or end the body on wicked thoughts and actions? Everyone should refuse to get frightened by grim situations since each one carries "Divine" within, all the times at all places. Therefore, try to face the challenges and cope with worldly tumbles bravely.
Follow us on Facebook, Twitter, LinkedIn and Instagram, YouTube to get more updates related to Sachi Shiksha – The Famous Spiritual Magazine in India.
Dr. Triloki Nath Chugh Insan, Co-ordinator, Shah Satnam Ji Educational Institutions, DSS, Sirsa (Haryana).