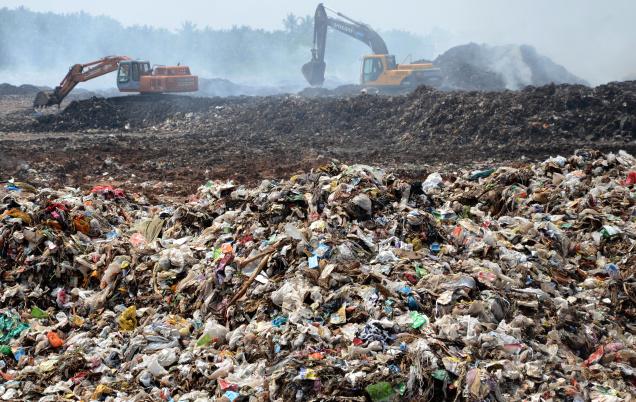 If environmentalists were worried about global warming as a major challenge, it now has a competition.
Disposal of waste, being churned out in the world at dizzying rates, has become a crisis of sorts as countries struggle to dump their trash effectively.
What's more, the World Bank, in a recent report has warned how the waste is going to put financial burdens on already strained economies. With urbanization increasing at an alarming rate, it is the third world countries, like those in Africa where the problem is going to be more pronounced than other places.
Last week, World Bank released a report that threw up startling figures. The report says, "a relatively silent problem that is growing daily," as city dwellers will generate a waste pile of 2.2 billion tonnes a year by 2025, up 70 percent from today's level of 1.3 billion tons. A decade ago India was producing 1,000,00 MT of solid waste every single day.
It has multiplied 10 fold in 10 years. It is not just trash but varieties of trash – domestic, industrial, plastic, e-waste which is posing challenges. We are sitting on a plastic time bomb," the Supreme Court observed in April this year after the Central Pollution Control Board (CPCB) informed it that India generates 56 lakhtonnes of plastic waste annually, with Delhi accounting for a staggering 689.5 tonnes a day.
"Total plastic waste which is collected and recycled in the country is estimated to be 9,205 tonnes per day (approximately 60% of total plastic waste) and 6,137 tonnes remain uncollected and littered," the CPCB said.
In the meantime, the cost of solid waste management is projected to soar to $375 billion a year, from the current $205 billion.
The report titled "What a Waste: A Global Review of Solid Waste Management" is the first ever compiled on waste and the World Bank has warned of crisis ahead, as living standards rise and urban populations soar.
Dan Hoornweg, a senior urban specialist at the development lender and co-author of the report has said, "This report should be seen as a giant wake-up call to policy makers everywhere." The bigger the economy, higher the waste pile.
China has stolen a march on the US in generating worlds' largest waste which is 70% of that in East Asia-Pacific region. Even as the World Bank is seeking solutions for better waste management, recycling, it is now believed is the mantra to check greenhouse gas emissions. This is making developed economies revisit their earlier concept of " use and throw" and turning their living styles on their head.
The report's authors recommended a waste management plan that includes input from all of a city's stakeholders, including citizen groups and the poor and disadvantaged. Inefficient solid waste management is also leading to higher greenhouse emissions and the World Bank is warning precisely against that.
It is the poor nations which have to be more careful and worried about the problem as the cost of efficient disposal of wastage is likely to be a huge strain on economies.
It is fast being realized that is important to put in place programs to reduce, reuse, recycle, or recover as much waste as possible before burning it.
Follow us on Facebook, Twitter, Instagram, YouTube to get more updates related to Sachi Shiksha – The Famous Spiritual Magazine in India.