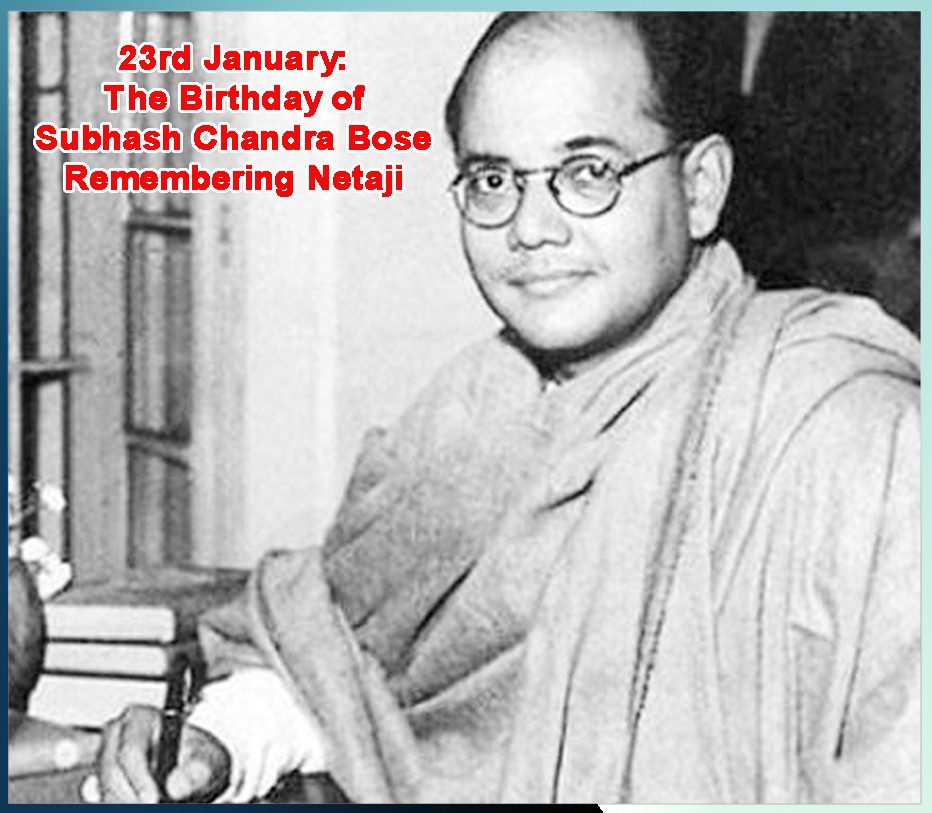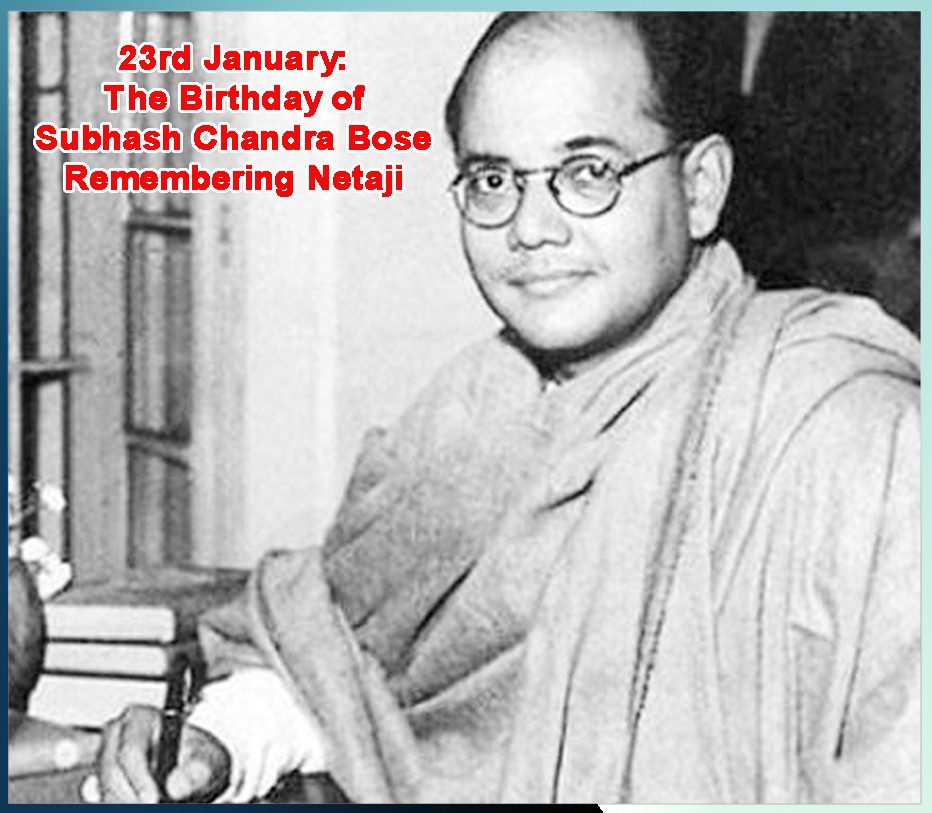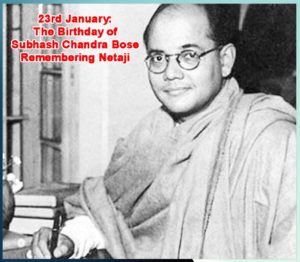 23rd January The Birthday of Subhash Chandra Bose Remembering Neta ji
in the British Period, no one could dare to say anything against the hatred that the Firangi English people subjected Indians.
The reason for this psychosis of fear was natural. Whosoever dared to raise voice against the hatred of the British Raj, was made to bear abuses and physical tortures.
But seeing and knowing all this, Subhash Chandra Bose (born on 23rd January 1897) rose up against the oppressive regime of the English people and made them understand that the tolerance, of which they are making fun, is not their weakness.
He never allowed his classmates to be made fun of or hurling of harsh words by the British teachers. According to Subhash, the motherland was more important than the honour of a teacher. One day, one of his teacher Aurang called problem on himself by calling Indian "Foolish, Buddhu" and "uncivilized".
Subhash beat the teacher on face by hand in front of all. Subash was rusticated from school for this but he did not apologize the British teacher. In the student life itself, he tried to change the feeling of the British teachers that Indian Students were poor in knowledge compared to English students. In addition to studies, if involved in other extra- curricular activities, he used to prove intelligent and active in the results, but for his father Jankinath, he always proved to be a 'headache'.
On hearing the complaints of the students and neighbours, he wanted to send him out and wanted to remain in peace. Subhash has the effect of helpful behavior of the father and religious instincts of the mother. He had the habit of giving some chapattis to the beggars from his own meals. He used to help the one in need, even going out of the way by taking money from his mother.
He used to serve the patients of highly contagious diseases like cholera and plague and took their blessings. Jankinath Bose sent him to England. Subash qualified the Bar-at-Law and I.C.S. exams. He ranked fourth in the I.C.S. Exams. On the advice of Deshbandhu Chitranjan Das, he did not accept the Government Job because for this he was not willing to pressurize and beat his own countrymen. He returned to India and Deshbandhu got him the job of a Principal in the National School. Subhash glorified this school with all of his efforts.
After studying the political situations, he organized a group of youngsters that condemned the Roulette Act. They planned to show black flags to the Prince of Wales.
Administration banned the RSS and declared it illegal and to torture its members, placed them in jail. Subhash had to spend his days in Alipur Central Jail in Kolkatta, the first term of six months imprisonment. Coincidentally Deshbandhu also came in this jail and they spent time happily. After the release from jail, there came flood in North Bengal.
He constituted Flood Relief Committee and people asked him to accept the Ministers Post for Relief Work. He wanted to work free handed and did not want to accept any post. But he honoured the emotions of all and accepted the post. Marching towards in search of life, he helped the incapable drowning people.
One of his colleagues was the daughter of one Police Officer. Her name was Kamla. Deshbandhu was elected as Head of the City. He appointed Subash as Administrator. Both of them did different types of services in the city. A patriot murdered one British man. So the British Government became alert. The innocent people were also put behind the bars. After Alipur and Bairampur Jails, Subhash was sent to Mandalaya Jail.
He fell ill there. The sad demise of Chitaranjan Das was an irreparable loss for Subhash. He fell sick there. He was sent to Switzerland for treatment. After becoming serious, his younger brother Sharat Chandra took him back to Kolkata. Subhash did not care for his health and he took active part in Non Cooperation Movement.
In the Congress Meeting in Tripuri, he was elected as President of Congress Party but there were some people who considered it a wrong decision. Later he formed Forward Block. He was house arrested and no one was allowed to meet him. Subhash came out of the house in the dress and make up of Pathan Ziyaur Rehman.
The guards were confused. His absence made them surprised and worried. Subhash went to Kabul from Peshawar. Then he went to Berlin. There he met Hitler. Both of them signed agreements. There only he established armed force "Azad Hind Fauj".
Hitler helped him in all the ways. He gave recognition to it and supplied weapons. He set Indian Radio Station where the lectures of Subhash Chandra Bose used to be broadcasted. In 1939 Japan got victory in Singapore but very shortly the position became as it was. With the efforts of Ras Bihari Bose in Tokyo, India got support from Japan. To nurture Azad Hind Fauj, people gave him money and ornaments. In his broadcast, he told the countrymen, you give me blood (sacrifice and cooperation), I will give you independence.
On seeing the collective approach of Subash, British were defeated but independence could not be attained at that time. On 23rd August, 1945, he flew by airplane, but where he went no one knew. The declaration of his death was made on unproved proofs.
This Tiger of Bengal who got birth on 23rd January, fought against English till the last breath and tried to drive them out of India. On his birthday all countrymen salutes him.
Salute this perseverant and strong willed founder of Azad Hind Fauz.
– Dr. Rashtra Bandhu