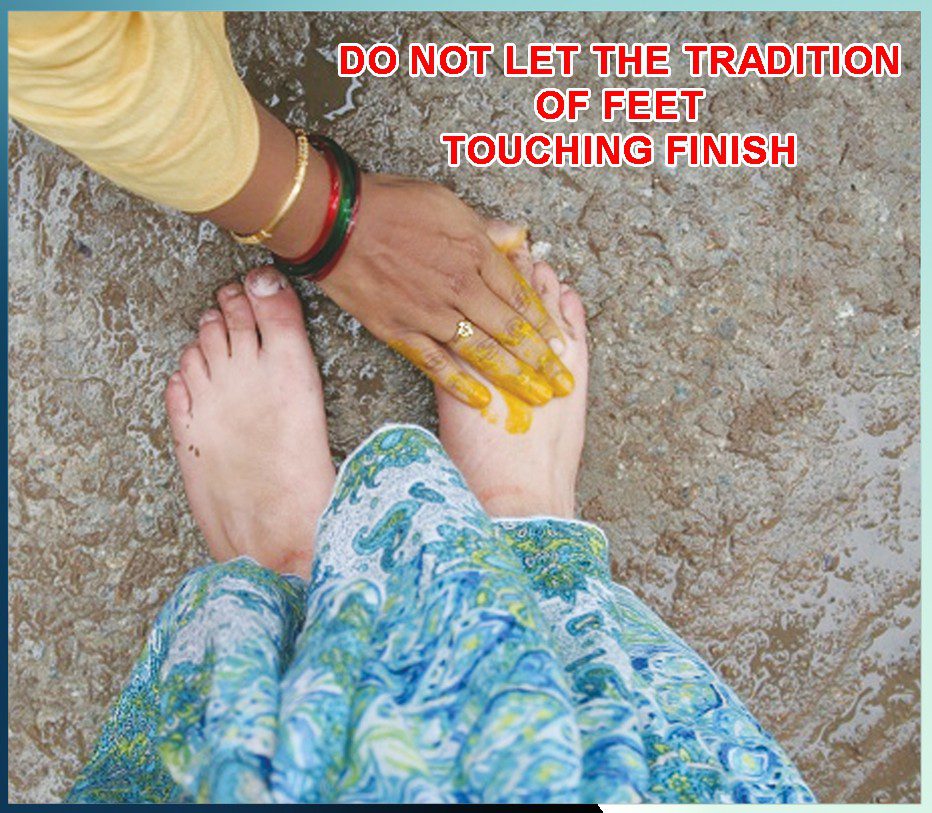 Do Not let The Tradition of Feet Tuching Finish
In today's modern age we are losing our traditional customary practices with the logicless combination of western culture.
We are seeing everyone becoming busy to busiest all around us. It was never like this before.
Today we are seeing all VRG, may be a kid, young or elder, everyone is so busy in his work that they are forgetting our old rich traditions, like respecting elders, touching feet of elders, giving respect whether he is big or small.
• It is said that Heaven is under the feet of the Mother. So our elders pray for us.
• Shelter is under the feet of father. This also some lucky person gets. We read, write and tell so much for respect of our elders. But when comes to agree on it, we revert back. This all is the effect of our feeding, lifestyle and today's modern media effect.
What we see in and outside our homes, the effect of matchless western culture, that somehow has entered in us and the effect of this is seen clearly in our practical life. When we move in the society and do some social work, we pretend ourselves fully overwhelmed in modern culture. This is a false imposition that leads us nowhere.
In olden days how much we used to care for elders, respect them. One of these traditions were to touch the feet of elders. This tradition is finished altogether. Today everyone is becoming busy in his/ her own self. In olden days every member used to join with others and used to talk. But today's man is lost in himself only. The people used to respect their elders and used to touch the feet of the elders, while coming in and going out of the house, and while touching feet they used to get the blessing/affection of the elders.
Due to this reason there was peace, happiness, prosperity and respect for the relations in our homes. Now no where is that ease. Now the kids are busy in their works. Parents are also busy in their own works.
And where there are elders in the home (Dada-Dadi, Nana Nani), think and say with sigh where those days have gone to which only the remembrance is left. But those days can come again. Only thing is that the initiative has to be taken by younger generation. We only have to come forward to save this lost tradition. We have to give such values to our children so that these traditions get live again.
• We have to come forward on our own and take initiative to start this.
• We have to touch the feet of our elders daily, when we get up and take their blessings. We have to talk to them. When our children will see this, perhaps they may understand this.
• Children should pass time with every member of the family.
• Parents should take their children for social work some times.
• Make them known about the far and near relations. At the end, one more thing to tell is that our parents have made us learnt to walk by holding our fingers. Now it is our turn. Instead of charging our mobile battery, we should go out after touching their feet.
-Lakhbeer Singh Insaan
Follow us on Facebook, Twitter, Google+, LinkedIn and Instagram, YouTube to get more updates related to sachi shiksha Spiritual Magazine, articles.