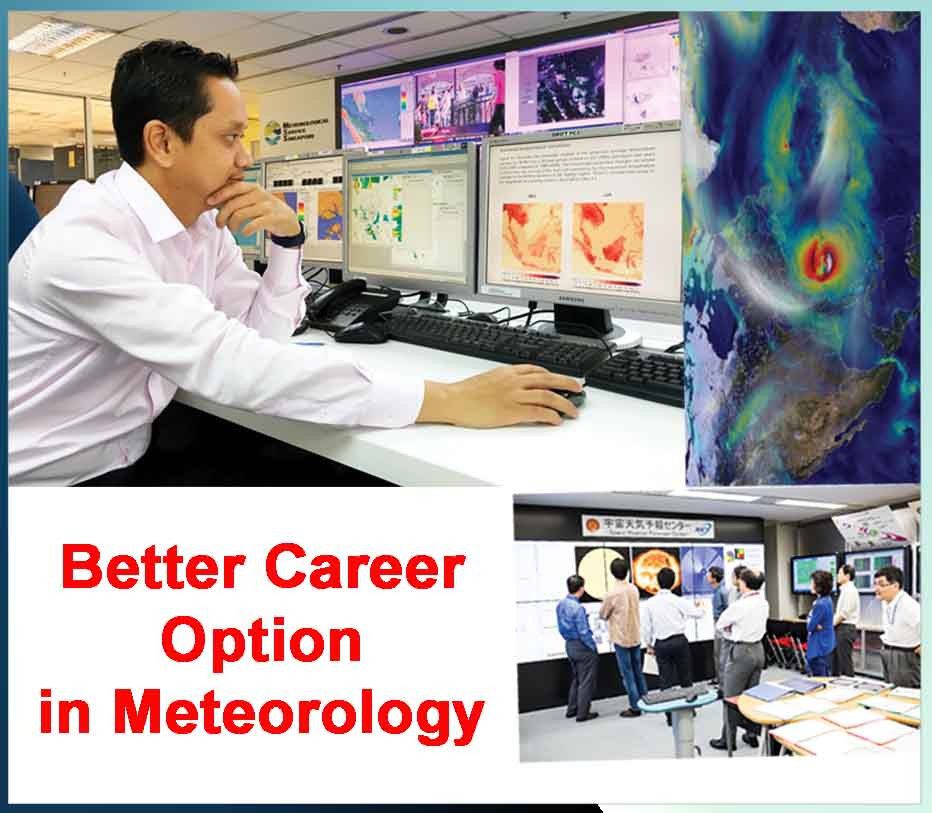 The Meteorological Department of India through its big network of 600 centers collects the weather-related data, analyze it and make us aware about the changing weather. This is called Environmental Science and Meteorology.
Under this, the changes in nature is studied and assessed. Through forecast, Meteorological Department makes the weather-related information available to transportation, telecommunications, defence and aviation sectors.
Which Courses Should be Done?
Meteorology has so many branches. One can make a good career by doing any one of the courses. These branches are Climatology, Synoptic Meteorology, Dynamic Meteorology, Physical Meteorology, Agricultural Meteorology and Applied Meteorology.
The Youngsters who want to do Diploma and PG Course in it must have Bachelors Degree in Physics and Math. The minimum and maximum age limit is 17 years and 25 years respectively.
Entrance Exam
The candidates are selected in Indian Meteorology Department after the Entrance Exam. This exam is conducted on All India Basis.
The candidates are admitted according to Merit in different college and universities of the States. The examination pattern is objective. In this exam, questions related to Math, Physics, Chemistry, General Studies, History, current affairs, Indian Politics are asked. The medium of the exam is English.
Employment Avenues
The experts of this field have much maximum employment options in the Indian Meteorology Department. Other than this, weather experts are also appointed in PWD, Department of Electronics, Post & Telegraph Department and Railways and other Public Sector Undertakings.
Besides this, Army, Naval and Air force also needs the services of the Meteorologistsfor weather-related information. In addition to this, there are many such business in which the decisions are mostly taken on the basis of weather, they also recruit Meteorologists.
Can Become Advisor
Agricultural Meteorologists can work in Research and Developmental activities of Private and Public Sector Agencies.
Under these agencies, Central and State Agricultural Universities, Indian Council of Agricultural Research, Indian Space Research Organisation, Space Research Centres, National Telepathy Organisation, Science and Technological Department, Food and Agriculture Departments are included.
Under Private Sector, the Agricultural Meteorologists can work as advisor in N.G.Os and other Organisations involved in Water Management, Command Area & Rural Development Programmes. Today there are many employment opportunities in Agricultural Meteorology Sector. Under this programme, the effect of the weather on Agriculture and Animal Husbandry is studied.
Teaching and Research Jobs
Under the employment avenues available under Government Sector, they can get employment as Scientists, Asstt. Professor, Research Officer, Subject Specialist, Agricultural Meteorologist in Teaching, Research, Development and Extension Programmes.
These posts are available in different universities, State Agricultural Universities, Agronomy centers, I.C.A.R, Science and Technology Department etc which are related to High Level Research, Developmental Extension, Advisory services, Organisers and Policy Making activities. The experts are of the view that in near future Meteorologists will be in great demand.
UPSC Examination
The UPSC (Union Public Service commission) conducts entrance exam for Grade II (Meteorologists) examination for recruitment to IMD (IndianMeteorology Department). The minimum qualification for this is Masters in Physics, Math and Computer Application.
Masters in Math with Physics and Astronomy and Masters in Science with Astro Physics candidates can also apply for this. The selected candidates have to undergo one year Advance Course in IMD Pune and Delhi.
Main Institutions
In different Universities, Meteorological course at PG level is available. In addition to this IIT also runs high level course and Ph.D in Meteorology. Some Universities runs one year diploma course for the Maths and Science Graduates.
Jawaharlal Nehru Krishi Vishvavidyalaya, Jabalpur www.jnkvv.org
Atal Bihari Vajpayee Hindi Vishwavidyalaya, Bhopal, www.abvhv.org
Indira Gandhi Krishi Vishwavidyalaya, Raipur, www.igau.edu.in
Indian Institute of Science, Banguluru, www.iisc.ac.in
Cochin University of Science and Technology, Kocchi, www.csuat.ac.in
Shivaji Vishwavidyalaya, Kolhapur, www.unishivaji.ac.in
Anand Agricultural University, Anand, www.aau.in
C.C.S. Haryana Agricultural University, Hissar, http:hau.ernet.in
G.B.P.U.A.T., Pantnagar, www.gbpuat.ac.in
Punjab Agricultural University, Ludhiana, http:web.pau.edu
– NARENDRA DEVANGAN
Follow us on Facebook, Twitter, LinkedIn and Instagram, YouTube to get more updates related to Sachi Shiksha – the Famous Spiritual Magazine in India.