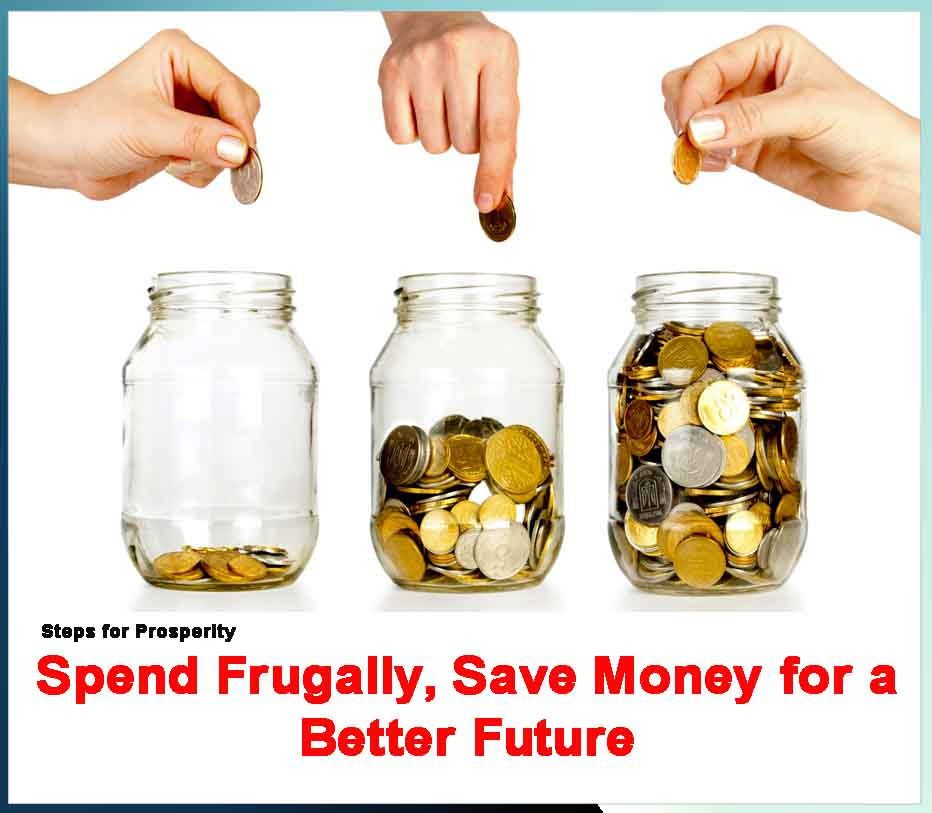 Steps for Prosperity
New financial year is going to start. Budget session has started. The previous year witnessed huge price hike and more to that demonetization shook the budget and the homemakers had to work very hard.
Now slowly and slowly the circumstances are coming to normal situation.  Prosperity comes to home in this financial year let us now work on this.
Also Read: 
EMI is Better
Sometimes you wish to buy an item which comes in the luxury category and you cannot afford it, purchase it through EMI. At least one item you should purchase from EMI. For example, Microwave.  For Indian kitchen it is not a necessary item.  But no doubt it makes the life a little bit easy.
Before purchasing it do some marketing survey.  Many big companies have deal with one or the other financial companies. Where the facility of monthly installment is provided without any extra charge, go for it. But see to it that if you are already paying one EMI for the other product, this option may not be right for you.
Take Sensitive Decision About Cosmetics
Eyeliner and Mascaraare wasted very soon.  So here you can compromise with the brand also.  If you have been gifted with some lipstics and one you have extra which you do not like.  Do some experiment and mix both the shades.  May beyou like the new mixed shade and thus can save money.
Go Again & Again to ATM
If you manage the home in 25,000/- p.m. now leave the habit of withdrawing the whole amount and keeping in a envelop.  Instead cultivate the habit of withdrawing the money from ATM. Does not matter you have to go again and again to ATM. According to your budget and need, withdraw only that amount.  You can make a weekly budget and avoid wastage.  Thus every week you will have the enthusiasm for saving.
Planning for Summer Outing
It used to customary for every woman in the past to go to her mother's house and spend a month there during the summer. Now everyone has one's own life and nobody now is mentally prepared to bear the responsibility for a month. More to that children watch TV and well connected with internet have the attraction of visiting new places.
It is the demand of the hour.  We have to bear with this. If you go outside the city for the vacations or you wish to go out once a year.  Start planning much early even months before.  By doing so, you can get cheap air fare, hotels and travel package also.  Moreover every month save some extra money for this expenditure.  If you do this, the budget of the month of your travel will not be disturbed.
Have Different Options for Weekly Outing
These days Mall culture has come in existence.  When every week you visit mall, you waste so much money that you cannot imagine.  There are attractive displays and the children wish to demand one or the other thing which is beyond your capacity.  More to that when you enter a grocery outlet, ladies purchase so much items that are of no use and kept for months.  But when they see variety of items, their wishes get feathers.
Try to go only once a month to a mall and that too with prior instructions to the kids and the wife not to go beyond the limits. Rest of the weekends you can plan to visit a nearby beautiful park in the evening with lights and a small picnic can be arranged with the food taken from home.  You can empty your fridge and the eatables, fruits etc. should be kept in the picnic bag.  This will have multiple benefits and thus you will march a little bit towards prosperity.
Do Monthly Saving Instead of Yearly Savings
By depositing and saving a huge money at the end of the financial year is not a wise step.  Instead you can go for monthly saving.  This will encourage you to save more from the previous month.  This information you can share with the kids also and thus they will also cooperate you in saving the money.  Try to teach the children to respect the money and tell them about the benefits of the saving.  Monthly saving is a practical option for the salaried people.  For this you can adopt SIP plan also.
If you get 4 to 5% in saving account, in SIP like plans you get at least 15 to 20% interest.  Some people say that in SIP your money is not fully safe but in long duration the money is safe.  You can also request the bank to take out some money and deposit in your account.  For this ECS (Electronic Clearing System) is beneficial. You must plan as in some months like Deepawali etc, birthdays and anniversary the budget is shacked.  So every month save money for these also.
There is an old saying that money lost, nothing is lost, health is lost something is lost.  Read and understand these lines carefully.  If health is lost, then only the money is lost.  These days if you do not get medi-claim, huge amount can be wasted on treatment.  So it is better to take health plan for the whole family and be tension free. Though the money is not the only thing in the world but remember that the flowers offered to God also come with money.  Do not be miser but be economical. Respect the money.
Understand this from this example. You may have seen that sometimes you forge to close the water tap fully.  You must have seen that the water drop fall in the bucket.  After one or two hours when you come and see that the bucket is almost full.  The same thing is with money.  If you start saving petty cash, this will be converted into hundreds, thousands and if saved economically you can reach to lakhs. Think before spending.  Before purchasing think for a while whether you cannot pull on without purchasing it.
If the answer comes in yes, avoid purchasing  that.  And if the answer comes no, no hesitation, purchase it. Once in a month you see all the articles kept, you must have seen that they are lying only.  You have never used them once.  That is the wastage.  Avoid only this and you will think that you have saved a lot.
Do not compromise with health and eatables.  Rest should be spent with open eyes and wisdom thought. After a span of time, you will see that your are marching ahead to prosperity.  For prosperity you have not to please any God.  Work honestly, save wisely and you will be prospered.
VINITA