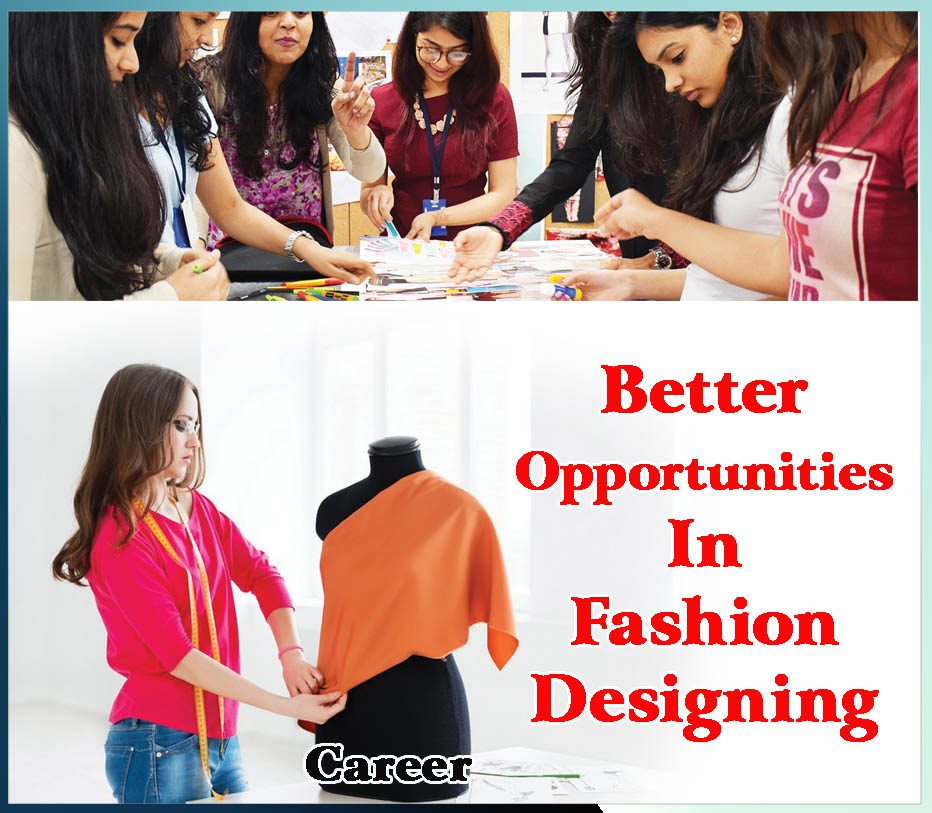 Fashion and its format has always been there in different and important ways. From ancient periods till today it has been changing and today in its modern way, it is not only being in its fashion way, but also according to the need of the hour.
Previously designer for clothes were Julahas and tailors, jewelers and sarrafs were for ornaments, designers for shoes were cobblers; and for the hair cut or hair styles there were barbers. But with passage of time, this business is being transferred within generations. Today also this business of fashion designing is becoming the first choice of the young generation, in addition to the inherited family business community.
Before we know about the Fashion Designing syllabus and its institutes, we should know about the fields of fashion designing.
Dress Designer
They design dresses for the gents, ladies and kids wear, like casual wear, sports-wear, suits, evening wear, outer wear, maternity clothing and inner garments.
Footwear Designer
They do designing of different kinds of footwear. They use new equipments, light weight synthetic wear, using sole as the shoes so that they become very comfortable and also design different kind of beautiful chappals.
Accessory designer
They design hand bags, suitcases, belt, scarf, caps, hosiery and goggles.
Costume Designer
These do designing for the costumes of TV serials and films. They do designing according to the scene or select the designs with the Director and prepare right dresses. They have to prepare the costumes according to the budget of a production house. Most of the fashion designers work for whole sellers and producers. They do not work in a special industry.
These whole sellers and producers get costumes and accessories designed from these designers and sell them to the retailers. Many of the designers work as free lancer or independently.
There are so many big friends and we all are known to them. But big designers working independently remain unintroduced to the people.
Most of the designers are self employed. Famous designers visit abroad also for their business and fashion show. They go abroad to meet their distributors also. These designers also work under contract due to which they become over busy. Providing the assignment ready in schedule time and designing qualitative fashion increase their goodwill. This dedication make them popular in the industry.
How to become a fashion designer: Most of the fashion designers should have subject related bachelors degree.
The employers try to judge constructiveness and technical skill so that their knowledge and wisdom can be utilized well in productive process. In Bachelors Degree, Fashion Designing and Merchandizing degree is needed. In these projects, the knowledge of textile and thread and how to use computer added designs (CAD) is imparted.
The project work done is added in their portfolio and the designing done is projected in show cases. Many artists including the fashion designers exhibit their ideas, pattern and capabilities or qualities. According to that demanders/ employers can know their ideas and qualities and appoint them for themselves. This gives wider exposure to them to present themselves before the employers.
The fashion designing students are generally given the opportunities, that by taking part they can develop their skills more. In addition to Bachelor Degree in Fashion Designing, the students must work as Assistant Designer or do internship so that in addition to have Academic Education they can gather practical education of fashion designing also. Internship provides them an opportunity so that they can get information of cloth, experience of designing and knowhow of the working pattern of Fashion Industry.
Experienced designer can be appointed as Chief Designer, Head of Designing Department, Creative Director or can also be appointed for other supervisory works. Some experienced designers start their own companies and sell their own designs through their retail outlets. Among these there are some famous and successful fashion designers.
Qualities of a Fashion Designer
Important and essential Qualities of a Successful Fashion Designer:
Artistic Quality
Fashion designer exhibit his ideas and then give it a realization.
So it is necessary that he should have the quality of exhibiting his emotions.
Communication Skills
Generally the fashion designers work in a team by developing communication skills. For team working, fashion designer should have best communication skills.
Computer Skills
For technical skills, knowledge of computer is a must so that he can work on software like CAD .
Constructiveness
Fashion designer use different kinds of threads, colours, shapes and patterns.
Their ideas should be creative, productive and stylish.
Decision making qualities
Generally the ideas of the fashion designers are leaked or known by public before time. So at that time it is of utmost need to have the quality of taking immediate action or decisions.
Descriptive speculation: Fashion designers must have the minute difference knowledge between threads and colours. This knowledge of a fashion designer makes him successful.
Top ten Fashion Designing Colleges of India
National Institute of Fashion Technology, Campus Hauz Khas New Delhi
Pearl Academy, Naraina, Delhi
National Institute of Fashion Technology , Khar, Mumbai
National Institute of Fashion Technology, Benguluru
National Institute of Fashion Technology, Hyderabad
Symbiosis Institute of Design, Pune, Maharashtra
National Institute of Fashion Technology, Chennai
National Institute of Fashion Technology, Kolkata
Northern India Institute of Fashion Technology, Mohali
Pearl Academy of Fashion, Jaipur
– VEENA PANDEY