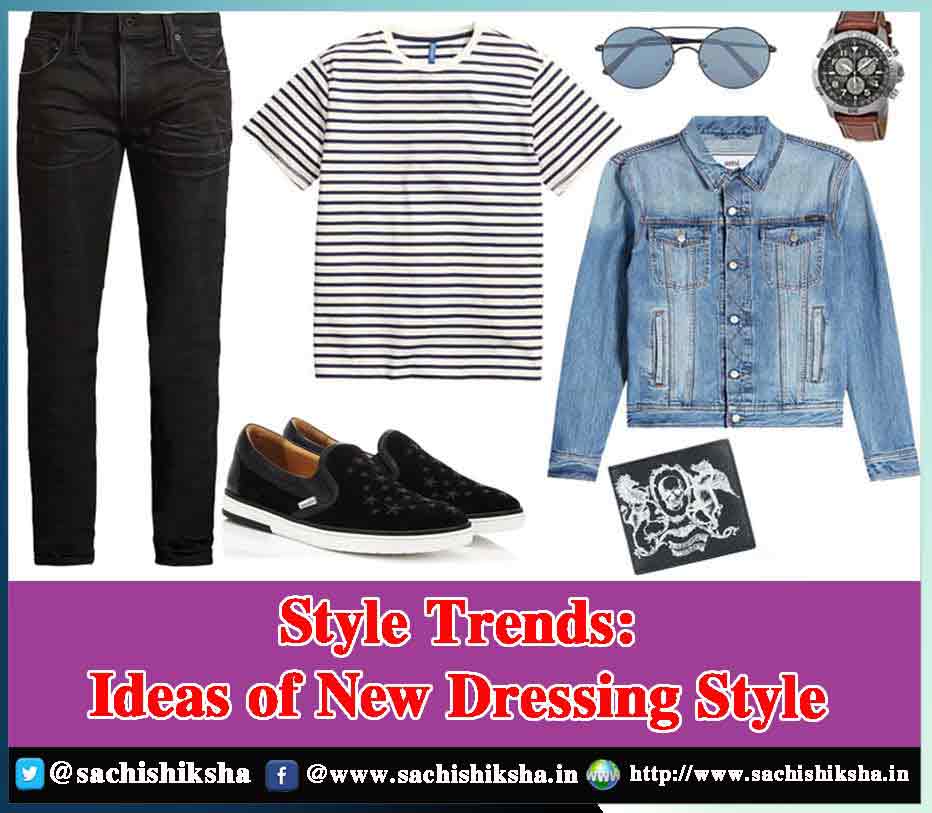 Style Trends: Ideas of New Dressing Style
The studies show that the attire and clothes you carry change the way you perform, ever wondered why there are so many dress rehearsals performed before the actual staging of a show? Because it helps the artists to build up, adapt to and connect with the respective characters they are portraying.
This example shows that if you want to believe it or not but the clothes you wear communicate the personality you carry within. Remember an actor's act is more admired when the right costumes are designed to speak a story of a character, so does it happen with a regular person!
Fashion trends change every day and it is up to us if we want to follow the league, here are some latest fashion trends that you may find comfortable to carry around with your personality.
Simple and cute date night outfits
From the last few months we all are juggling between our joggers and sweatshirts, but with the local restaurants, bars and clubs slowly reopening you may find the urge to jump back into the cute dresses again. A balloon dress with puffy shoulders and big billowing sleeves is a very comfortable way to feel dressed up for casual hang out. The loose fit of the balloon dress keeps you comfortable and cool on daylight brunches. Another super cool wardrobe essential is a solid colour slip dress, it never goes out of trend.
A slip dress is a perfect pick for quarantine dinner dates, you may rely on it for outdoor dinner parties as well as for indoor Netflix and chill. You may also layer up your slip dress with a solid colour t-shirt or a turtle-neck sweater. How about having some fun tops in the collection this year? Try them if you still haven't, playful tops corners the grainy inch box tops and you can style them with all sorts of the bottom. Their captivating necklines or backless details are usually paired with flair bottom jeans, work-pants and straight-leg denim.
Essential clothes that every woman should have
We all have our comfy clothes ruling the wardrobe this year, but let's not forget that there are still few essential clothes required for a solid foundation of an amazing, quirky and comfortable wardrobe. The statement blazers are the one-stop solution to all your formal wear hassles, it never goes out of style. Whether it is for an office look, a cocktail party, substitute for a heavy coat on a not-so-cold day or even for a zoom happy hour! You know the answer, a statement blazer can manage all your last-minute dressing obstacles.
The slouchy stay at home activities have brought in the trend for studio-to-street leggings, you can fall back on the trusty pair of black-legging. You can pull them off for daily workout sessions, running errands at the grocery store, work from home meeting or even for a casual walk when paired with spring or bomber jacket. Matching sweat-suits are in demand these days, a perfect athleisure for baggy and comfy social distancing. They are an absolute go-to wardrobe solution when you are in no mood to dress up, put on your sweat-suits and enjoy your Netflix party!
Winter wear outfit ideas
Winter is coming! Whether you are working from home or occasionally venturing outside, finding the right winter wear that sprinkles the seasonal staple is a must. You may use your last season's collection and recreate them as well. Every professional woman feels the need of having an oversized trench coat on her work wardrobe, it works both the ways, firstly protects your outfits from the elements and secondly it gives a chic look when needed.
A winter wardrobe is incomplete without an elevated puffer jacket, you may invest in the rich colours with luxe material to give it a practical and chic look at the same time. Did someone say checked coats for winter work wardrobe? Nothing can beat the all-time favourite checked coat paired with turtle-neck and brogues. Woolen and silk checked winter coats are highly trending for 2020 winters.
Boot trends this winter
Everyone waits for the season where we get the chance to pull out our favourite pair boots and match them with cozy winter/ fall outfits. This year's trend is all about chunkier heel boots, classic boots and funky bright colours. Chunkier boots are in the talk this year as they are more comfortable than thinner heels and one can easily carry them all day long, also they do look great when paired with trench coats and sweaters.
Colorful boots bring in  much glamour and liveliness to the outfits, it is to break the barriers of black, brown, grey and white and try colours like yellow, purple and orange. Slouch boots are the most common fashion statement for winters, they look cool because of their slouchy look, beautiful colours and material when used leather or suede.