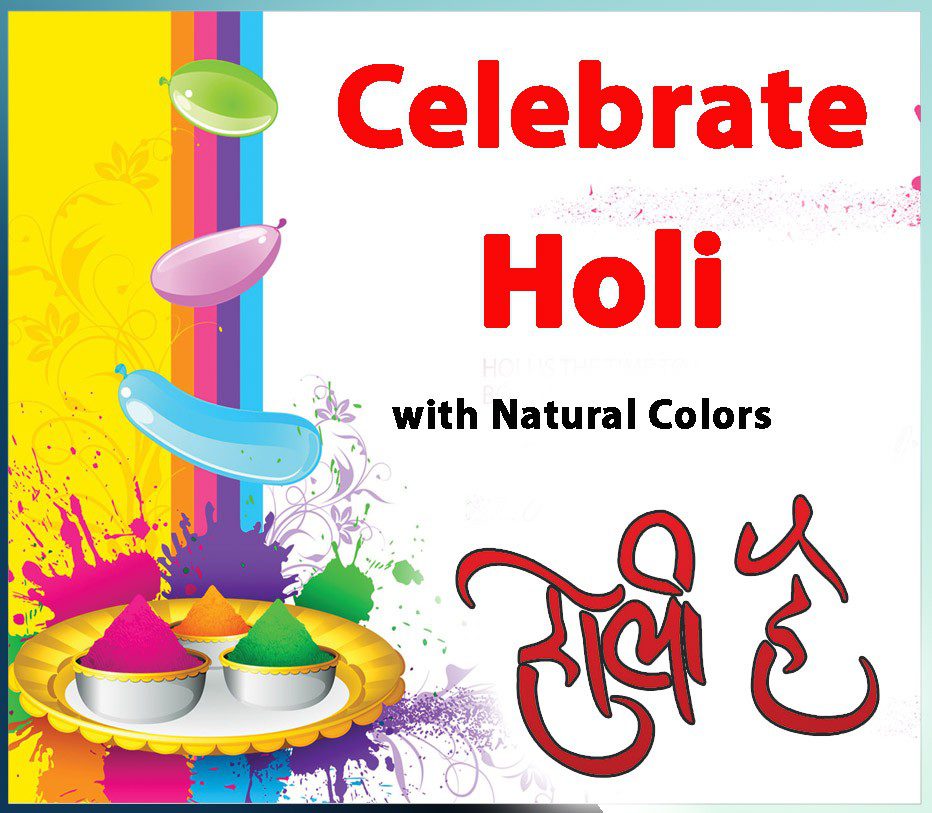 Celebrate Holi with Natural Colors
The dry colors of Holi are known as Gulal. Originally, this color is made from the natural materials and the flowers which have a tendency to color.
The changes have occurred in it with time and these colors of Holi are of chemicals, too and a few are prepared from chemical materials. These chemical colors are harmful for our body, specially for the eyes and skin. All these problems have, once again, forced us to buy the natural colors.
Now, You would have started thinking that whether we will not be able to celebrate Holi with colorful colors then there is no need to be disappointed, instead you may prepare the beautiful red-green, blue-yellow, saffron-pink colors at home and that, too, with natural methods! These natural colors are not only safe but also are also good for the skin.
Then only, if while celebrating the Holi, even if the Gulal goes into your eyes, you may continue to celebrate Holi and when you have enjoyed it fully, then you may go home and wash your eyes. Let us teach you how to prepare Gulal which will be much better than the chemical Gulal available in the market and will be safe, too. Let us make your friends and family drench in the Gulal prepared by oneself and enjoy Holi.
The method of preparing red Gulal
The powdered red sandal which is also known as blood red sandal, is of beautiful red color. At the same time, this red color is also good for skin. This dry color can be used as Gulal. Apart from this, if the two spoonfuls of this color are boiled in five liters of water then from that twenty liters of colored water can be prepared.
From the powders of sunflowers and the flowers of Hibiscus dried in the shadow, red color can be prepared. The red seeds from the brick of Saffron, too, can be used as color or Gulal. The rinds of red pomegranate can be boiled in water to make the extreme red color. In half cupful of water, mix two spoonfuls of turmeric and a tweak of lime. Then, mix it properly in a solution of one liter of water and your colors of Holi are ready. By mixing the juices of tomatoes and Carrots in water, the color can also be prepared.
Green Gulal prepared with natural methods Rosemary powder can also be used as Gulal. At the same time, color can also be used by mixing it with water, but the stains of this color cannot be removed easily. It is an altogether different thing that this color is very good for the hairs. Dry the leaves of Gulmohar and grind them and your natural green Gulal is ready. Grind the green stems of wheat and prepare Gulal.
By mixing the paste of spinach, coriander and mint in water, the color can be prepared. Soak the pieces of beetroot or beetroot in one liter of water for one full night. Then, to make the colored water, mix water in this solution and enjoy Holi.
Bright Saffron Gulal Traditionally,
bright saffron Gulal is made from the flowers of Tesu, in India, which is also known as Palash. Soak the flowers of Tesu in water for the whole night and enjoy the color in the morning.
It is said that there are medicinal qualities in water. By mixing a tweak of sandal powder in a liter of water, the saffron color is made ready. Leave the leaves of Saffron and mix it in two spoonfuls of water for some time. Than grind them. To obtain thick color as desired by you, mix water slowly so that it does not become faded or light.
This is not only good for the skin but also very expansive. If you do not like any of these methods to make colors then do not become disappointed. Some of the sensitive institutions towards environment have started selling the packing of these natural colors.
Celebrate Holi with care:-
Holi is a festival of gaiety and brotherhood. People express their happiness by rubbing Gulal on the faces and sprinkling colors on one another and hug each other. The festival of gaiety should become a festival of sorrow, one should take care of it.
While sprinkling colors on one-another, one should take care not to let it go into the eyes. One should use good quality color and Gulal so that the skin does not get harmed in any way. Fake and low quality colors and Gulal are harmful for both eyes and skin. The abrak mixed Gulal should not be used as it may peel the skin of face and forehead by the use of such a Gulal.
As the Holi is celebrated with colors and Gulal, therefore one should use the natural colors such as the liquid color of the flowers of Tesu and Arrowroot Gulal. Mix some scent in this Gulal and make it more adorable and better. There is no harm in celebrating Holi with them.
It is very difficult to clean the skin drenched in colors as this color enters the body through pores because of which the skin may become peeled off while rubbing to get rid of the colors but on the day of Holi, these colors do not go off the skin.
The red and blue spots appear on the skin due to allergy after celebrating Holi. If this thing occurs then one should consult a dermatologist immediately and take medicines as per his prescriptions. This will make you get rid of the allergy, in no time. One should take care of the following while celebrating Holi-
One should celebrate Holi after wearing full sleeve shirt, full trousers, socks in the feet and a cap on the head. Before celebrating Holi, One should apply oil or Vaseline on the body so that the colors and Gulal do not enter the body through skin.
After celebrating Holi take the clothes off quickly, drenched in colors as they will harm the skin till such time they are in touch with skin.
Celebrate Holi with Gulal and natural colors made from arrowroot and the flowers of Tesu. These colors and Gulal are safe for the children and the adults.
If while celebrating Holi, one feels itching, then wash the skin with a soft cloth immediately.
If while playing Holi, rashes appear on the skin or if starts itching then one should consult the dermatologist and get it diagnosed.
Protection of eyes:-
There is a fear of fake and low quality colors and Gulal of Holi, of the damage to the eyes and therefore one should protect oneself from low quality colors, snatching and color filled balloons etc. – Aruna Ghawana
Follow us on Facebook, Twitter, Google+, LinkedIn and Instagram, YouTube to get more updates related to sachi shiksha Spiritual Magazine, articles.