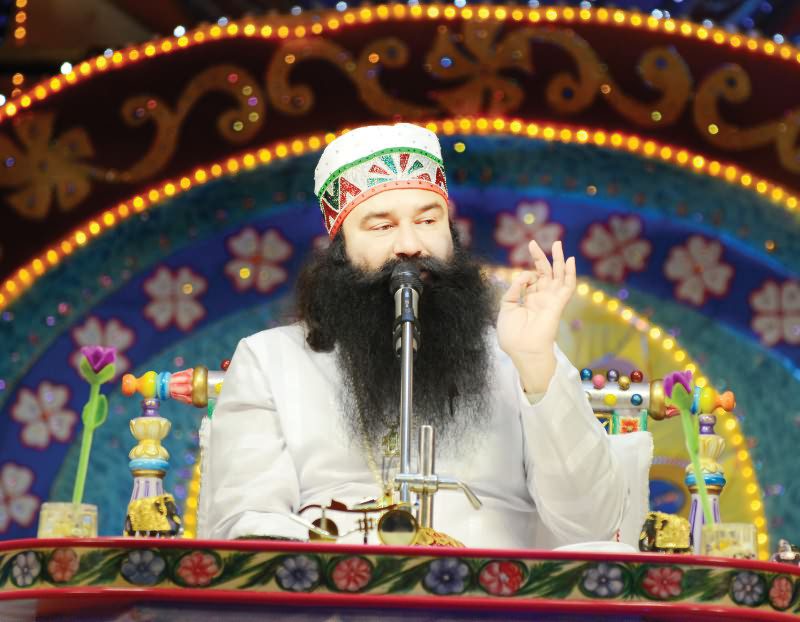 [quote_left]Silence Prevailed in Abundance,
Devotees Blessed in Your Grace[/quote_left]
Celebration of the 67th Foundation Day of Dera Sacha Sauda
There was neither unsteady state of body nor a flirt state of mind but stability of every spirit could be realized. Heart and soul were tied with each other. Everybody was mentally sound and there was no noise. Every urge, vision and moral was concentrated on spiritual target. The soul within everyone were awakened and did not care for the physical status of the personality.
Not one or two but millions of devotees were experiencing this astonishing perception. A state of perfect satisfaction prevailed in all directions. The waves were in great turmoil in the ocean of boundless peace but there was perfect recourse of silence. The whole complex of spiritual congregation was crammed full with crowd of devotees but even then it appeared to be a zone of seclusion. There was pin-drop silence despite a gathering of millions. There was no noise of approaching footsteps.
Yes, this was an astonishing sight on 29th April, 2015, at Shah Satnam Ji Dham where millions of devotees arrived from our nation and foreign countries to celebrate the 67th Foundation Day of Dera Sacha Sauda and commemorate the 8th anniversary of "Jaam-e-Insan Guru ka" (Blessing the disciples with Nectar to abide by humanitarian principles). The infinite gathering was so much absorbed and engrossed in the spiritual sermons of Guru Ji that it presented an overwhelming sight of religious aspect.
Major portion of congregation complex was densely occupied by devotees but depicted a scene of superb peace and concentration that no one could feel any disturbing sound. Although every devotee was physically present, even then his soul was entrapped in the splendid radiance of divine light and sweetness of super-natural melody. Every devotee deeply involved in the brilliance of this gleam felt aliened to such situation. Everybody was engrossed in the realization of vision and sermons of Guru Ji. It was a state of being much busy that people were not fully conscious.
They had their personal bodily existence but their souls were deeply involved in the benevolence of the supreme power who is the sole savior in the whole world. The souls were submerged with the visualizations of the Lord. The passionate attraction of omnipotent Spiritual Master had delighted everyone who cannot be compared with any relief of this materialistic world or even heaven. Each one, rich or poor had the feeling of unstrained joy.
The serene brilliance and nectarous sermons of Adorable Guru Ji were acting as eternal springs to provide relief from emotional disturbance. Every fortunate soul could feel satisfied with such relief on the auspicious celebration of Foundation Day on 29th April. The sacred program started at 6:30 pm and continued till 11 pm. Adorable Guru Ji ensconced the radiant stage at about 8 pm.
He accepted the greetings of millions devotees and conveyed whole hearted blessings. The devotes expressed gratitude to Guru Ji since He elaborated the history of Dera Sacha Sauda and the kind blessings of most Revered Beparwah Mastana Ji Maharaj, who justified the foundation 67 years from now. More so, Guru Ji enthused energy and enlightened the society with projected directions through Nector of humanitarianism in 2007 on this very auspicious day.
Every corner was adorned and gaudy:
The decorations granted on this holy day were extremely attractive with many entry points. The colorful lights illuminated every corner of the complex. The decency near this stage for Guru Ji and Congregation a Avenue were amazing and heart thrilling. The virtuous stage reamed to be like a blooming lotus and vision of Guru Ji ensconced on the brilliant seat was mind alluring.
The magnificent garden like look around the stage was due to dancing electrical peacocks and lot many floral bouquets. Huge sized portraits of Guru Ji on both sides of stage presented the form of spiritual delight. The multicolored strings of electric lights seemed as if the bright stars and moon have landed on earth.
New glorious achievements of MSG
Guru ji has presently achieved the honors of being outstanding hero of Bollywood. The masses including children in this whole world, have given Him the recognition of M.S.G. The renowned personalities from Bollywood and Hollywood working as producers, directors and promoters were also present on this auspicious occasion.
Shri Mahesh kaushik, honorable representative of Asia book of Records and Shri Mohan Joshi, office bearer of India Book of Records, also graced the occasion that honored Guru Ji for establishing new records of movie "MSG the Messenger".
Two certificates of honor through Asian Book of records comprised playing the lead role in this film with 56 dresses designed by Guru ji and second with the participation of 1,30,517 people during the shooting. Mr. Mahesh Kaushik publically revealed that these records have been created not only for Asia but also at world level, because these achievements surpass all other movies.
Two more shields and certificates of honors presented by Mr. Mohan Joshi included on the basis of participation of 75127 persons exhibiting candle dance during the song 'Never-Ever' and second for the collective dance action by 1,29,724 persons. With these four new mementos the number of world records has reached at a level of 34 Achievement Awards. Millions of people attending the religious congregation expressed their delight through clapping, collective dance and raising slogans of MSG….MSG… MSG…
Crown of lineage :
Bewitching scene of a marriage party almost on the central zone of congregation complex and just in front of the stage attracted the attention of devotees .The team of marriage guests was led by party of drum-beat music. Everybody was keen to observe the event and many gathered near the demonstration screens. The marriage ceremony belonged to bride who has come to take along the bridegroom.
The bride had a decorated crown on turban, designed by Guru Ji and carried sword in hand while marching towards stage. The scene was still made more attractive by her friends through decorated cover-let on her top. The marriage party was made delightful through combined dancing and singing actions of the relatives and friends of the bride.
Guru ji showered His kind blessing. As and when the marriage party stopped in front of stage, Guru ji graced the announcement that the girl Ms. Mamta Insan is the only daughter of Smt. Shami Insan, resident of Badarpur (New Delhi) and has arrived here to marry Mr. Rajesh Insan resident of Jind. The Bridegroom was the first to perform garlanding ceremony, accepted her as life partner and pledged to stay with her parental family.
The people attending the congregation appreciated and applauded the new concept of marriage. They welcomed and congratulated the young couple through clapping, dance and music. Adorable Guru Ji blessed the couples with a cheque amounting Rs. 25000/- (out of hard earned income through self toil). Now onwards, Mr. Rajesh Insan will stay in the house of In-laws and the family shall progress through maternal dominances of Mrs. Mamta Insan.
People ought to know that the new convention has been launched through the grace of Guru Ji which bestows dignity for the daughters. The single daughter, in a particular family, honored as 'Kul-ka-Crown" (Crown of the lineage) is projected for marriage with a boy or bridegroom designated as 'Bhakat Mard Gaazi" (Devout Gallant). The bridegroom boy pledges and follows the practice of living and providing service to the parents of wife (family of in laws). This new unique convention promotes positive aspect in this world to provide maternal dynasty and dignity.
Marriages with novel precedents:
The wedlock ceremonies of widows, divorced and financially weak girls were also solemnized on this occasion. Adorable Guru ji has been kind enough to launch such convention so that the parents do not feel their daughters to be burden for the family. Their matrimony is performed with 'Bhakat Yodha' (Devout warriors), who are also ready even to adopt the young descendents of such ladies.
The people attending the religious congregations have also witnessed such occasions when the Devout warriors have gracefully exhibited the adoption of babies with affection. Guru ji expressed appreciations for the sacrificial attitude of young Devout warriors which is a step of sublime motivation for the society.
As many as thirteen marriages were performed in this unique category, which included four marriages with divorced ladies under the plan of "Nai Subah (New Morn) ", one marriage with a widow in the scheme of "Jeewan Asha (Anticipated life)" and eight marriages with financially weak girls. More so, three wedlock ceremonies belonging to tribal group were also accomplished through motivated garlanding. Adorable Guru Ji conveyed best wishes and kind blessings for their happy family life along with a gift of Rs. 25000/- to each couple.
Cheerful Resonance in foreign countries as well:
The reverberations of the sacred festival were also acknowledged through foreign nations. Many devotees from other countries arrived in persons and those who could not, come were observed through internet to cherish the merriments in their own style. The devotees in certain nations were busy in extending the tasks of social welfare to commemorate the holy festival. The disciples celebrated the occasion through voluntary blood donation, 13 units in Paris, 63 units in UAE, 42 units in USA and 11 units in Sydney of Australia.
Many More :
Red-cross society at Manila honored the devotees of that country with a certificate of appreciation and memento (trophy) for Dera Sacha Sauda. The volunteers were pleased to offer these awards at Dera Sacha Sauda. They actually wished to personally handover the prizes to Guru Ji instead of giving this indirectly through Dera administration. Honorable Guru Ji immediately inverted them to reach the stage to accord their willingness. The person handing over the awards directly to Guru Ji was so much delighted that he could not express his happiness in words.
Every one blessed with 'Prasad' (Blessed Eatable) and a Blessed coin:
Dera Sacha Sauda is confluence of all religions, where people related to different sects and religions (Hindu, Sikh, Muslims, Christian) visit in great number and get the requisite preachings. This particular occasion is celebrated with great fervor and enthusiasm. The offerings 'Parshad' related to all the four religious is distributed, small sweet drops (Boondi) for Hindu, Sugar fluffing (Patasa) for Sikh, dried date palm (Chhuara) for Muslims and milk cake (Barfi) for Christian. All the four forms of Parshad are served in one packet. Moreover, each devotee is blessed, only once, with single coin of one rupee denomination which is considered as most valuable gift for the whole life.
All arrangements were Beyond comparison :
Millions of followers, from India and abroad, visit Dera Sacha Sauda with full passion and craze on the auspicious occasion of Foundation Day. All the arrangements for their stay, food supply, water, medical care etc. are made to avoid any discomfort for the visitors. Many large sized screens are erected at various places across Shah Mastana Ji Dham and Shah Satnam Ji Dham. Medical facilities are provided through experts, safe water supply is maintained, and community meals are served through dedicated volunteers. Millions of followers obtain their food supply in a short duration through the organized committees of dedicated volunteers.
Course of gaining Initiation:
Millions of followers had reached Sirsa and were observed celebrating the Foundation Day by performing dances at various places. There were a huge number of people who arrived here for the first time but were party to radiant expression. As many as 21,760 persons were initiated into God's wards and cherished divine benevolence. They felt delighted on the offering of Jaam-e-Insan (Nectar of Humanitarianism) which provides emancipation of soul.
Extended Welfare works :
107. The marriage of girls suffering from physical disabilities, skin spots and stammering to the devotee warriors .
108. To make a group of expert farmers and scientist who are very well known in the field of agriculture, for the welfare of farmers, will give full knowledge of agriculture and give solutions of their problems so that they do not think about committing suicide.
109. To organize a camp separately for the people suffering from mental tension, every month. To keep the tension away, with the help of expert Doctors so that they do not commit suicide.
Release of 'Sachi Shiksha in English version:
The readers of Sachi Shiksha were blessed with the release of its English version through Adorable Guru ji on the very Foundation Day of Dera Sacha Sauda. This is for the good luck of the readers that last year on 29th of April 2014, on the same pious occasion, the Revered Guru ji had launched the website of Sachi Shiksha in English with His pious hands and now he has given a new gift to the readers by releasing the English version of the Sachi Shiksah Magazine.
The month of April is harvesting occasion for farmers and carries hot climatic conditions, even then the followers do not develop any tension or anxiety and try to attend this fortune promoting festival. The huge gathering of followers reflects the state of reverence and devotion for their spiritual guide. The eternal and divine bliss of the greatest guide; reliance and support of such a holy royal court, can be available to the most fortunate persons. The enjoyments of such auspicious occasions can only be procured through our complete submission to the spiritual master.
Representatives said,
Asia Book of records is given for any event happening, which is unique. The Revered Guru ji has established two records for MSG-the Messenger, this year. Asia book of records completes those very dreams which people watch or break, but this record has been made for the first time. The revered Guru ji designed 56 types of dresses which he wore and did the lead role. Its special and unique. He proved in this movie that so many people can be shown in a single scene which is one Lac, 31 thousand and 57 which only the messenger of God could only do. I congratulate you all on the foundation day and Jaam-e-Insan Day, many times. I expect and aspire to the supreme God that in this Sea of humanity keep pouring more rivers like this.
Mahesh Kaushik,
Asia book of records
People come to us searching for records that this record has been made by us, can we get a certificate for the same ? But with Revered Guru ji, we have to put up an application that you make records and certain certificates, we want to give you. If we fail in our endeavor then this will be our mistake. I feel that one record should've been given for ' most people hooting on spot but we made a mistake.
In the honor of Revered Guru ji, we want to say a few words that for the great work done by Revered Guru ji if you make all record book of the world as one, even then the pages would be found deficient. The two records which have been given to the Revered Guru ji, the first of them is 'most people lighting candles in a scene' which is a record not only that of India but also of the whole world and the second prize has been given for 'most people dancing together in a movie'. Here, we used to, count in thousands but this is a first record, in a film scene where one lac 29 thousand and 724 people have danced together. Now one special team of ours will do research as to what records are to be given for what all things.I bow before Guru many-many times and greet him.
Mohan Joshi,
India book of records
In the tribal areas of Udaipur in Rajasthan, Shah Satnam ji Noble School being run by Dera Sacha Sauda, to show His gratitude towards Revered Guru ji, former Archery Coach and International player Mr. Limba Ram reached there specially on this occasion and expressed his feeling in the following manner :
Recently in Rajasthan, a small program was conducted at Shah Satnam ji Nobel School, Kotra. I was amazed to see that the children of that place which was in udaipur Rajasthan 's Kotra and who came from very backward class, were speaking English and were doing English dance. Many-many thanks to Guru Ji for encouraging the people of that area I want an academy of archers to be opened also. Those people should get some more help. I hope that they will glorify the name of our country.
You have blessed that area. The school in being run very fine. I shall train,for sure, at that school in archery. Jai Hind. Dhan Dhan Satguru Tera hi Asra.
Limbaram
Former Indian Archer & International Player.
Follow us on Facebook, Twitter, Google+, LinkedIn and Instagram, YouTube to get more updates related to sachi shiksha Spiritual Magazine, articles.