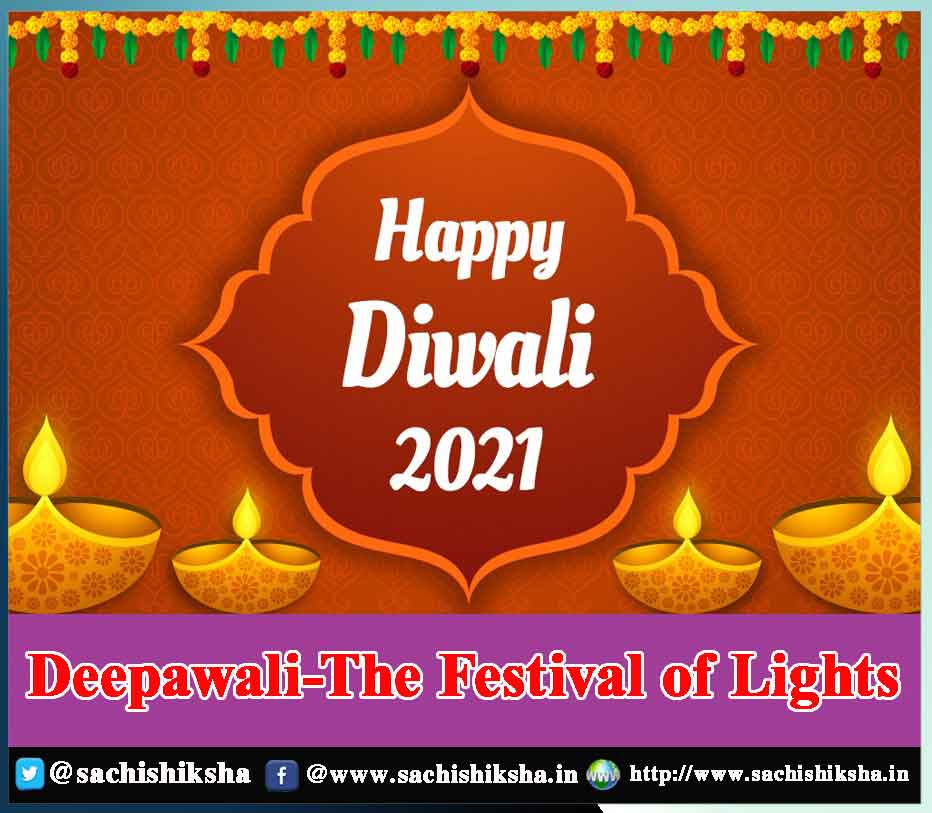 Deepawali-The Festival of Lights
 Festivals are a crucial aspect of the lives of humans. They promote sharing, brotherhood as well as social nature of human beings. One of those festivals is Deepawali.
Diwali which is also known by the name of Deepawali is the biggest festival of India. Deepawali denotes a row of lamps. The Hindus celebrate this festival with joy and happiness.
This festival is celebrated to mark the return of the king of Ayodhya, LordRama after a bloody battle with Ravana.  The purpose of this festival is to celebrate the victory of light (Goodness)over  darkness (Evil). During Deepawali, people decorate their homes and shops with diyas, candles, and lights. They worship Lord Ganesha as well as goddess Laxmi for wisdom and wealth.
Deepawali is celebrated in KartikaMasam, a Hindu month that falls during October or November. Celebrations are done to mark the return of Lord Rama after 14 years of exile and to celebrate His victory over the demon Ravana. Mostly, in all parts of India, this festival is celebrated for 5 consecutive days.
The Hindus considerer Deepawali to be a festival of life and use this to strengthen their bonds with relatives and friends. In a few parts of the country, it is considered as the beginning of a new year. Festivals are the optimal way to share happiness and joy. Deepawali gives everyone a lesson to be kind and have a patient heart and wait for good outcomes in life.
One of the main rituals in this festival is to burst crackers to showcase joy and happiness but this process releases harmful gases in the air which not only causes air pollution but also scares the animals on the land. Deepawali must be celebrated with responsibility and crackers must be avoided because it leads to tremendous noise as well as air pollution. It can prove to be extremely dangerous for small children and can lead to fatal burns as well. Bursting firecrackers decreases the air quality index which declines the visibility at many places which often leads to road accidents. Hence, people must try to celebrate eco-friendly Diwali.
There are many other ways to celebrate the festival without bursting firecrackers because, in the end, the purpose of festivals is to foster the spirit of love and brotherhood and not to harm the surroundings and environment in the name of celebration. Usually, people wear beautiful clothes, worship the gods and visit temples. They also make gifts for their loved ones, cook delicious food, sweets and enjoy with their family and neighbors.
Some ways of celebrating Deepawali following Covid precautions are :
The usage of sanitizers must be prevented especially the alcohol-based sanitizers while lightning diyas or candles because they are inflammable and can catch the fire immediately and cause massive hazards.  One must wash one's hands before lighting up the diyas or candles.
Mask must be especially worn during the festival to avoid the smoke emitted from the burning of the firecrackers as it can cause health problems and respiratory issues to patients.
Everyone stays very excited to dress up on Diwali but it is extremely crucial to dress up in a safe manner. Satin, chiffon, silk, and georgette fabrics are quite trending but they are also very susceptible to fire. Hence, one must try to wear jute, cotton, or cotton silk fabric to prevent the chance of any kind of mishap.  One should also prevent wearing loose-fitted clothes during thefestival of Deepawali.
On the auspicious occasion of Deepawali, a lot of sweets are prepared at home and are bought from the market but overeating snacks and sweets can lead to upset stomach, heartburn, and gas problem. Hence, one must always check the quantity of sweet intake and avoid too much indulgence in snacks so as to stay away from any kind of pressure on the stomach. One must drink an adequate amount of water to stay hydrated.
It is also crucial to take routine medications in time and not forget to take them in the hustle-bustle of Deepawali. Lat but not the least, on this holy festival we take pledge to follow the teachings of Lord Rama and avoid all the evils of Ravana. Happy Deepawali!