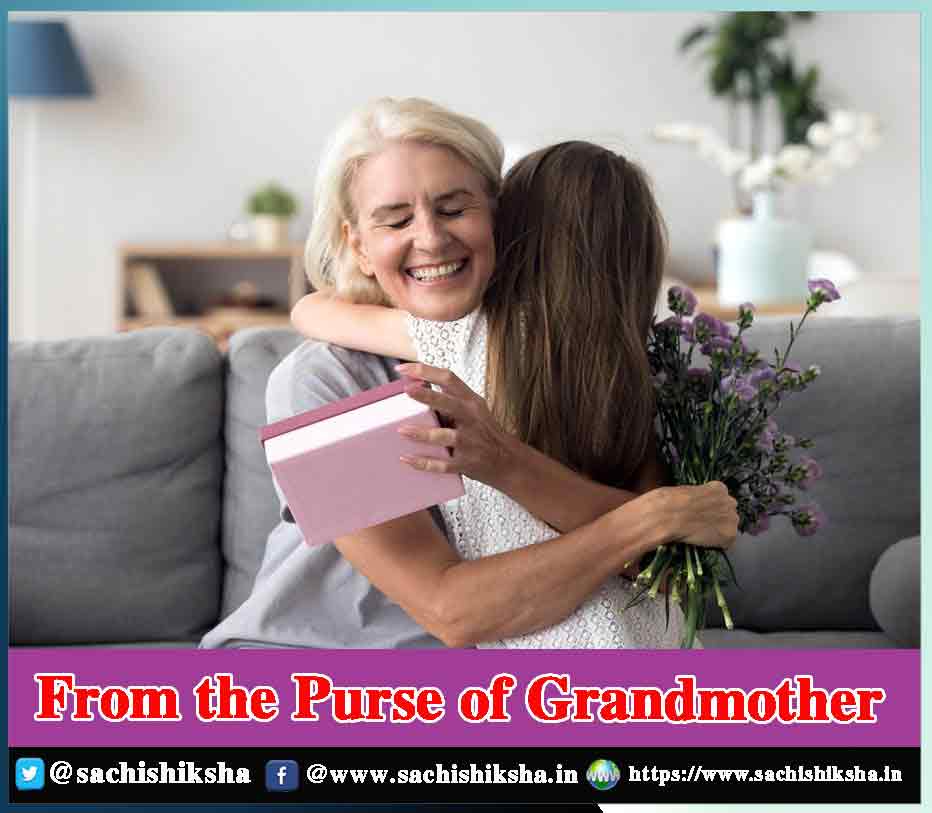 From the Purse of Grandmother
In today's time, facility of a doctor ora pharmacist is available on a phone call or whatsapp or an sms. Above all,any information and treatment can be found on Internet.
Though the technique has developed to its maximum extent but not every medicine is appropriate for everyone. It varies from person to person.  Moreover, the medication has become so costly that firstly one tries to ignore and if it does not work, then we have to rush to doctor and pay more than required.  Then starts the series of tests and that too very expensive.
Born Tough – Woman Cementing Various Facets of Life
I think it is the proper time that we should revert back to some decades back, when there was a full time doctor in the house. With practical, deep knowledge and experience, our grandmothers used to have all the treatments in hand and mind. The grandmothers are not only the doctors but play the role of a dedicated nurse also.
She may have plenty of complaints with her daughter in law, not talking for months, but if the granddaughter or grandson feels sick, she becomes the specialist of that particular disease. She will start remembering the advices of her mother in law. Though at that time, she too must havehad some problems with her mother in law, but today she will be remembering the points given by her mother in law with full respect.
Today we will discuss  some of the precious pearls from the purse of the grandmother. She may be mine, yours or anyone's grandmother.
Tips for Seasonal Ailments:
Grandmother as a General Physician:
Now, summer season is arriving very soon. With the arrival of summer, seasonal problems like dehydration, loose motions and other general health issues arise.
Headache:
Avoid scorching heat, deep fried food; do not go out in the sun or blowing hot winds. Grate the nutmeg and take it with hot water. Headache will be vanished.
Vomiting:
Take clove (Child: 1 and Adult 2) with cool water.
Loose Motion:
Half spoon dry ginger powder and half spoon sugar with cool water.
Fever:
Take two spoons green Dhania juice with one glass of water.
Dysentery:
Mix one lime's juicewith fresh water and take it.
Dizziness:
Wash hair with cool water and take sweet lime's (Mosambi) juice.
Constipation:
Increase consumption of melon.
Giddiness:
Make water melon soup or take 8 to 10 pieces of dry raisin.
Piles:
One spoon of psyllium (Isabghol) mixed with curd water.
Black Skin:
Apply t Aloe Vera gel on your face.
Burn Densation on Skin:
Put some pure ghee in the water and take.
Burning in stomach:
Take curd and buttermilk.
Loss of appetite:
Lemon and black salt mixed with water.
Cold:
Put two drops of hot pure ghee in nose.
Heat Stroke:
Take gram leaves, put in water and apply on body or onion syrup and take its vegetable also. It was a common saying that put one onion in the pocket while going out.
Gas in the stomach:
Take one spoon of cardamom Powder or take mint mixed with water.
Blisters:
Blisters is the result of different complications.  But for this you need not go for any medication. You can treat it at home.
Here are some tips from the Purse if the Grandmother:
Sometime blisters are the result of stomach problem or sometime lack of cleanliness is also the reason.
Bel jam is very beneficial for this.
Take coconut pieces and chew them while chewing it drink coconut water and swallow coconut.
Take phalsa fruit in abundance.
Eat plenty of tomatoes and also take its juice.
Gargle with fennel
Put cardamom on the blisters with soft hands and throw the saliva.
Put some honey in the water and gargle.
At night when sleeping take one glass of hot water and put one spoon of pure ghee in it.
Grandmother's Beauty Parlour:
Instant Glow: Mix one tea spoon curd with one spoon orange juice, massage on face and let it remain for 15 minutes. It is the best option to have fresh face for a party.
One spoon honey, lemon juice drops, very less salt and water.
Take one spoon wheat or barley flour, mix olive oil. It is a very good scrubber.
For dry skin, one spoon of fresh cream, turmeric, lemon juice, make face pack and apply & let it be there for 15 minutes on the face.
Dry papaya peel, make its powder and mix some glycerin. Apply this face pack on the face for 15 minutes.
Allovera for dark circles
Remove the spots with yogurt.
Glorify the skin with chana flour.
Barley flour is a very good tip for bleaching.

Cleanser: Almond milk, coconut milk and take apricot oil in the same quantity. You can also prepare instant cleanser by putting milk.
Kheera itself is a very good doctor.  It can be taken as salad. The regular intake of cucumber is a good food substitute.
Health Tonic from the Purse of Grandmother:
Five almonds (soaked) and five pieces of raisin. It is a full-fledged tonic for the overall development of kids.  Nothing more is needed.
Ragi Idli:
Best nutritive breakfast with all the cereals and vegetables in it.
Fruit Shakes:
Banana shake, mango shake and naseberry (Chikoo) shake. Here are three shakes for the kids.
Take 250 grams of almonds: Soak in water. Take out the cover and then put it for drying. After that grind it and mix apricot powder. You can also take seeds of melon or water melon. Mix them. It can be a good health tonic taken with milk. You can mix it in stuffed paranthas. Mix in the vegetables while cooking.  You can mix it in kofta too.
VISHNA DEVI