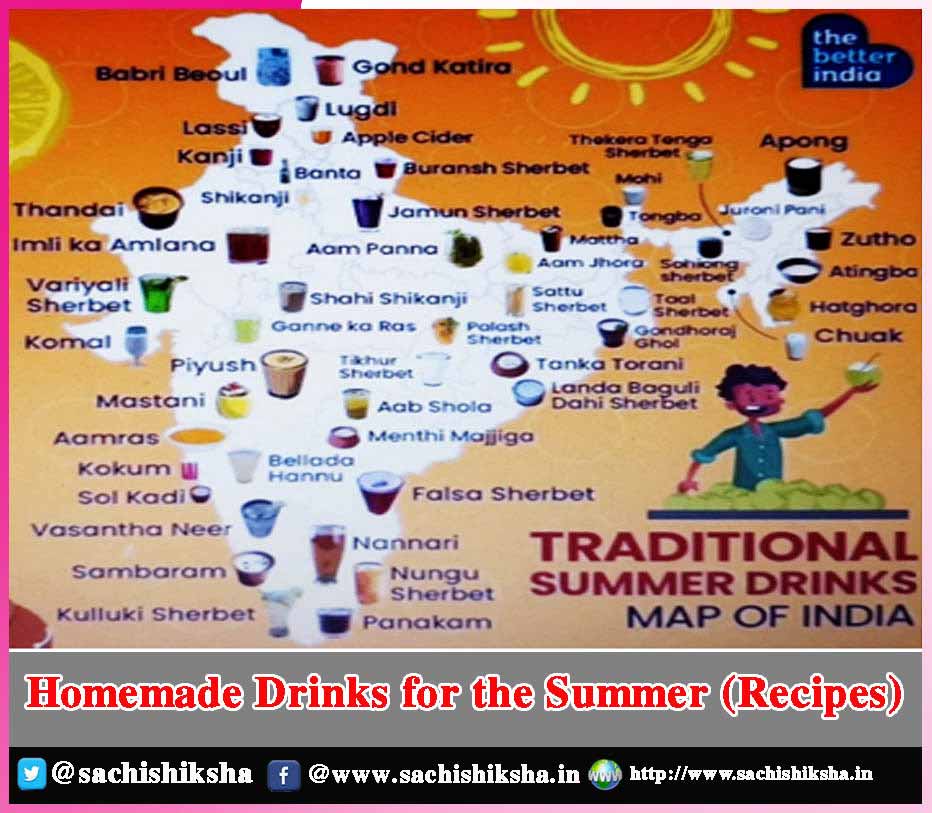 Homemade Drinks for the Summer (Recipes)
With the summers picking up pace, the Sun does not seem to go into hibernation.
It is never too late to involve yourself in these easy to make summer drinks at home. Hot days and fruity drinks will make your day pleasant.
Also Read:
Here are a few homemade summer drinks which will cool your parched throats:
Lemon Drink / Shikanji:
This is a perfect heat stroke reliever, which takes just two minutes to make. Your parched body will automatically experience a change. The sour taste of lemons will fight the heat.
Time – 10 minutes, Servings – 4
One litre cold water
Half sliced lemon
Four tablespoon sugar/ salt
Juice of mint leaves
Ice cubes
Take a container to pour the water and add sugar or a bit of salt. Stir to dissolve it. Squeeze the sliced lemon. If it turns out to be sourer then add some more water to it. Add the juice of mint leaves, garnish it with a slice of lemon, add ice cubes and stir well. Serve the chilling summer drink for refreshing effect.
Made of curd, lassi can be either salty or sweet. It's a popular summer drink. It not only quenches thirst but is also an energy drink.
Time – 15 minutes, Servings – 4
Six to seven bowls of cold curd or yogurt
10 tablespoon sugar
Ice cubes and 2 cups water
Cardamom powder and 2 tablespoon rose water
Few strands of saffron
Pour the curd in a container. Blend the curd till it smoothens. Add sugar to water and stir to dissolve. Now churn the lassi in a mixer. Add rose water, few saffron strands and cardamom powder into the mixture before churning again. Serve it garnished with a sliced fruit and a few strands of saffron.
Sattu ka Sharbat:
Sattu drinkis especially popular in Bihar and other parts of Eastern India. Vendors line the roadside during summers selling this drink. It gets its unique taste from roasted gram powder.
Time – 15 minutes, Serving – 1 glass
Four to five spoons of roasted gram flour
Chilled water
Six spoons of lemon juice
Rock salt
Roasted cumin powder
Chat masala powder
Ice cubes
Pour cold water in a container and put roasted gram flour in it. Then pour lemon juice in it and blend the mixture properly. Add salt and two small spoons of cumin powder. Pour it into the glass and sprinkle chaat masala on it. Put a few cubes of ice and serve the chilled instant summer drink.
Chhaachh / Buttermilk:
This drink is a summer speciality of North India, which is made of yoghurt. It aids in digestion and fills stomach. It's known as Neer Mor Drink in South India.
Time – 15 minutes, Serving – 4
2 cups yoghurt
2 cups water
Roasted cumin powder
Black salt
Mint leaves or coriander leaves
Asafoetida powder, ginger juice, fennel and curry leaves
Ice cubes
Blend the yogurt and water properly. Add asafoetida powder, curry leaves, 2-3 drops of ginger juice and blend again. Put some roasted cumin powder and black salt and stir well. Pour it in the glass and sprinkle some cumin powder. Garnish it with mint leaves and serve it chilled with some ice cubes in it.
Aam Panna:
A popular homely energy drink made from mangoes, it can be salty, spicy or sweet. There can be two ways to use the raw mango pulp – either roast the raw mango or boil it in a pressure cooker.
Time – 20 to 25 minutes, Serving – 4
Four raw mangoes (kachchi kairi)
Bowl of sugar
Black salt
Mint leaves
Roasted cumin powder
Chilled water
Ice cubes
Boil the raw mangoes in pressure cooker or roast it properly so that the pulp gets spongy. Peel off the skin properly once it cools. Mash it, remove the seed and blend it properly. Dissolve four spoons of sugar in a cup of water. While preparing sweet Aam Panna, pour the sugar syrup in the blender and stir well.  In case of a salty drink, add black salt and cumin powder with few mint leaves and blend again. Pour it in the container, add four cups of water and stir well. Pour in a glass and serve it chilled with ice cubes.
Nannari Syrup:
This is a well-known drink from South India that is made from Sarsaparilla, a plant native to India. Its roots give the drink a special aroma. It's a blood purifier and is used as a remedy for urinary infection.
Time – 25 minutes, Serving – 4
100 grams of Nannari powder
5 cups of water
5 cups of jaggery
2 tablespoon lemon juice
Ice cubes
Pour five cups of water in a pan and add Nannari powder. Mix well, cover the container and leave it for 2 to 3 hours. Add five cups of jiggery. Keep the pan on a low flame and stir it till the jaggery dissolves. Cook it for 20 to 30 minutes till the syrup reduces to one-third of the earlier. Let the syrup cool and sieve it using a muslin cloth. Refrigerate the syrup and use when required.