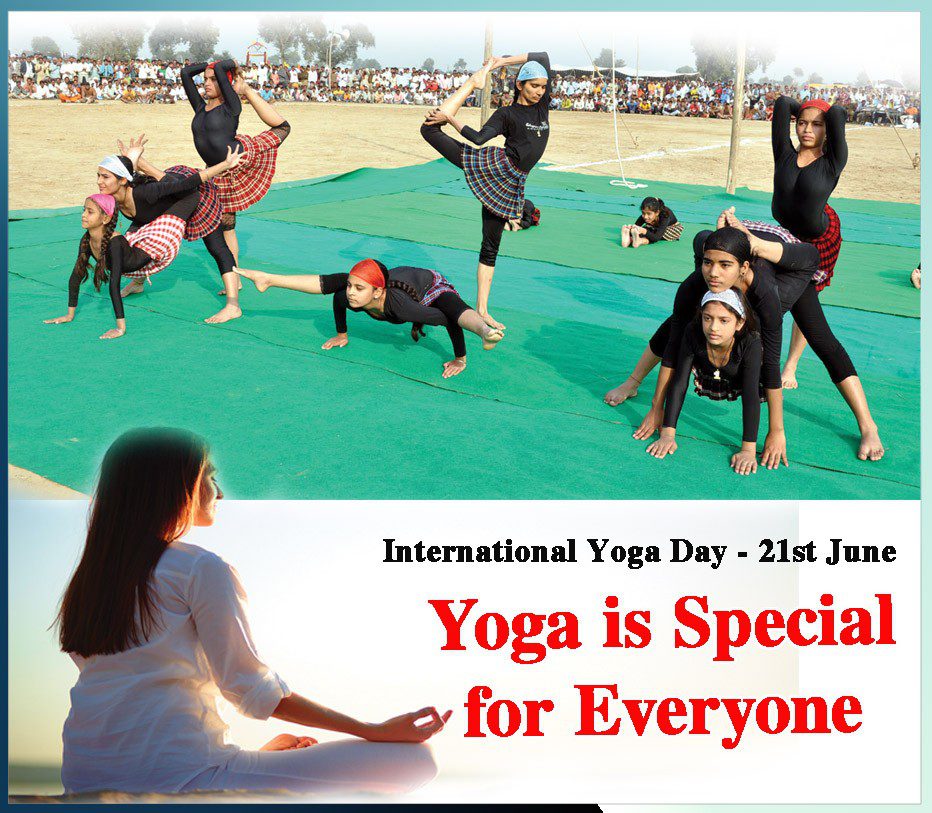 The initiative of celebrating International Yoga Day was taken by our the Prime Minister Narendra Modi in his lecture in the United Nations on 27th September, 2014. After this, "21st June" was declared as International Yoga Day.
On 11th December, 2014, 193 countries of the world unanimously agreed to celebrate International yoga Day" on 21st June every year.
In the short period of 90 days, the suggestion of Shri Modi Ji was passed with full majority which is the shortest period for getting the permission of celebrating of a particular day by the United Nations. Modi Ji's suggestion got the support of 177 nations.
The Commendable Cooperation of Dera Sacha Sauda and Award
Dera Sacha Sauda always leads in every cause of human welfare. In the field of yoga also, Dera Sacha Sauda has made many records. With the holy motivation of Dr. Gurmeet Singh Ram Rahim Ji Insan, in the Shah Satnam Ji Edu. Institutions, yoga classes have been started from the year of their inception/establishment (1994-1996.).
Due to the coaching of Rev. Saint Dr. Gurmeet Ram Rahim Singh Ji Insan, in the year 2001, for the first time yoga was played at international level by the students of Shah Satnam Ji Edu.
Institutions and Shah Satnam Ji Edu. Institute have given 11 International Players to the country so far. These 11 Yoga players have won 5 times Asian Championship, 8 times World Yoga Championship, which means they have represented India 13 times at International Level.
In this way, they have got 46 medals in Asian Championship and 61 medals in World Championship. In total, Shah Satnam Ji Edu. Institutions have got 107 medals only in Yoga, for India, and that too, the same have been won by the students of Sirsa Institutions. This miracle is only the result of the motivation, coaching and blessings of Rev. Guru Ji.
Moreover on 29th April, 2016, "Yoga Federation of India", "Asia Yoga Federation", "International Yoga Federation", "International Yoga Sports Federation" honoured Rev. Guru Ji by presenting "Award of Honour".
Being denuded with the tensions, the man is wandering here and there, in search of peace and satisfaction. To experience peace, man is becoming crazy. He wants to throw away the thorns like selfish motive, anger, bitterness, jealous and hatred from his life. He has to become fragrance in the garden of life.
He wants to discover the path that makes him physically strong, and active; makes him of energetic mind and of strong soul, which could help him to fulfill his wordily motives. Definitely there is a way, which has been given the name of Philosophy of Yoga by our Saints and Great men. Yoga is more necessary in this materialistic world of tensions.
A little bit of regular yoga and pranayam can keep us hale and healthy. With the observance of Yam Niyam (RULES AND REGULATIONS), our life being motivated with discipline can make a drastic change in our character. Through conception and meditation our body will not only become tenseless, but will also become expert in work and skill.
Importance of Yoga in Daily Life
This is a proven fact that with Yog Mudra, Meditation and with special Yoga Breathing Control activities, one gets relief from tension. Yoga provides you stability by diverting your mind from various thoughts and help in focusing at a particular thought.
We the human being are attracted towards a particular thing, when we are benefited through them.
Our attraction towards yoga these days clearly indicates that Yoga has many benefits. Yoga not only keeps our body fit but also strengthens our mind and power of soul. In daily life, Yoga has many benefits, let us get introduced to them:
Yoga is beneficial and helpful for all, male and female, children, youth and old people. According to physical capabilities and flexibility, we can make changes in yoga. Means Yoga is beneficial in every state.
Yoga Impact on Mind and Emotions
It is very necessary to have positive thoughts in life. Negative thoughts lead you to failure. With Yoga, positive energy flows through mind. Through Yoga, you get energy of the soul and; worry, confusions and negativity goes away; and it directly affects the personality and health.
Free from Tension
Tension is a disease in itself, which invites other diseases. This fact is accepted by the Medical World. The most important benefit of Yoga is that it flushes away the tension. Yog Mudra, Meditation and with Special Yoga Breathing Control activities one can release the tension, and this is a proven fact.
Yoga provides you stability by diverting your mind from various thoughts and helps in focusing at a particular thought. When tension free, it has a positive effect on mind and body and thus increases the work stamina.
Development of Mental Abilities
Memory power and intellectual capacity are the main sources of success. With yoga, mental capability is developed and also has positive impact on our memory power. Yoga poses and meditation helps in putting the mind on focus.
With focused mind, the memory power increases. In competitive exams, questions based on logical capabilities are asked. Yoga also increases your logical abilities; and positive working skills. With Yogic activities, having the positive logical power and increase in skill development, the confidence level also increases.
Flexibility in Body
With yoga, body becomes strong and flexible. Yoga makes the muscles strengthened and keeps the body balanced. When the body is strengthened, balanced and flexible, the working capacity of the body also increases. With some Yogic exercises, the bones of the body become hale & healthy and strong. This also minimizes the possibility of bone related problems.
Yoga and Health
Yoga makes and keeps the body healthy and keeps away many problems of the body and mind. Yoga makes the respiratory and breathing of the body intact and hale. During yoga, deep breathing makes the body tense less. Yoga improves the blood circulation also and the bad toxicants come out. This gives you relief from headache, tiredness and joint pains and also balances the blood pressure level. – Parmod.
Follow us on Facebook, Twitter, LinkedIn and Instagram, YouTube to get more updates related to Sachi Shiksha Spiritual Magazine.