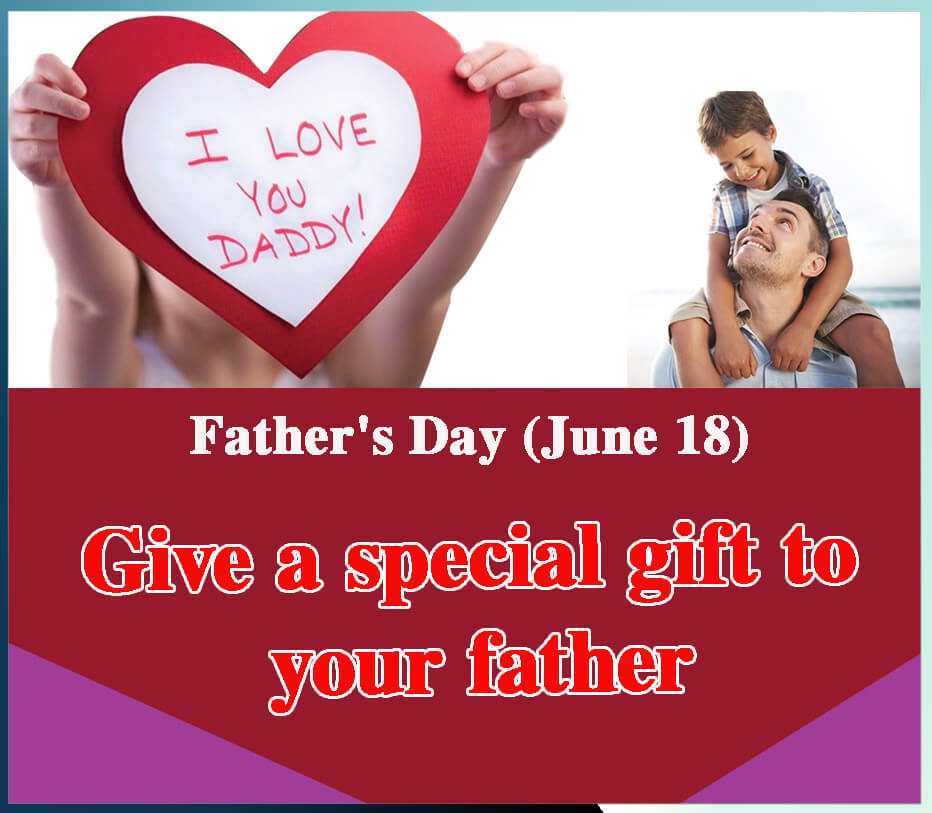 Father's Day (June 18): Although he may not be your first teacher like your mother but he has taught you many important lessons in life. Even if he does not cry like a mother when he walks away from you, pain is equally to him. Meanwhile I have a small question for you.. Have you ever confused in selecting best gift to your father? Yes.. we have covered unique father's day gift ideas for loving dads.
From the time of your birth to being a grown up and becoming a successful person, the mother has a very big role and everyone knows about it and everyone says it. But despite little discussion of his contributions, his role and contribution in your life is not less than your mother.
That is why when the whole world is celebrating Father's Day while remembering his contributions on the third Sunday of June, you must also thank your father for his love, dedication and sacrifice in his life, tell him how important he is for you.
And this journey of your life is not easy without them. Now there should be some questions about Father's Day in your mind, from where it started the celebration and when it was celebrated, is it celebrated today on the whole world? So let's know the answers to all your questions.
When is Father's Day celebrated?
It is not that there is only one day to celebrate Father's Day throughout the world. In many countries of the world like America, UK and India, Japan and Colombia it is celebrated on the third Sunday of June. But there are some countries where it is celebrated at different times.
Why and How to Start Father's Day Celebration?
Two stories are prevalent in the beginning of the celebration of Father's Day. But it is certain that it had started from America. According to the first story, its origins were due to the woman named Grace Golden Clayton, who lived in West Virginia's Fairmont. In fact, in 1907, as many as 362 men were killed in the accident in Mononaga mine in West Virginia, due to which 250 women had become widows and more than 1000 children were orphaned.
Grace Golden Clayton, who was also an orphan himself, celebrated the local minister in 1908 to organize a program in the church in honor of the fathers. Following this, Clayton's motive was to pay homage to his father, along with all the fathers, who were killed in a mine accident. According to the second story, it was started by Aurora Smart Dod, resident of Arkans, to honor his father.
Dod's father cared of his six children during their childbirth after death of his wife. When Dod was 16 years old, his father had died. In June 1913, the US Congress officially fixed the date of Father's Day on the third Sunday of June, since then it is celebrated in most countries including USA. In 1966, President Lyndon Johnson was the first president to celebrate Father's Day, but the law was signed in 1972 by President Richard Nixon.
Unique Father's Day Gift Ideas: Special gifts to father
Branded Pants-Shirt
Your father has always wanted you to look beautiful, and for you, he does not even worry about buying good and expensive clothes. But if you give a branded pants-shirt as a gift for Father on Father's Day, they will surely be happy.
Clock
Dad's first choice is always the clock. Its trend has long been running. He can change the clock according to their clothes. That's why this time you can pleaseto your Father by giving a watch to Father on Day.
Coffee maker
Papa always likes coffee or tea. Many times in the house, he tries to make coffee or tea, in such a way he will be happy seeing the coffee maker. So, this could be one of the best unique father's day gift ideas.
Coffee Mug
Coffee mug can also prove to be a good gift for Papa. If you put a good message on that mug.definitely your Father will be very happy. This time if you will give such a gift on Father's Day then your father will be very happy.
Modern Saving Kits
Papa is very much loved by the shaving kit. This is such a thing that he needs every morning, so this time, give him this gifton Father's Day.
Perfume
Papa has a tendency towards perfume. They definitely do every perfume test present in the house, in such a way it will be a good gift for them.
Book
If your father has a passion of reading books, then you can give them a book of their choice to read. As if they prefer to read religious books, you can gift them to any book related to religion. Besides, whatever books you give them according to their interest, they will surely be happy.
Celebrate father's day with your children
It is important that children try to give their father full joy on Father's Day, but at the same time it is also necessary that a father will give his time to them on this day.
It is commonly seen that the children know that today is Father's Day, and they want to celebrate the day well, but if the father is busy in his business then how will it be possible.
It is therefore necessary that on this day the father spend a lot of time with his children and spent time with his children happily.
We give you some suggestions, which will help you create your day for your child: –
• First of all, spend your whole day with happiness and cheerful.The cheerful face of the parent is the greatest gift for the child.
• Cooking with your children is just another fun. The happy memories of your work, which you do when distributing food are good for both your mind and your relationship.
• You tell funny jokes to kids and listen to their jokesalso and fun. Laughing together is a good way to bring the family closer.
When you talk to your children, stop whatever work you are doing, your whole attention should be in listening to their talk. This will make them feel that their things are important to you.
• Enjoy their favorite music with them, or watch a good family or clean entertainment movie with children in the evening.
• See old memories, photographs, and talk about it with them.
• Make distance from electronic goods, play board games with children, go to the park.
• Give them an opportunity to express their feelings, do not interrupt them in the middle.
• Remember, the most important thing in life, the family and its love is. By becoming a father, you learn to be unconditionally, and to become a better person.
• If a father works on the day of Father's Day, then surely this day can be made auspicious for himself, for his children and for his family.
And why should not it happen, after all, it comes one day in a year, in which the children also want their father to be just and only for them.
Because the father is busy working in the workplace to give happiness to his family at all times.
If you realize the happiness that children will get by taking time out for yourself and your children on Father's Day, then this day will be special for you for whole life.
– Kashalraj Saxena
Follow us on Facebook, Twitter, Instagram, and YouTube to get more updates related to Sachi Shiksha – The Famous Spiritual Magazine in India. Also Read Our Hindi and Punjabi Editions.