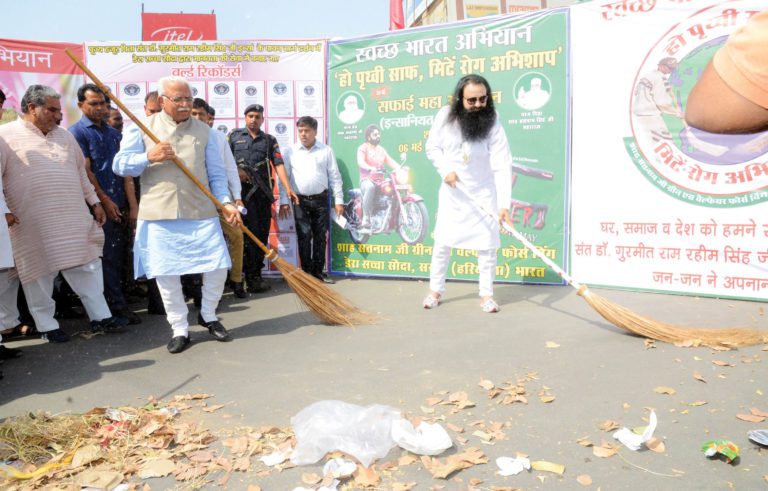 Gift of clenlness Karnal got 2nd & Delhi got 4th
Tree does not eat its own fruits, river does not drink its own water; similarly, the Saints have taken birth to do good to others. As the trees do not eat fruits, rivers and sea do not drink their own water, Great Men and Saints live for the benefit of others.
With this cause of serving the society, the Revered Saint Dr. Gurmeet Ram Rahim Singh Ji Insan has taken a pledge to clean the earth. With the welfare oriented objective of Rev. Saint Dr. MSG, Shah Satnam Green 'S' Welfare Force Wing is running "Cleanse the Planet Earth, To Remove Disease & Curse" (Swachch Bharat Mission).
Till today, 32 Safai Abhiyan (Cleanliness Drives) have been conducted in cities and metros, thereby granting the gift of cleanliness to these cities. To expand the series of cleanliness, on Saturday, 6th May, the Mega Cleanliness Campaign was conducted in the "City of Danveer Karna", Karnal (Haryana), and on 7th May, 2017, it was in Delhi, that on call of Revered Guru Ji, lacs of volunteers of Shah Satnam Green 'S' Welfare Wing cleaned both the cities in a few hours.
It is worth mentioning that the 1st cleanliness campaign of Dera Sachcha Sauda was organized the cleanliness campaign 24th March, 2013. In that project three lac volunteers cleaned the city thoroughly, that too, within five hours. In Delhi, it took two days, i.e. on 21-22 September, 2011; in Narela on March 15, 2013, and on 10th & 11th September, 2013, three big cleanliness drives have been organised. Let us know about the interesting movements of cleanliness at Karnal on 6th May and in Delhi on 7th May, 2017.
Karnal (6th May, 2017):
The cleanliness mission "Cleanse the Planet Earth, To Remove Disease & Curse" was started on 6th May, 2017 (Saturday) by Shah Satnam Green 'S' Welfare Force Wing on the call of Revered Guru Ji, at the Place of Danveer Karna, and Historical City, Karnal. Five lac volunteers of Shah Satnam Ji Green 'S' Welfare Force Wing cleaned the city of Karnal, in two hours itself and made it the cleanest city.
The Cleanliness Drive was inaugurated at 9.38 am, by Revered Guru Ji and Shri Manohar Lal Khattar, Chief Minister of Haryana. After that the balloons with the slogans regarding cleanliness mission were released in the sky. Later the volunteers were shown the flags, with a message, to start the work.
On this occasion, Royal Daughter Honeypreet Ji Insan and other reputed personalities like Transport Minister of Haryana, Shri Krishan Lal Panwar, Chief Parliamentary Secretary Baksheesh Singh, MLA Harvinder Kalyan, Mayor of Karnal Municipal Corporation, Renu Bala Gupta, Shammi Bansal, MD, Liberty Company, Ashok Sukhija, Chairman Kurukshetra Development Board were also present.
On the inauguration of this Cleanliness Mission, the correspondents from different TV channels, newspapers and magazines asked so many questions regarding cleanliness and politics to Revered Guru Ji and the Chief Minister of Haryana and got satisfied with the answers given by Revered Guru Ji and the Chief Minister.
How Karnal Became So Clean in Only Two Hours:
In the 31st Cleanliness Drive, the city was divided into four zones. The work was allocated to state wise volunteers in each and every zone. The volunteers directly reached in the zone assigned to them, and started doing service after getting orders. In addition to volunteers from different states, the volunteers from abroad also came to participate in this sacred mission of cleanliness.
With the beginning of this mission, crowds of people from every corner start marching ahead on the roads and only in a short time of two hours, lacs of volunteers cleaned the whole city of Karnal, every street and lane, every corner of the colonies, parks, govt.
offices, schools, colleges, hospitals and private organizations; all were cleaned thoroughly. Adding by the holy direction of Rev. Saint Dr. MSG the volunteers of Shah Satnam Ji Green 'S' Welfare Wing had brought broomsticks, spade, and other tools with them.
Not only this, the volunteers were having their food and drinking water with them. Everyone was commenting, 'how dutiful are the volunteers of Dera Sacha Sauda?' Adorable Guru Ji addressing the volunteers with His blissful wordings said that in our religion, importance of cleanliness is mentioned and it is said that if the atmosphere is clean, our body and mind will be healthy. If you do good deeds, Almighty will bless you with happiness.
In this cleanliness drive, the whole Administration is extending its cooperation, and we will take this cleanliness programme far ahead. Revered Guru Ji exhorted the residents of Karnal, to keep their surroundings neat and clean. Karnal has got medal for cleanliness, it is good. If there is little bit garbage, which is left, that will also be cleaned.
Revered Guru Ji told that if everybody adopts the habit of cleanliness, it will not take seconds to make the country clean. He further added that keep your streets and surrounding clean, as you do to your house and kitchen. Guru Ji also asked to change the habit of open defecation.
Cowdung and Urine Also a Blessing:
Revered Guru Ji told that cow has been given the status of mother. Cow milk and ghee is very beneficial for the health of human being. Cow dung and its urine prevent the spread of bacteria and virus. So not only the cow milk, but cow urine is also a blessing. Guru Ji further added that in His childhood, He used to take one kg of pure ghee daily.
Cow's ghee is the best for health, but it should be the local cow, not of the foreign breed. The Government is tagging the cows under UID in the state, which is praiseworthy.
The Key Role of Dera Sacha Sauda in Spreading Love and Brotherhood:
The Hon'ble Chief Minister of Haryana, Manohar Lal Khattar was overwhelmed to see the love and affection of Dera Sacha Sauda's volunteers of different religions, castes and creed on Saturday, in the Cleanliness Drive. Chief Minister has also tweeted in the regard.
On his Tweeter Handle he has written that Dera Sacha Sauda is playing an important role in spreading love, affection and brotherhood in different castes and creed. I congratulate Dera Sacha Sauda for the cleanliness drive at Karnal and hope that we will make Haryana State No. I in cleanliness.
The Long Awaited Blocked Gutters Got Opened:
Due to the 31st Cleanliness Drive every nook and corner of Karnal was shining, and moreover the gutters which were blocked due to garbage, were also seen neat and clean. If we talk of the dirtiest gutter of Jundla Gate, the volunteers of Shah Satnam Ji Green 'S' Welfare Force Wing in big numbers, went inside the gutters and took out the dirty garbage.
On seeing this the passersby and the shopkeepers were making ugly faces, but the volunteers were working as if they are cleaning their own houses, and as they are not getting any foul smell. The similar scene was seen in Kisan Chowk, Corn Market, Sector -12. There also, while getting down, could be seen the volunteers, taking garbage from the gutters.
Devotees Are Devotees:
When on the single call of Guru Ji, the volunteers started cleaning and polishing the city of Karnal, the local crowd present on this occasion seeing the selfless motive of the volunteers told in the local Haryanvi language, "Really devotees are devotees!" The people were saying that this work, which is being done by their unknown friends, should have been done by them, on their own.
Again Took Oath:
During the cleanliness drive in Karnal, the local people took oath to maintain the cleanliness in future. The people took the oath in written and signed the Resolution Forms, and promised that now it is our duty to maintain it. They further added that in future the volunteers of Dera Sach Sauda need not come here again for this work.
Cleanliness Monitoring by Sandeep Brar, Dy. Commissioner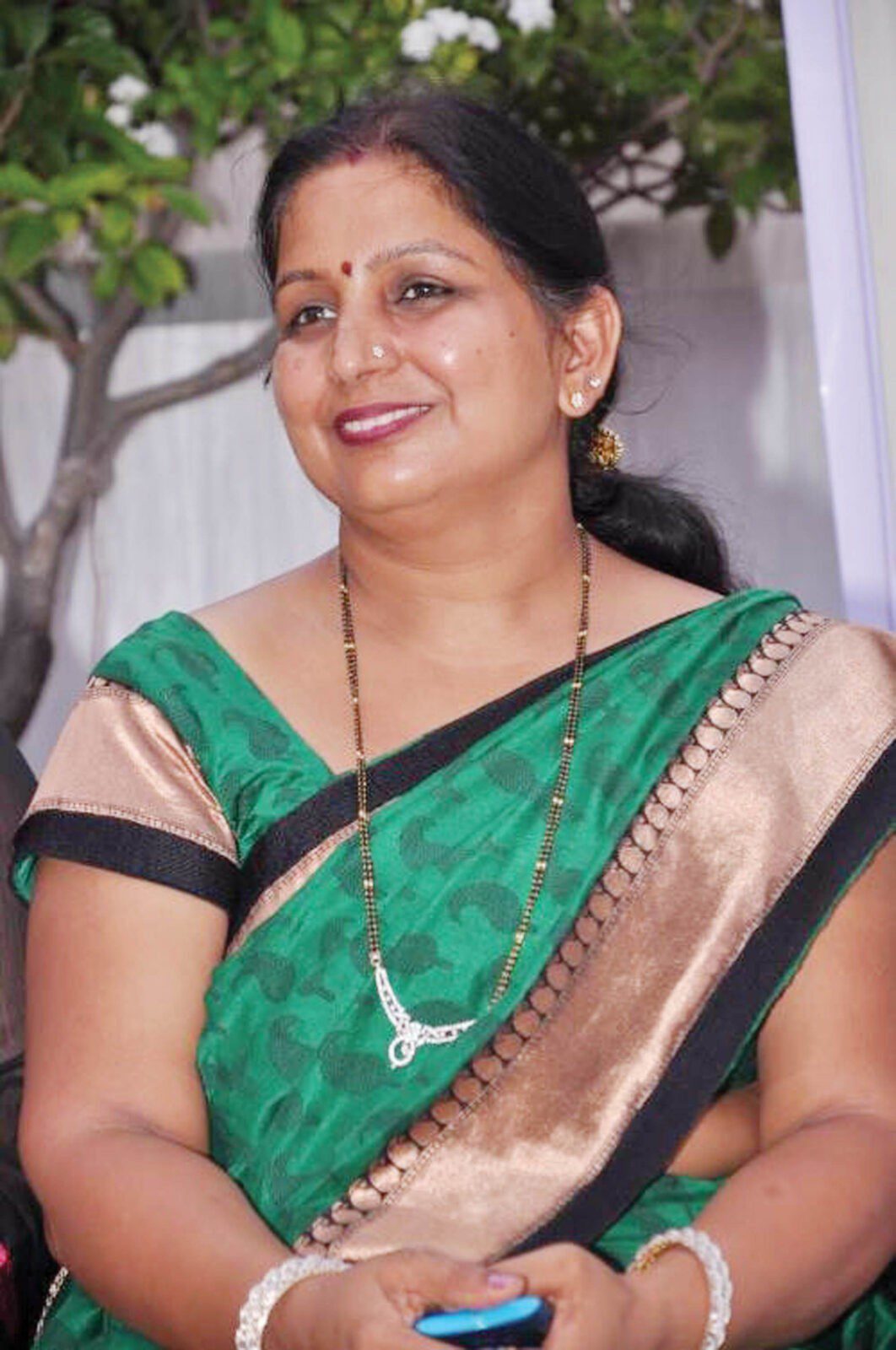 It is the good luck of the residents of Karnal that they were being motivated by the teachings of Rev. Guru Ji. The cleanliness drives in other cities of the state should also be started. People should take the inspiration to keep the city clean and beautiful. With the cooperation of Revered Guru Ji, the dream of "Swachch Bharat" of Modi Ji and "Swacch Haryana" of Manohar Lal Khattar, Chief Minister of Haryana will be fulfilled. – Renu Bala Gupta, Mayor, Karnal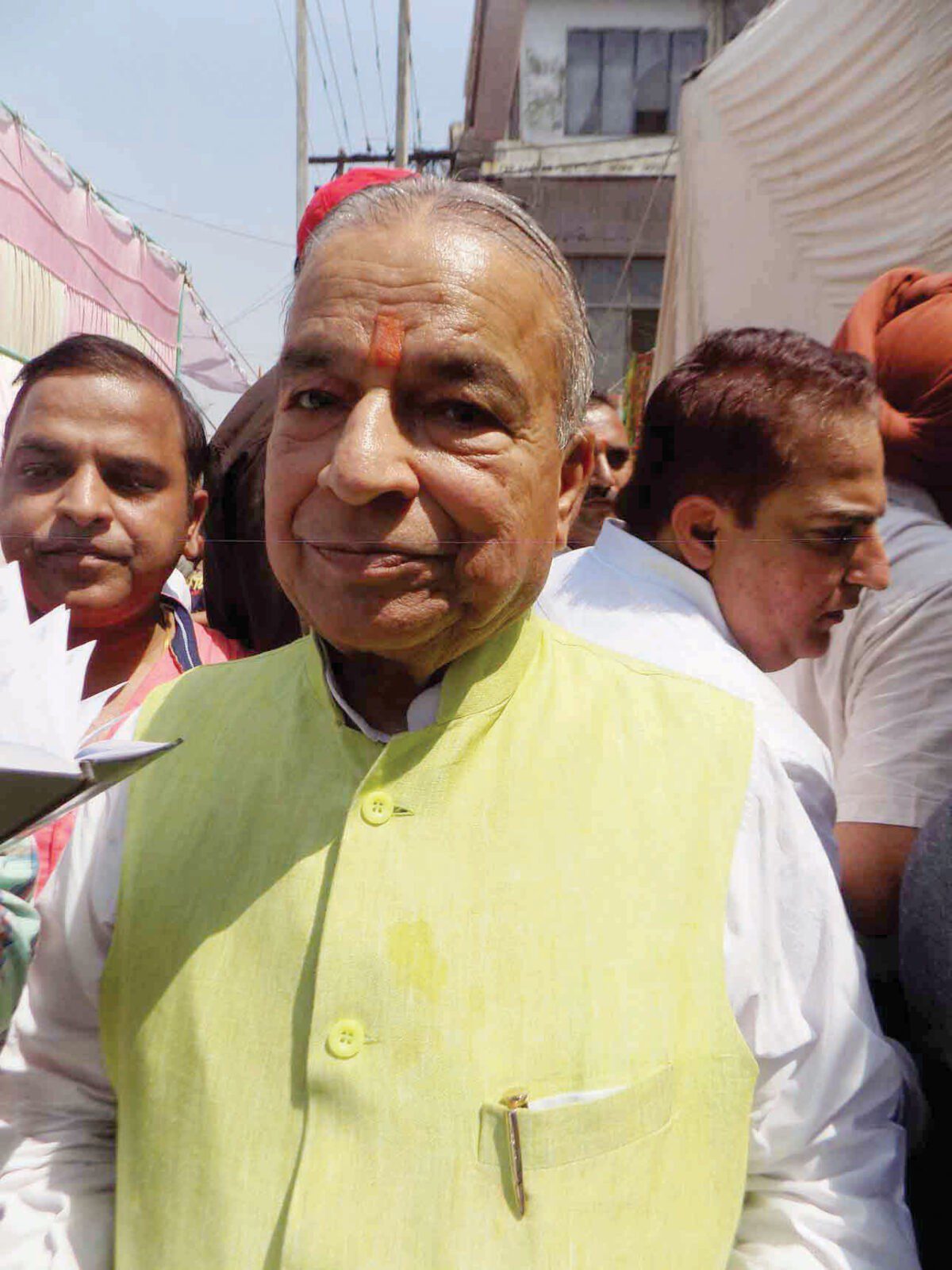 The Cleanliness Drive started under 'Swachch Bharat Mission', by Revered Guru Ji is beyond expression. I don't have words to praise this mission. I want that Revered Guru Ji may start this type of cleanliness programme in Meerut also. I have come all the way to Karnal to appeal Revered Guru Ji for this. – Satya Prakash Aggarwal, MLA, Meerut (UP)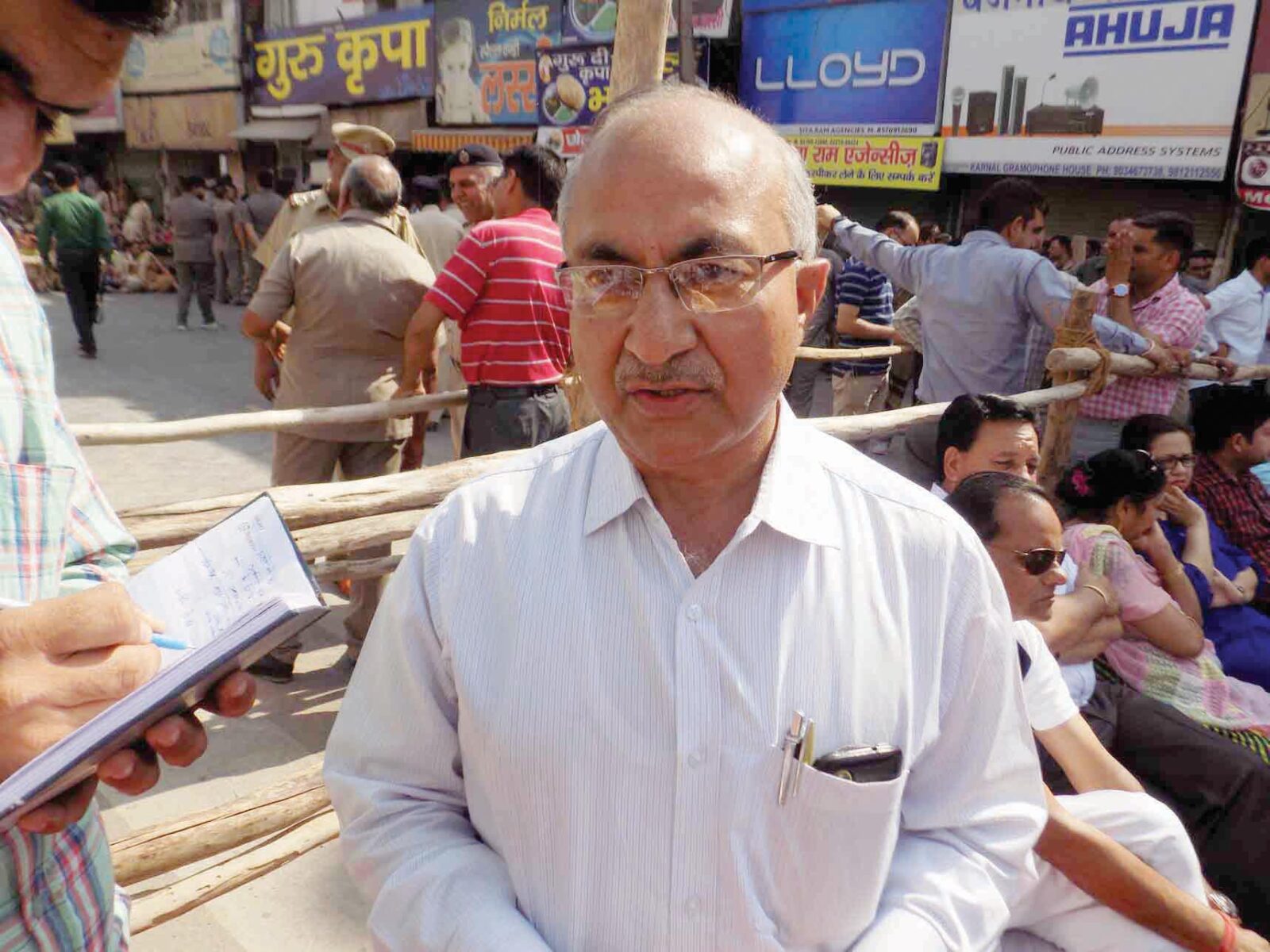 Revered Guru Ji is doing not only religious, but social works also. The upliftment of the society is the greatest religion. Revered Guru Ji has practiced this. You can name it anything. A few people come forward to uplift the society like Guru Ji. – Surender Makkad, Exen (Electric), Karnal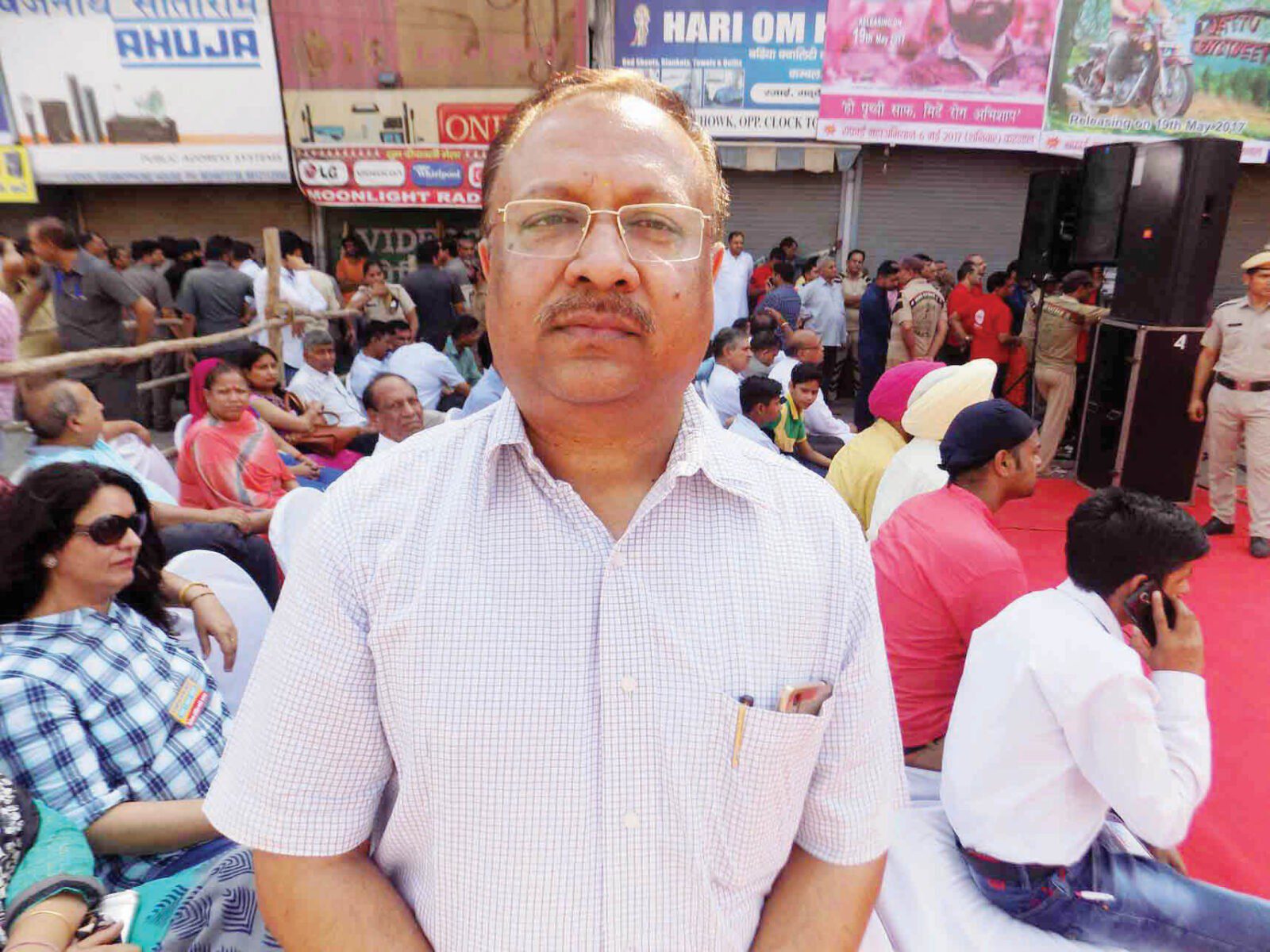 The Cleanliness Drive started by Revered Guru Ji is beyond praise. Guru Ji and lacs of His volunteers had come to clean this city earlier too. This drive was fully successful. It is our appeal to Guru Ji that in addition to cleanliness of the city, He should also start Mission Green Haryana, so that the state becomes ever green again. – Gaurav Jain, Vice President, BJP Industrial Division, Karnal
This is a miracle. Guru Ji is doing such a great service which is an example of great sacrifice. Thanks and best wishes to Guru Ji for making the city neat and clean again. – Prem Murti, Monk, Karnal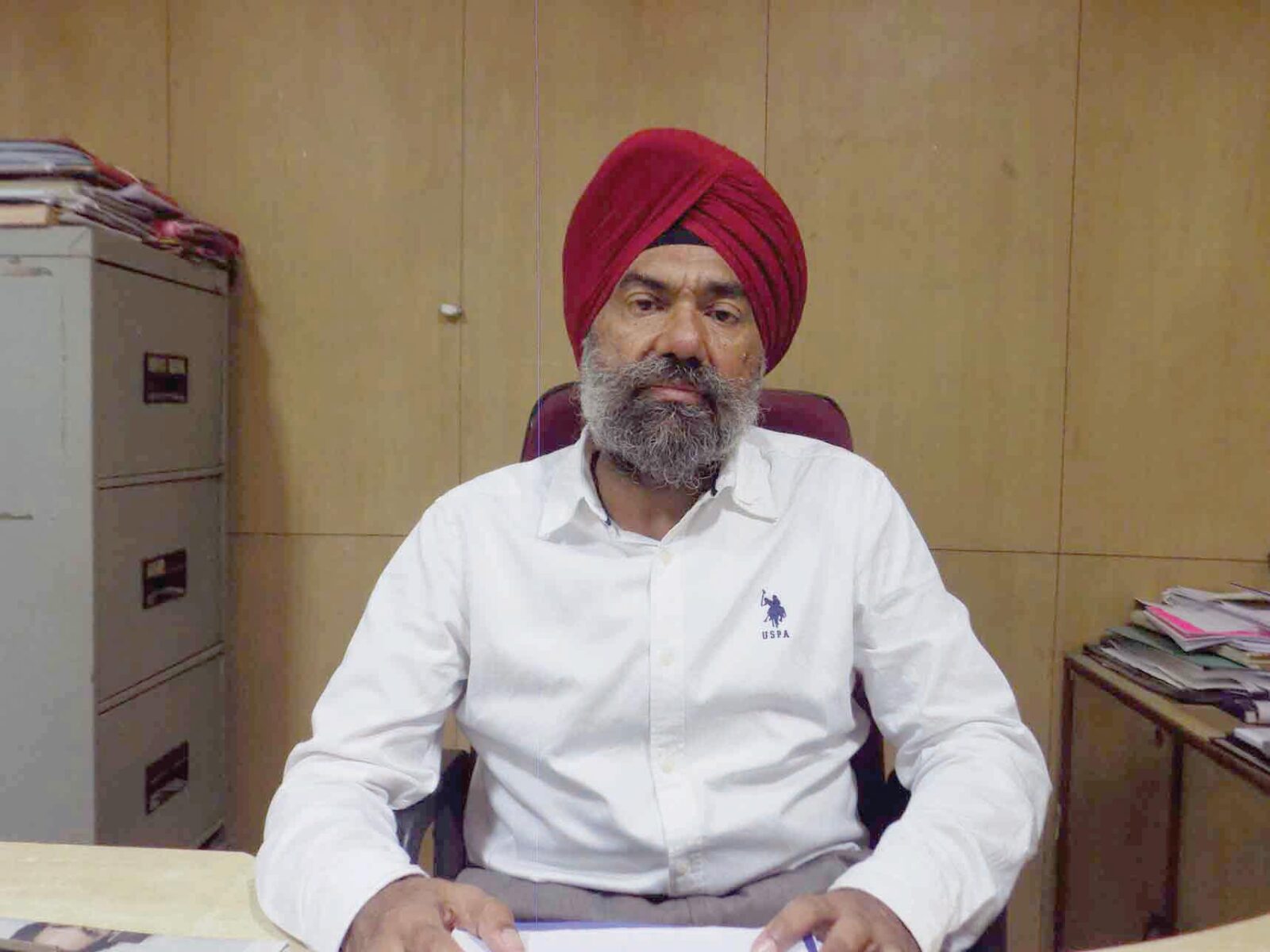 The cleanliness drive, that Guru Ji conducted, is worth praising, but public awareness is also necessary. If every citizen realizes his responsibility only, then it is fruitful. If the people are aware, there is no need of Awareness Programmes again and again. – D.S. Kapoor, Manager, Punjab And Sindh Bank, Karnal.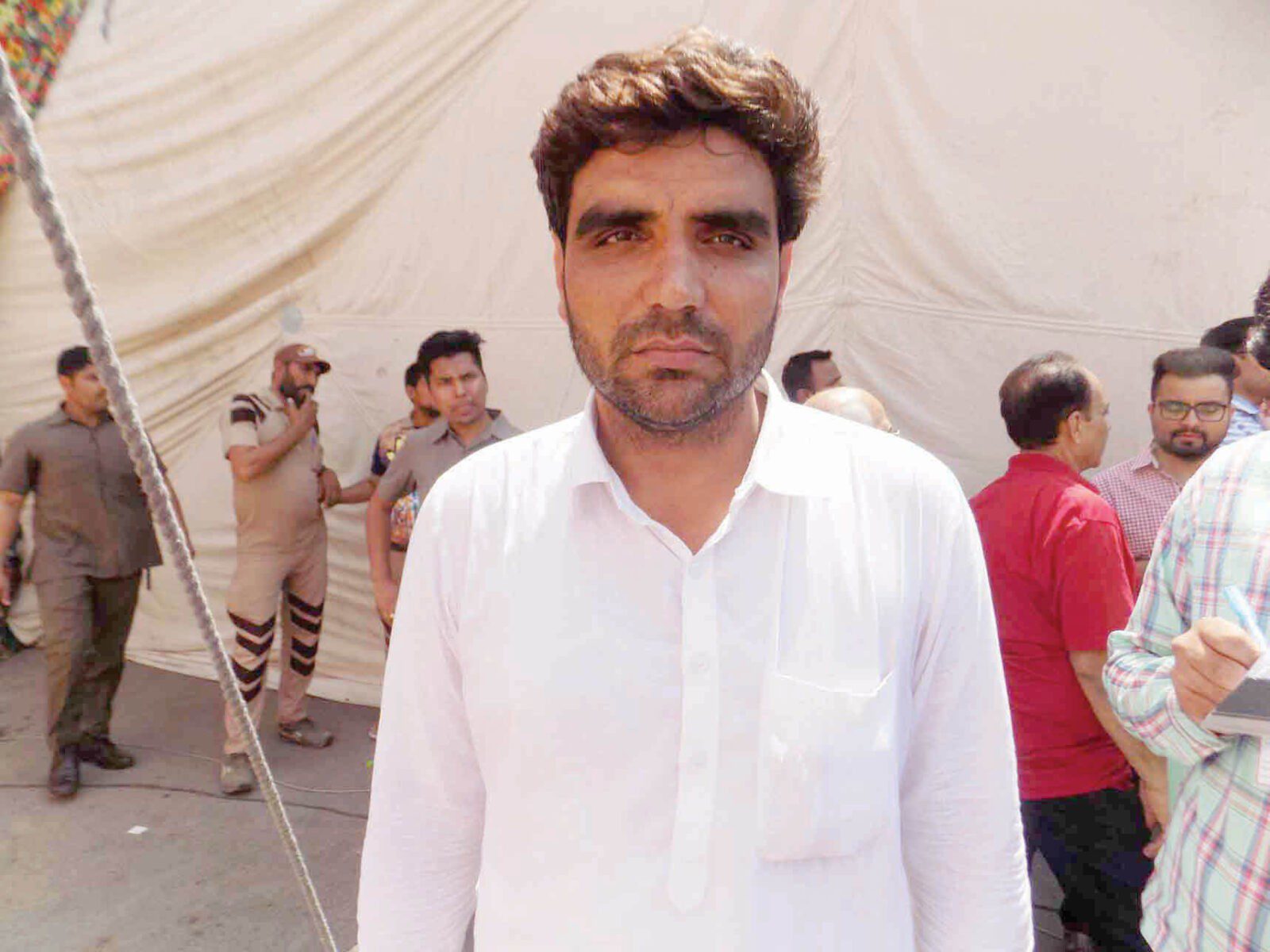 The awareness of cleanliness which has been introduced by Revered Guru Ji should be taken as motivation by the general public. If the people of towns and villages follow this, there is no question of not being the country neat and clean. – Devendra Saroha, Sarpanch, Bali Kutubpur, Sonepat.
32nd Cleanliness Drive Delhi (7th May, 2017, Sunday)
6 lac volunteers cleaned every nook and corner of the city in 9 hours.
Under the 32nd Cleanliness Drive "Swacch Bharat Mission) on 7th May, 2017, Sunday, National Capital of the country got the 4th gift of cleanliness.
Revered Saint Dr. Gurmeet Ram Rahim Singh Ji Insan, started the mission from India Gate. After that the drive was started together, in a synchronized way, in the whole of Delhi. Reached from different states of the country, more than 6 lac volunteers not caring about the scorching heat, the parks, squares, streets and corners of the roads were cleaned.
Before starting the cleanliness drive, Guru Ji paid homage at the Amar Jawan Jyoti. On this occasion, State Foreign Minister Gen. V.K. Singh, BJP Chairman and M.P. Manoj Tiwari, M.P. Anurag Thakur and Royal Daughter Honeypreet Ji Insan also saluted the martyrs. After that Guru Ji reached the venue of the drive.
The Cleanliness Drive was started by Guru Ji Himself and other dignitaries by cleaning the dirt. All the dignitaries recited cleanliness slogans and balloons were released. After this Guru Ji started the mission by showing flag, and motivated the volunteers to work with full zeal.
With the start of the cleanliness mission, the volunteers of Shah Satnam Ji Green 'S' Welfare Force Wing started working in different 13 zones. The volunteers cleared the garbage from the gutters and on the roadside, in minutes. The people were surprised, when they gathered that the volunteers include engineers, doctors and businessmen, from distances places. Senior citizens also participated actively.
At the inauguration ceremony, Guru Ji said that this is the Mahakumbh of cleanliness. Our holy scriptures and Vedas have also stressed in the importance of cleanliness. In these holy books, it is mentioned that if the atmosphere and environment is clean, the mind will be purified and no diseases will spread. The Cleanliness Mission was started in 2011 from Delhi. At that time, dengue was spread in Delhi.
After the cleanliness programmes, dengue cases were minimized. Our effort is that Delhi should be on No.1 in the matter of cleanliness. We have started this Cleanliness Mission and our Prime Minister Modi Ji has taken this mission to every corner of the country, by adopting it. Guru Ji told that if Government permits and cooperates, we can get river Yamuna also cleaned.
This Bad Habit Can Be Changed by Imposing Fine:
Revered Guru Ji told that if Government imposes a little fine on the people spreading garbage, they will change their bad habits and it will increase the Government Treasury as well.
New Beginning: Guru Ji Organised Cow Milk Party:
Revered Guru Ji has begun a new deed, of saving the local cow. At inauguration ceremony the Cleanliness Drive, Guru Ji got arranged Cow Milk Party. On this occasion, Guru Ji also took cow milk. On this occasion, State Foreign Minister Gen. V.K. Singh, BJP President Manoj Tiwari, Ex BCCI President Anurag Thakur also joined the 'Cow Milk Party'. The media people also enjoyed this party.
In addition to this, to add the honour and respect, Guru Ji also requested to declare cow as "National Animal". Guru Ji requested to drink cow milk and not eat cow meat. In Hindu religion, cow is given the status of Mother. Cow not only gives us milk, but saves us from different diseases.
Cow milk is very nutritive and in addition to this cow dung and its urine checks the spread of bacteria. He further added that My father Bapu, Nambardar Magghar Singh Ji used to have local cow in the house. Once one or two cows got aged and their bodies weakened, then Bapuji used to sit and recite lesion from the Gita. When asked what is it? He said that I want that they should not suffer during their last breath, so he is reading out the Gita lession.
MEDICAL STAFF WAS ALSO APPOINTED:
During the cleanliness programme, special care was also taken for the health of the volunteers. Near Mehrauli in the Chattarpur Temple campus the stay arrangement of the volunteers was made, with the medical facilities. Medical Staff from A.I.I.M.S. was posted here.
POLITICIANS PRAISED WITH ONE VOICE: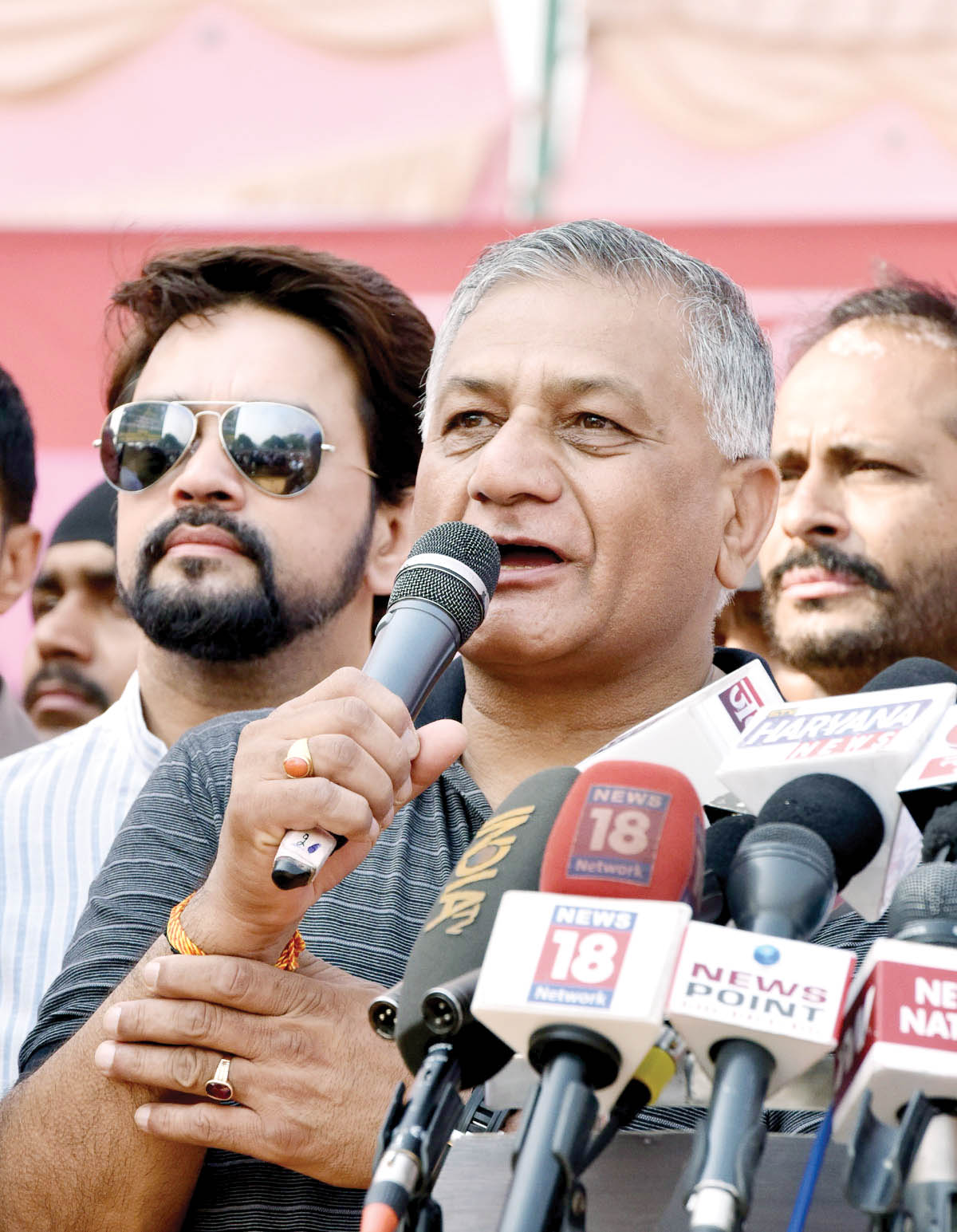 A soldier sacrifices all his life for the country. Today we have seen such a force (Shah Satnam Ji Green 'S' Welfare Force Wing), which is working selflessly, with full zeal. All should take motivation from this type of army, and help and cooperate Revered Guru Ji to make this mission successful. – Retd. Gen. V.K. Singh, Central State Foreign Minister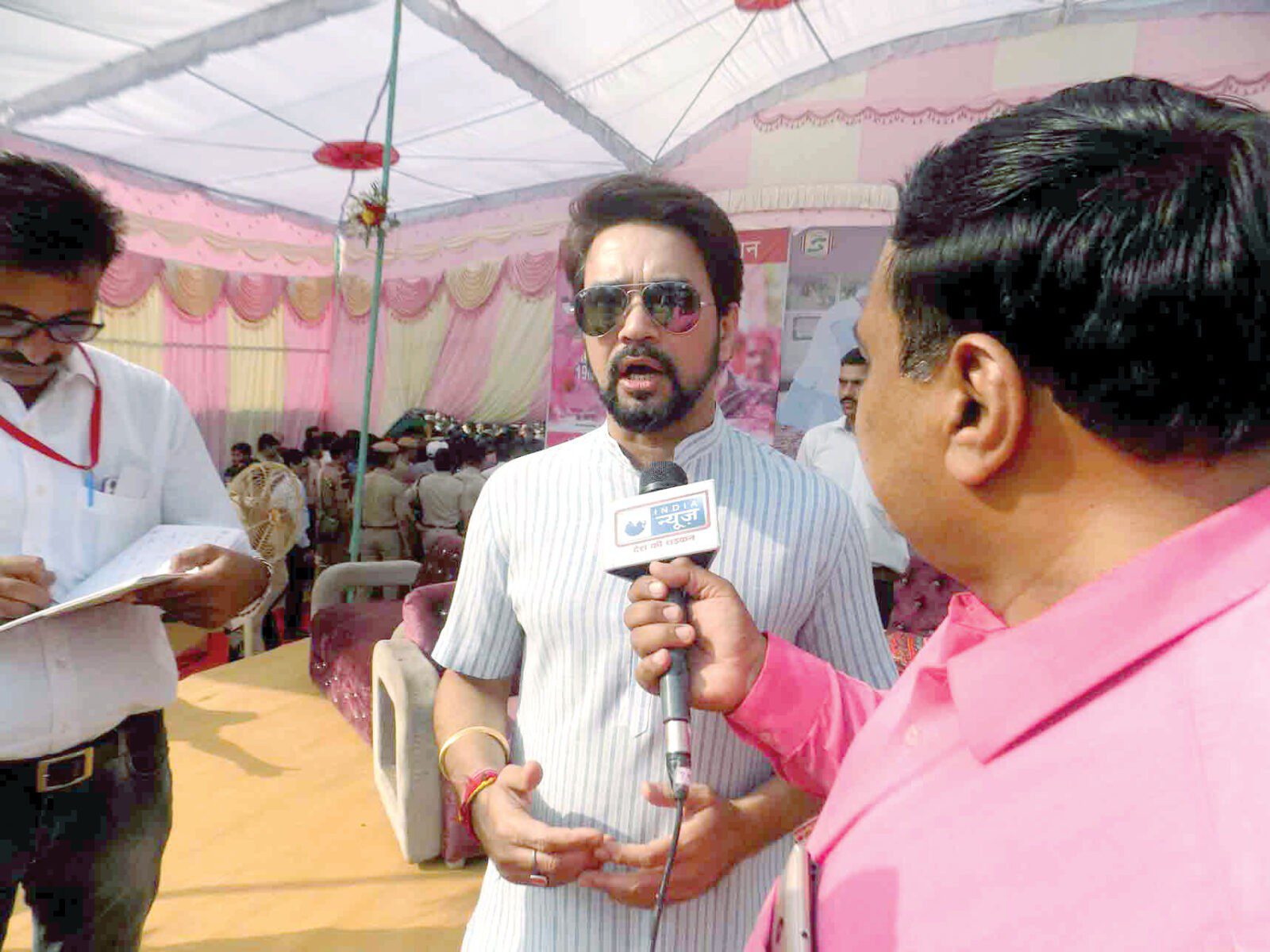 Thousands of people are daily dying due to one or the other disease. The main cause of this is garbage and dirtiness. Guru Ji has started a praiseworthy programme of cleanliness. The Prime Minister Shri Modi Ji has also taken oath to make the country clean. We all have to work together to make this dream true. ANURAAG THAKUR, YOUNG BJP LEADER, AND EX BCCI PRESIDENT
I am thankful to Revered Guru Ji and the volunteers from the core of my heart. I assure Guru Ji that we will show the work done by us in coming 7 years, which was not done during last 70 years. MANOJ TIWARI, YOUNG BJP LEADER AND STATE PRESIDENT OF DELHI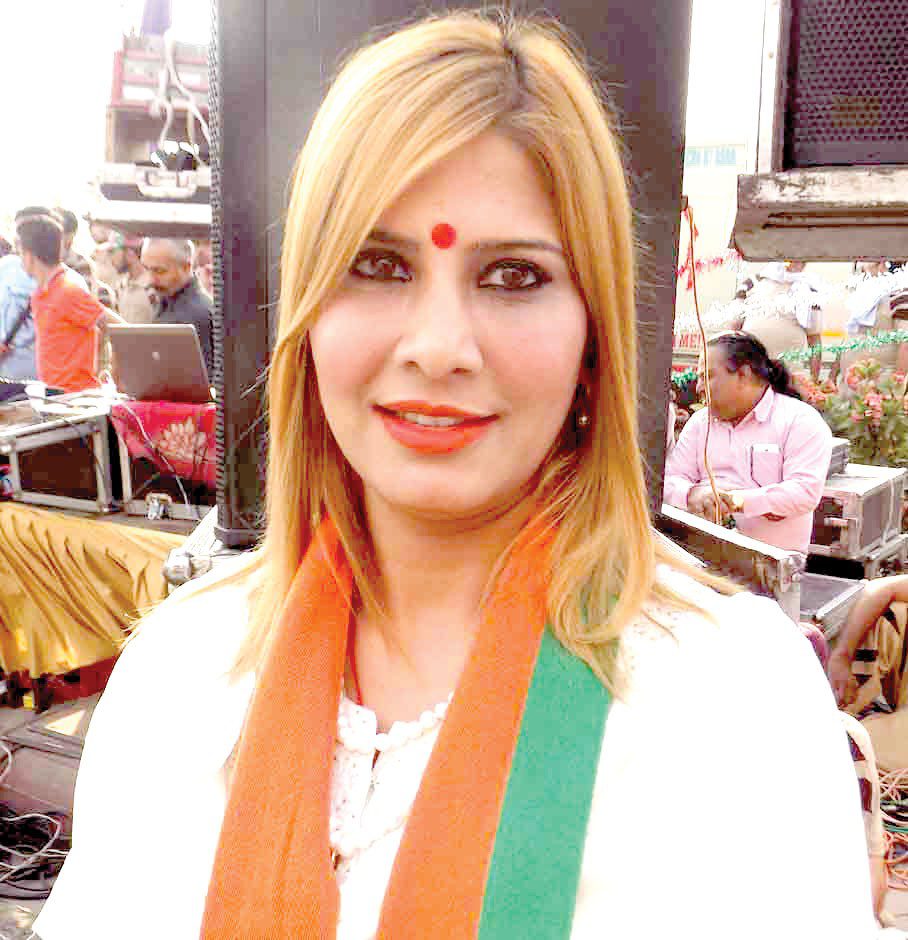 The people of Delhi should get awareness from this mission and we to make it a continuous effort and due to this Delhi will get respect in India and abroad. I am awfully surprised to see huge number of people working for public interest, without any self interest. – RUBI YADAV, DIRECTOR, NIFT, MRS UNIVERSE WEST ASIA -2015 AND MRS INDIA QUEEN -2013.
Follow us on Facebook, Twitter, Google+, LinkedIn and Instagram, YouTube to get more updates related to sachi shiksha Spiritual Magazine, articles.