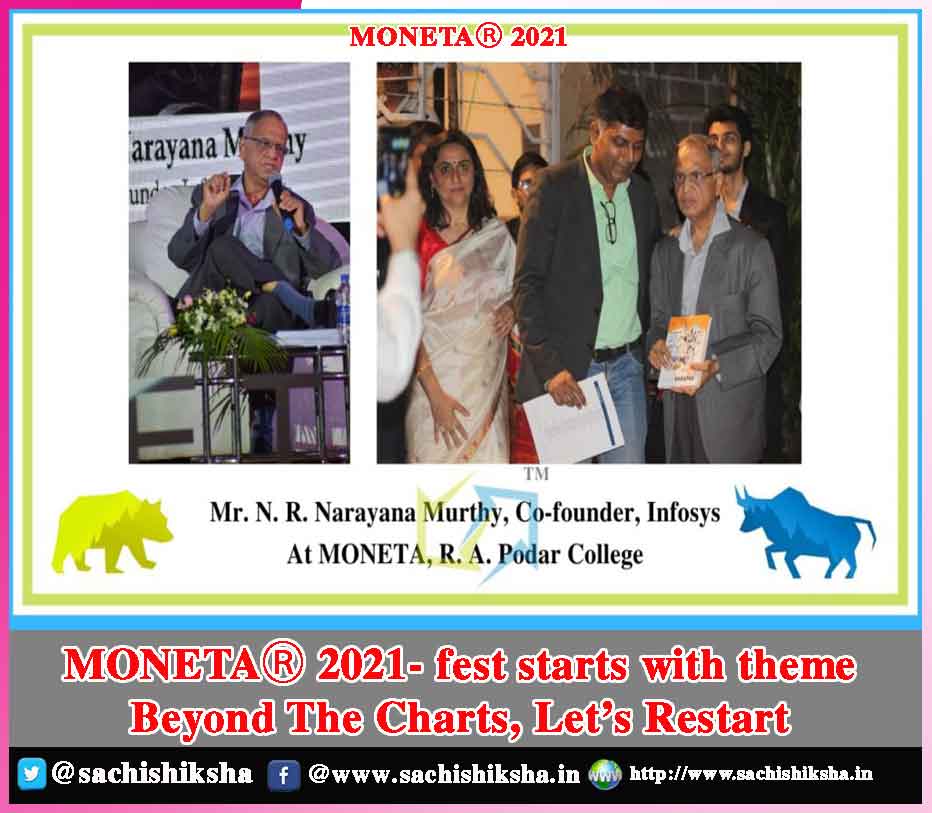 MONETAⓇ 2021- fest starts with theme Beyond The Charts, Let's Restart
"The stock market is filled with individuals who know the price of everything, but the value of nothing." By Phillip Fisher
If you are a stock market enthusiastic you would probably be familiar with terms like bearish, bullish, candlestick and if you are an active trader or an investor who may know and follow a few common strategies. But, whenever we discuss the stock market, no amount of knowledge is enough and with the same thought bearing in our mind, we at R. A. PODAR College of Commerce and Economics, Autonomous are all geared up to present MONETA® 2021 Beyond the Charts because charts speak volume.
With a footfall of over 15,000 people in past, we are proud to have hosted a huge number of finance enthusiasts. MONETAⓇ welcomes participants from undergraduate and postgraduate colleges to try their hand at our meticulously crafted events, said the team Moneta to our representative.
The team further added,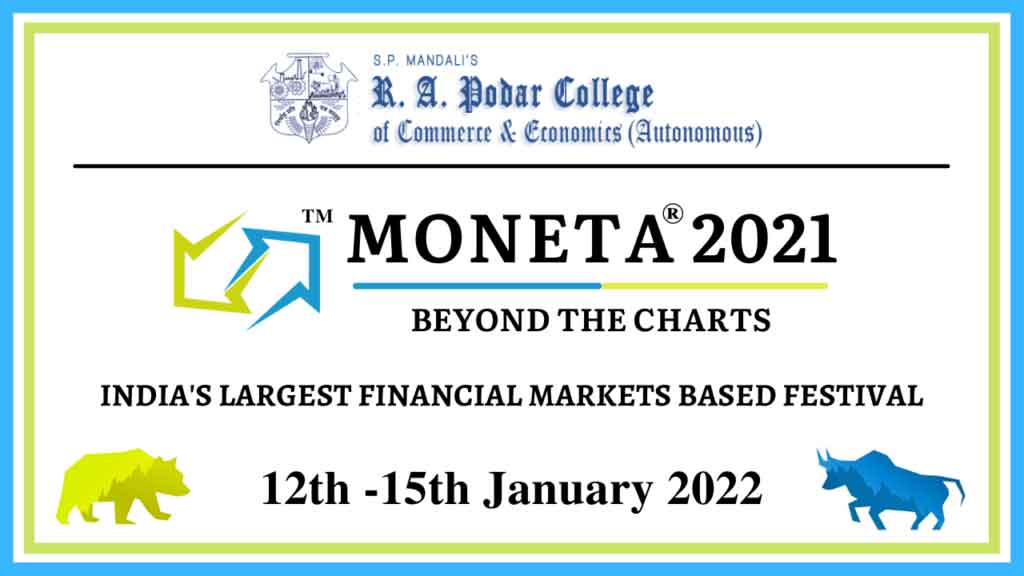 A commoner from society, popularly known as retail traders or investors is always a victim to what goes behind the curtains. The gap-up openings come as a surprise and are hardly anticipated because there is so much to a stock market than 9:00 am to 3:30 pm. We at MONETAⓇ, one of India's Largest Financial Market events are here to give you a sneak peek into what goes behind the scenes of finance. Calling upon the spectators to prepare themselves for this burst of insightful information at our skill exchange hub and encouraging them to apply their learning to stay at the top.
MONETA® has created a name for itself for spreading and promoting financial literacy all over the country in form of seminars, interactive workshops and finance-based events. Renowned personalities like Mr Narayan Murthy, Mr Ashish Chauhan, Mr P. S. Jayakumar, Mr Yatrik Vin, Mr Anuj Mehra, Mr Neeraj Modi have marked their presence in Moneta as speakers over the years.
The major highlight of this festival is the BullRing which is powered by none other than NATIONAL STOCK EXCHANGE (NSE) has helped the audience uplift their trading skills. Real life like news and fluctuating stock prices makes this mock as authentic as the stock market. Not only this, but we at MONETAⓇ also attempt to empower and educate underprivileged children through our Learn India Initiative. Some other events like Think Tank, where innovators put forth their ideas in front of investors and Legit which tests one's debating skills also witness major participation from colleges all across India.
MONETA® 2021- Beyond the charts,
which will commence from the 12th of January, to 15th of January 2022 and will prove to be an experience filled with knowledge and development of skill, a beginning towards a deep understanding of the word finance which shall never end because like we said, no amount of knowledge is enough.
Our registrations platform are open and for more details visit our website: https://www.podarmoneta.in/
For registrations you may even shoot us a mail at: podarmonetacrm@gmail.com
We are all set & eagerly waiting to host you all at MONETA® 2021- Beyond The Charts at large numbers!
Let us tell you that India's famous magazine Sachi Shiksha Media is the partner in this event.