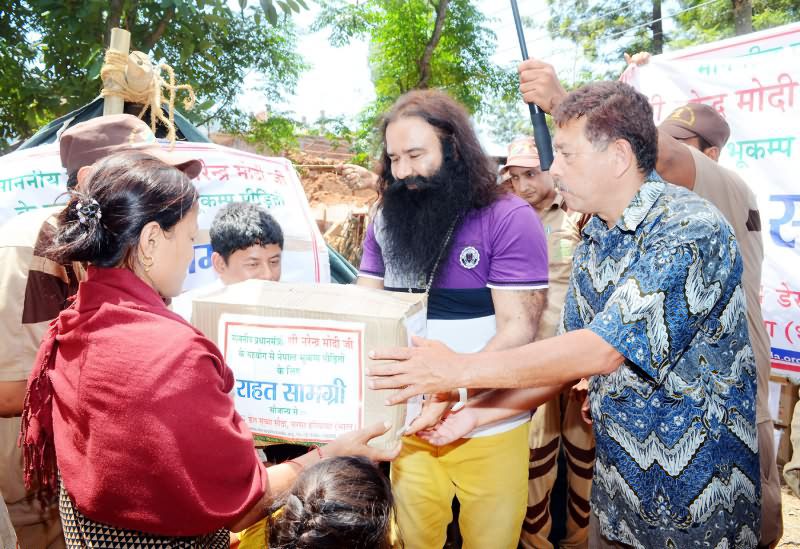 Nepal Tragedy
Rescue Operations to Lessen the Pain of the Victims
The small country of Nepal, situated in the lower range of Everest Mountain, became infatuated due to a severe earth quake of 7.8 Richter scale on 25th April, 2015. The country already suffering through political instability, has suffered damage to such a great extent that shall take many years to recover from great tragedy.
This nation is facing large scale upheavals and devastations. The tourist place of 'Pokhra' is now giving a desolate took which used to attract many visitors. The capital place of Kathmandu which has been a fascinating site for tourists has now been transformed to fearful city.
Nearly eleven districts project the terror of destruction where many villages have got ruined to rubbish. There prevails a state of extreme silence all around. The dead persons have left this world but the persons still surviving are feeling burdened.
They have not only lost their residences but are all facing problems of getting clothing, proper meals and safe drinking water. Every essential material has been damaged and swept clean. Close relatives and friends have departed from this world and even the persons still alive are untraceable. The cheerful life of masses has elapsed in the lap of death.
Also Read:
Certain people have got buried in the rubbish, whereas, remaining feel worried in search of lost persons.
People in the rest of the world have realized the sufferings of citizens in Nepal. Many relief operations have been launched for their help. The relief material is being provided through many nations. By now, it has reached in surplus that Nepal shall not feel deficiency for next 2-3 years. But still the supply has not been made available directly at certain zones of shortcomings because it is being stored in safe go-downs.
Thus people are extending help but they are not expressing sympathy as being exhibited through the volunteers of Dera Sacha Sauda. The citizens of Nepal have acknowledged this concept with gratitude because His Holiness Saint Gurmeet Ram Rahim Singh Ji Insan, personally went to Nepal form 1st to 9th May 2015.
To lessen the pain of the victims Adorable Guru ji went from door to door. He shared their feelings, deduced the fear from their minds and motivated them with courage. Every essential remedy was provided .The residents were inspired to discard fear and stay in their specified homes.
Guru Ji blessed relief to every distress
A team of dedicated volunteers accompanied Guru Ji along with a variety of essential commodities. They went door to door for survey and supplied them the requisite materials on the guidance of Guru Ji.
Adorable Guru Ji started from Sirsa on 1st May and remained very busy in the service of the persons afflicted through earthquake. The relief operation used to begin early morning and continued till late evening with the direction of Guru Ji.
The volunteers could shift to different villages after fulfilling the needs and requirements. Every family was provided with one tent and sufficient food material for one month. Adorable Guru Ji has been kind enough to get involved and co-ordinate with volunteers during installation of tents and distribution of relief materials.
Unique observation (which never happened in the past)
People were astonished to watch the incidents when Guru Ji himself extended relief operations for oppressed and suffering victims. The painful masses were blessed with energy to face the precarious situations with courage.
Certain persons who were afraid of shifting in their houses due to tremors, were motivated to stay in their own residence. There was every arrangement for the treatment of patients and injured persons because a team of medical expert (doctor) also accompanied Guru Ji. They used to attend the needy persons without any delay.
Relief operation camps (DSS – Sirsa)
This type of care was also made available for injured cattle and birds. The residents of that region expressed gratitude because the government and the local administration could not extend such help. The volunteers always followed Guru Ji from one village to another and were quick enough to resolve the problems.
It was no less than any astonishing achievement. Guru Ji has been busy and keen for social service of the public residing in villages allocated to Dera Sacha Sauda.
Devoted Support and Assistance to Newakot and Lalitpur
Out of 26 districts of Nepal involved in Earthquake, 11 districts were badly affected with severe damage to life and property. Two districts of Nawakot and Lalitpur were allocated for performing relief operation through Dera Sacha Sauda. First relief camp was installed at Devighat of Nawakot district situated on the banks of Brahma Putra River.
The villages Vidhur, Peepaltata, Devighat, Raatmaate, Jiling, Devegarh, Samunder Nagar, Duapeepal and Tamche, were badly damaged in Nuwakot district. The volunteers provided full assistance to the residents in these villages for three to four days and then shifted to Lalitpur district. The relief camps were organized in village of Sunakothi, Karkari, Maalegaon, Bhandarekishan and Mukandtol.
More than one thousand volunteers accompanying adorable Guru Ji were involved day and night for relief. Guru Ji had to cross over the zig-gag and damaged pathway, to approach the residence of affected people, shared their sufferings and also provided the requisite materials to the needy. May buildings were damaged to rubbish;
therefore, the regular passages were not available. Even then Guru Ji and volunteers reached the families with enthusiasm.
The victims used to shed tears while explaining their affliction but expressed heartfelt gratitude to Guru Ji for healing their wounds of sufferings. The badly affected masses wished for the constant stay of Guru Ji in their region. But Guru Ji had concerns and thought for everyone. Guru Ji used to depart on showing considerations of feelings and best wishes.
Great role in the Construction of Educational Institutions
Two school buildings in Devighat/ Nawakot district were completely grounded due to earthquake and nobody could imagine that damaged buildings will ever return to their original state. The students and teachers also thought that resurrections of these decrepit schools were difficult. When and who will visit here and feel conscious of the reconstruction? It proved to be a situation of great fortune for them.
This zone allocated to the relief team of Dera Sacha Sauda where Guru Ji himself reached to watch and guide the relief operation. Guru Ji has been kind enough to provide better shape to both schools in a short duration.
Adorable Guru Ji laid the foundation of Sahid Jagat Prakash Jung Shale Sanskrit Senior Secondary School on the 7th May and erected the building within 24 hours by 8th May, 2015. Likewise the foundation of second school Shri Ranbhuvnaeshwer Senior Secondary School, was laid by adorable Guru Ji and the building was re-constructed within 2-3 days. The volunteers contributed their services day and night with full dedications.
His Holiness Saint also remained involved in the resurrections of educational institutions. He not only laid the foundation of the buildings but also inaugurated the schools. In addition to the class rooms, laboratories, blackboards, seating furniture etc. were rebuilt and given lustrous paints. The residents, teachers and students of this zone were amazed, expressed regards and thanks. The Principals of educational institutions and many Administrative officers conveyed gratitude and presented memento of appreciations to adorable Guru Ji.
Contributions of Relief Material
The items for the earthquake victims included biscuits, safe drinking water, gram, blankets, tents, medicines, warm-clothing, powdered milk, turmeric-powder, red-pepper, condiments, candles, sugar, rice, wheat flour, salt, matchboxes, mustard oil, cookers, pulses and service metal plates.
Medical Assistance
Guru Ji managed a team of medical experts to accompany him. The honorable doctors were Dr. P.R. Nain, Dr. Aditya Insan, Dr. Dinesh Insan, Dr. Mohit Insan, Dr. Rohit Insan, Dr. Swapnil Garg and Dr. Gaurav Insan. A group of 40 members of paramedical staff also went with them, who provided a message of selfless service for humanity during treatment of patients. More so, the medical team was equipped with modern sophisticated devices loaded in two vans which serve as mobile hospital.
These unique and wonderful mobile hospitals known as' Farishta' and 'Nanha Farishta' carry facilities for minor and major operations. More so, five ambulance vans and one fire brigade van also accompanied the medical team for assistance. These Doctors organized medical camps for the treatment of victims under the noble guidance of Guru Ji. The needy persons were subjected to operations as per requirements and given the necessary medicines to provide relief. As many as 7669 patients acquired benefits from the medical camps.
Three times prayers for their benediction
True saints possess store house for bestowing grace to the deserving souls. They do not tolerate the sufferings of masses and always stay prepared to bless invocations. Therefore, as and when the information of severe earthquake in Nepal reached Guru Ji, he instantly expressed willingness for providing relief to the earthquake victims. He motivated volunteers to make necessary arrangements for relief materials, including ration.
He not only took up the challenging task of helping the survivors but also providing benevolence to the departed souls. He guided the followers to raise two times sacred slogans of "Dhan-Dhan Satguru Tera Hi Asra" during spiritual congregation of 25th April, 26th April and huge gatherings on the auspicious occasion of 67th foundation day on 29th April, 2015. Such benedictions can only be permitted through true saints for the peaceful upkeep of spirits in astral spheres. They carry secret revealing status in these divine regions and also take care of souls through their kind grace. In this manner, Guru Ji provided due assistance to the earthquake victims and also blessed the departed souls through benedictions repeated on three occasions.
Induced Passion and Enthusiasm through Tweet
Revered Guru conferred appreciation to volunteers for their attitude of selfless service and he blessed them through boundless grace. There was no mark of tension, anxiety and fatigue on volunteers who were engaged in the relief operations of earthquake victims of Nepal.
These volunteers have never perceived any discomfort during their long distance journey and rather provided help with unlimited enthusiasm.
These followers started, with the blessings of revered Guru Ji on 30th April, for a difficult long distance of 1300 kilometers to reach Devighat (Newakot district) situated on the banks of Brahmaputra River and reached on 2nd May. They got engaged in survey operation with immediate effect. The relief operations continued for one week after its beginning from the village of Pipalhaar.
The devotees presented an example of selfless service with great passion. Revered Guru Ji shared the aspect of appreciable service through the tweet account with the statement "The volunteers of Green-S-Welfare Force Wing for doing wonderful task in Nepal. God bless them". Another tweet remark on 7th May projected more enthusiasm. The divine blessings enhanced their ambition and capacity of social service.
The work which could not have been accomplished in many days was completed within 7-8 days. The relief operation started on 3rd May and continued till 9th of May without inhibition. As many as 1846 families of Newakot were supplied with requisite food supplements and 4250 patients were given medical help
and provided assistance of 1783 tents. In Lalitpur district, the support provided included 2378 families with ration, 3416 patients with medical aid and 1549 tents for people affected through earthquake. The residents of Nepal felt obliged and pronounced praise for the relief provided in such a short span.
Nepalese People said
A hundred times greetings to the service spirit . I want to thank the revered Guru ji. After crossing miles and miles , the revered Guru ji has reached out to put balm on the pains of earthquake victims. There has been big destruction from earthquake in Nepal. The followers of Dera Sacha Sauda are erecting the tents and distributing the relief material from door to door after crossing the difficult roads. A hundred times greetings to such a service-spirit.
Krishna Parsad Secretary,
Nuwakot Industry commerce union.
Indebted to the revered Guru ji:
The school that has been reconstructed by the revered Guru ji for the future of children for which express my gratitude for the revered Guru ji from the inner layers of my heart. Under such conditions, this was not possible from the local administration. Many-Many thanks to revered Guru ji on behalf of the area dwellers and school staff.
Principal Prem Prasad Adhikari,
krishna Prasad & Uma Shilwal.
Indebtedness to the revered Guru ji
Dera Sacha Sauda is helping the earthquake victims for which Nepalese government thanks the revered Guru ji. The two mobile hospitals (Farishta and Nanha Farishta), which are there to provide the medical facility and aid to the earthquake victims, are very unique hospitals. I've seen such hospitals for the first time which travel to the patients themselves. Sincere thanks to the volunteers of Shah Satnam Ji Green-S-welfare force Wing and the revered Guru ji.
Khagraj Adhikari, Health Minister, Nepal Government
Has given birth to hopes of life:
My wife and son of 1 year age were at the house on the day of earthquake and have died in the debris of the house. I had become broken from this pain. There was no power left in me to face more pain but the sayings of revered Guru Ji has given a lease of new life to me. Revered Guru Ji has given birth to the hopes of life to people like me.
Madan Rai, Victim, Madridoonga resident.
Bureau Sachi Shiksha
Photos – Anil Chawla
Follow us on Facebook, Twitter, LinkedIn Instagram, and YouTube to get more updates related to Sachi Shiksha – The Famous Spiritual Magazine in India.