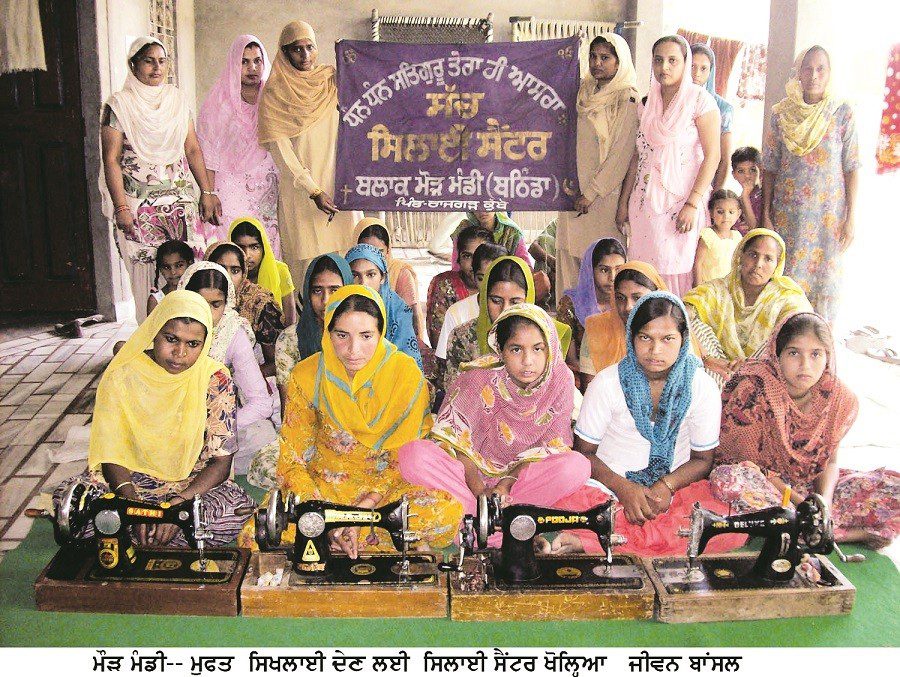 Since eternity, the word "woman" has been synonymous with "power" and women are acknowledged to have played more important role than man in societies since time immemorial.
It has aptly been said that, you empower a female and you help build a nation.
But with time the status a woman has in our society has declined in the last few decades. The social fabric has acquired completely new dimensions and of late,women are considered less important than men.
Also Read:
Dera Sacha Sauda has been making immense efforts in the direction of generating awareness about women empowerment especially about female foeticide. The results of the campaigns launched in the last few years have been extremely encouraging.
The Dera has now become a beacon of hope for the rural and urban women and is playing a meaningful role in improving their social and economic status.
Urban women in India always had more advantages and opportunities for better education, better economic resources and access to material things.Yet, in our experience,rural women have made rapid improvements despite lacking the material comforts of her urban counterpart.
Dera Sacha Sauda has played a major role for the empowerment of the women, both in rural and urban areas, by providing vocational training and education to women in rural areas.
Dera Sacha Sauda's followers across the nation have taken an initiative to conduct surveys on the economic status of women and their families living conditions.
Those found economically under-privileged are provided facilities for tailoring and embroidery at training centers started by the followers for this cause. Apart from the training, sewing machines have been distributed to women of economically weaker families by Dera Sacha Sauda to enable them to be economically independent.
Saroj 19, residing at Tohana (Haryana), lost her father when she was studying in class 10. Her mother, a semi-literate woman could not fend for the family at this hour and the family went through a severe economic crisis. She completed her 12th class, braving the tough conditions. Then she came in touch with some of the followers of Dera Sacha Sauda.
Saroj showed interest in training in tailoring and she communicated the same to women volunteers of Dera Sacha Sauda, who the provided her with a sewing machine and also got her trained in one of the centers run by them. In 2012, Saroj mastered the art of tailoring of ladies apparels and started a business of her own.
She started earning well and picked up the threads of lifeand even got herself admitted in a bachelors course in arts through distance learning. Not only did she empower herself through vocational training and education, but also took charge of her younger brother's education and was able to look after the entire family.
Currently, Saroj is a trainer with one of the centers run by the Dera where she trains other girls like her. She also runs her own boutique now, which has become a source of good income to the family. Saroj says she is thankful to Dera followers who have been selflessly helping the women from economically weaker sections of the society and helping them live a life of dignity.
Saroj is not an isolated case.There are thousands of girls like her who have been supported by Dera Sach Sauda at cruicial junctures of their lives to become self-sufficient and also help others in hour of need.
Under the holy guidance of Saint Gurmeet Ram Rahim Insan, Dera Sacha Sauda has undertaken 104 humanitarian welfare activities across the world. More than a third of these activities are focused on women empowerment.
No male bastion is untouched by females and that's a wonderful sign of strides made by women. Though we are yet to go a long way in empowering women in our society, especially in rural areas, but signs of gradual improvement are definitely there.
Anil Kakkar
Sirsa
Follow us on Facebook, Twitter, LinkedIn and Instagram, YouTube to get more updates related to Sachi Shiksha Spiritual Magazine.