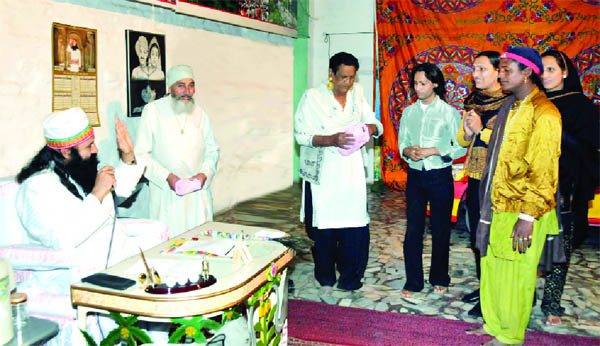 SC acts on Dera Sacha Sauda petition for eunuchs, grants legal status
It's a win that is echoing through the world. In a major victory for social welfare campaigns launched by Dera Sacha Sauda, a petition filed by the Mata Naseeb Kaur Ji Insan Women Welfare Society in the Supreme Court,
(along with a clutch of others) has borne fruit with the Apex Court ruling in favour of the Eunuchs and giving them a legal status of the third gender. Besides, the government has been directed to launch a string of initiatives, including a reservation quota in jobs to help them join mainstream.
Nature failed them, so did the society, despite living a life blessing others, they themselves have only been a subject of scorn and ridicule. But it was Dera Sacha Sauda, Sirsa which realised the pain eunuchs were compelled to live in, denied even the basic right of being identified as an individual. It was seeing their plight that Dera Sacha Sauda launched a legal battle, fighting for their rights, which has now spread a wave of joy across their lonely world. Fulfilling the demands of the petition, the Supreme Court on April 15, 2014 ordered that the eunuchs and transgenders will now be given the legal status of the third gender.
This will make them eligible for quota in various government jobs, education institutions and also ensure medical treatment. Now all the government forms will mention third gender as an option along with box seeking details of male and female gender.
Dera Sacha Sauda had launched awareness generation campaigns in favour of giving transgenders and eunuchs a legal status. Apart from waging a legal battle, Guru Sant Gurmeet Ram Rahim Singh has been aggressively seeking benefits for this category of people who for long have faced marginalisation and discrimination in society.
Waging Legal Battle In 2013, a campaign was launched by Guru Sant Gurmeet Ram Rahim Singh Ji to bring eunuchs and transgenders into the mainstream. Under His direction, Mata Naseeb Kaur Ji Insan Women Welfare Society went to the Supreme Court filing a Public Interest Litigation – number 604. On April 15, 2014, it was while hearing this petition that Chief Justice KS Radhakrishnan and AK Sikri, gave directions and historic decision that granted legal status of the third gender to the eunuch community.
From 'kinnar' to 'Sukh Dua' Victims of hormonal imbalance, eunuchs have been scorned in the country for the past two thousand years. They have been called by several derogatory names like kinnar, hijra among others.
But creating a new tradition, and in an attempt to bring them mainstream, Saint Gurmeet Ram Rahim Singh Ji had, on November 14, 2009, bestowed the name of Sukh Dua (The blessing seekers) on the eunuch community.
Free Education and Treatment It is only now that the Apex Court has given directions to the government to give reservations in jobs and education to uplift the ostracised enuch community but Dera Sacha Sauda has been leading by example for a long time.
A campaign launched by Dera Sacha Sauda to rehabilitate the eunuchs was launched long back and since then they have been provided free medical treatment besides such children getting free education.
Follow us on Facebook, Twitter, Google+, LinkedIn and Instagram, YouTube to get more updates related to sachi shiksha Spiritual Magazine, articles.