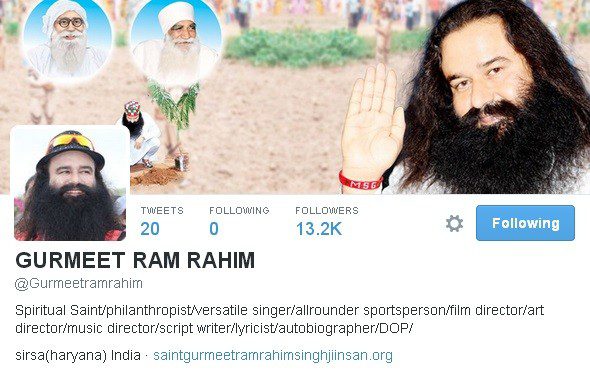 Social Media for a Social Cause Guruji's tweets a hit on cyber space
We all know Saint Gurmeet Ram Rahim Singh Ji Insan as a social reformer, preacher and spiritual leader. Well to some He is even a rock star!
But the fact of the matter it that He is more than that… You need to know him to get a glimpse of his versatility. Guruji is a lyricist, an athlete, a writer, a musician, an architect, a dress designer and also a 'one-take' actor. In fact, his film, MSG-The Wonder Revolutionary, that will hit the Box Office in January is a must see.
But, the this list doesn't just end there for Guruji has found countless ways to bridge the gap between mankind and spirituality. As Guruji says, there are many ways that a youngster, who is an atheist, can be connected to spirituality and that too through a medium he is comfortable with. His movie has a social message that depicts how meditation works. Also songs sung by him promote humanitarianism, and make a hard-hitting impact against drug addiction and corruption.
Recently, Guruji launched his own official twitter handle to communicate His spiritual and social messages.Within the very first hour it was launched, it managed to garner a thousands of followers.
Highlights of His Twitter handle:
Guruji launched His twitter handle on 12th October tweeting the holy maxim 'Dhan Dhan Satguru Tera Hi Aasra'
Guruji prayed to God to calm down the HudHud storm, and prayed for the souls who died in calamity. It was election's eve in Haryana and Maharashtra and his followers jumped with joy when he tweeted a pic portraying himself showing his index finger marked with ink of democracy. Being a responsible citizen of country, He motivated the people to cast their vote. He also blessed those, who cast their vote on the day. It is notable that Haryana has registered a record turnout in this assembly election since it was formed.
Guruji also praised government's initiative to mark the tobacco products like cigarettes and Gutkha with a fairly large health warning.
Twitter bird's holy words…
When Guruji tweeted His first tweet, a follower re-tweeted
"Tweet tweet tweet.. piya piya.. Ishq tera sar chadh ke bole re.. (Your selfless love is driving us crazy)
Diksha Kalra from Banglore tweeted
"I rarely used twitter before Guruji rocked dis platform. And nw I keep checking agn n agn just to see His tweets"
Supriya from Fatehabad tweeted
"I voted 4 first time nd feeling like m standing wid my nation. I didn't evr bother abt politics, its all because of ur inspiration Guruji." Sumitt Sethi
Follow us on Facebook, Twitter, Google+, LinkedIn and Instagram, YouTube to get more updates related to sachi shiksha Spiritual Magazine, articles.