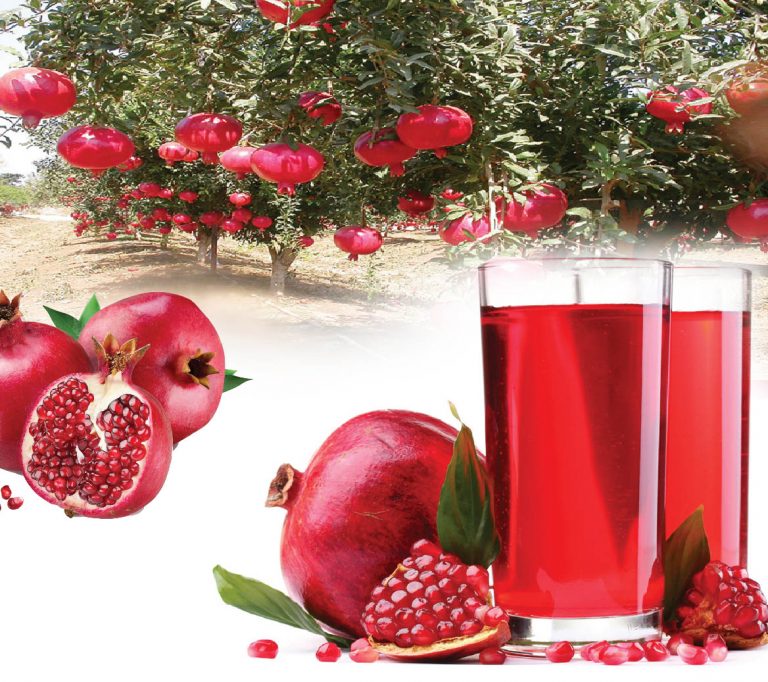 Fruits have a special importance in our lives. These days there are any number of eatables available with us in which the fast food is the most prominent.
But knowing or unknowingly people are consuming food which is not good for their health. Many of such foods are damaging our health.
In such a situation it is advisable for people to consumer 3 to 5 five fruits per day. Fruits give energy to our body.
They contain a lot of vitamins that are good for our health. Fruits keep our body fit and healthy. They fulfill the vitamin needs of the body. One such fruit which helps us maintain our health is pomegranate.
Pomegranate is one fruit which contains several benefits. It is an arrow that hits several targets at the same time. This fruit keeps our stomach, liver and heart healthy.
It increases our hunger and we feel less thirsty. No wonder it is considered a very useful fruit for summers.
Pomegranate is not just healthy, but the wood of its tree is also very strong. The wood of pomegranate is generally used for making walking sticks as they last a long time and do not break easily.
Pomegranate is a red colour tasty fruit. It contains hundreds of juicy seeds which taste good. The fruit is generally grown in countries of hot climate. In India the pomegranate is grown in states like Maharashtra, Rajasthan, Uttar Pradesh, Haryana, Andhra Pradesh, Karnataka, Tamil Nadu and Gujarat. According to researchers, the Romans were the first in the world to have discovered this useful fruit which is so good for health that the citizens of Rome used to call it apple of many seeds.
Qualities of Pomegranate
Pomegranate contains anti-oxidant, poly unsaturated fatty acid, ellagic acid, omega 5, calcium, phosphorus, potassium, folic acid, vitamin A, C and E, riboflavin, thiamin and iron. All these minerals and vitamins are very healthy for our body.
Scientific Research
Scientists at the India Institute of Science (IISC) at Bengaluru have found out that based on their studies the consumption of pomegranate helps fight serious disease like hepatitis C. If we believe the researchers, then three elements present in the fruit-punicalin, punikalajin and ellagic increase anti-HCV in the body which helps to fight disease and the virus responsible for the ailment in the body.
According to researcher Soumitra Das, the consumption of pomegranate has always been considered healthy for the body. He found out in the research that in 1 litre of pomegranate juice there are enough elements which can control the virus and thus help the treatment.
According to a recent research pomegranate can help us protect heart from diseases. The polyphenols present in the fruit act as the anti-oxident and prevents collection of fat in the veins. It helps free flow of the blood in the body and thus we can remain free from the disease.
Pomegranate is the most powerful anti-oxidant of all fruits available in the market. It is known to have anti-cancer and immune supporting effect. It checks abnormal platelet increase which could cause heart attacks, strokes and embolic disease. It lowers cholesterol level in the body and other cardiac risk factors.
Pomegranate also lowers blood pressure. It is known to give relief or protect against depression and osteoporosis .there are many studies in the world which have shown that the pomegranate is one of the most powerful, nutrient dense foods for overall good health. Such clinical findings also show a correlation between pomegranate compounds and their positive effect on human as well as animal cardiovascular, nervous, and skeletal health. Pomegranate is definitely priced on the higher side, but it is also an important fruit that you must include in your diet on a regular basis.
Medicinal Value
Pomegranate contains a large amount of healthy protein, carbohydrate fiber, vitamin and minerals. Around 100 grams of pomegranate gives 65 kilo calorie energy to our body. Pomegranate is also used in the making of several ayurvedic medicines. The oil extracted from its seed is used in the industrial sector.
Pomegranate with its distinctive ruby-red jewel-like seeds have been used for medical purposes for thousands of years all over the world. For ages it was known that this West Asian fruit was good for health and a protection against several diseases. With its quality of strengthening the bones, it has always been considered especially good for women who are known to suffer from osteoporosis.
Pomegranate is especially helpful in fighting prostate and breast cancer, the two most prominent cancers found in men and women. Studies show that pomegranate extract can slow down cancer cell production and also induce apoptosis cell death in cancer cells.
Prostate Specific Antigen (PSA) is the blood test to diagnose prostate cancer. If the PSA level increases rapidly or doubles in a short time in men they have increased risk of death from prostate cancer. But studies have also found that 240 ml of pomegranate juice per day reduces increases rate of increase of PSA level a great deal.
A magazine brought out by an American doctor has claimed on the basis of studies that the juice of pomegranate reduces the memory loss in old age.
Health Benefits of Pomegranate
Pomegranate juice is considered the best to increase haemoglobin level in the blood.
Its juice is considered very good for reducing chances of heart diseases.
It is known to protect human beings from cancer
It helps strengthen bones and keep the blood circulation in the body at the right level
It is helpful in reducing weight
If a pregnant mother takes pomegranate juice chances of the baby born is healthy. The child will not have to face problem of less blood.
The Juice Reduces Chances of Alzheimer Disease
The juice of pomegranate also reduces heat in the body and so the body remains healthy.
Helpful in making skin shining and glowing
The consumption of pomegranate is helpful in treatment of pimples. In fact it can totally eradicate pimples. If you are drinking pomegranate juice regularly, your face starts shining and looking more handsome in a few months time. It also protects from wrinkles on the face. Pomegranate juice goes inside the body skin as a result of which the skin remains fresh and healthy and retains moisture.The juice protects skin from hardening. Because of the effect of the juice the hardened skin becomes soft and starts glowing. Besides the facial spots also disappear.
The oily element present in the pomegranate juice removes the dry skin problem. Pimples disappear as a result.
Benefits of Pomegranate Peals
The pomegranate peals contain anti-oxidants which keep the cholesterol level of the body in check. Dry the pomegranate peals, fry it and when it is cooled mix it in the grinder. You can then apply it on the face to get rid of the persistent pimples problem.
Dry up the peals of pomegranate and make a powder. Mix `gulab jal' and apply it on the face like the face pack. It keeps the skin fresh and reduces wrinkles. It is also beneficial in saving the PH balance in the skin and reaching moisturizer to it. Make powder of pomegranate peal and mix it in curd and use it as a face pack for 10 minutes. Wash it with water later on.
Mix powder of pomegranate in oil and massage it in the hair. It will reduce hair loss and remove dandruff. Massage the mix in hair two hours before using shampoo.
In bad throat too the fruit is helpful. Boil the fruit powder and then gargle. You will feel relief. It also helps in treatment of tonsil and pain in the throat. In throat congestion also this is helpful.
– S S Desk
Follow us on Facebook, Twitter, LinkedIn and Instagram, YouTube to get more updates related to Sachi Shiksha – the Famous Spiritual Magazine in India.