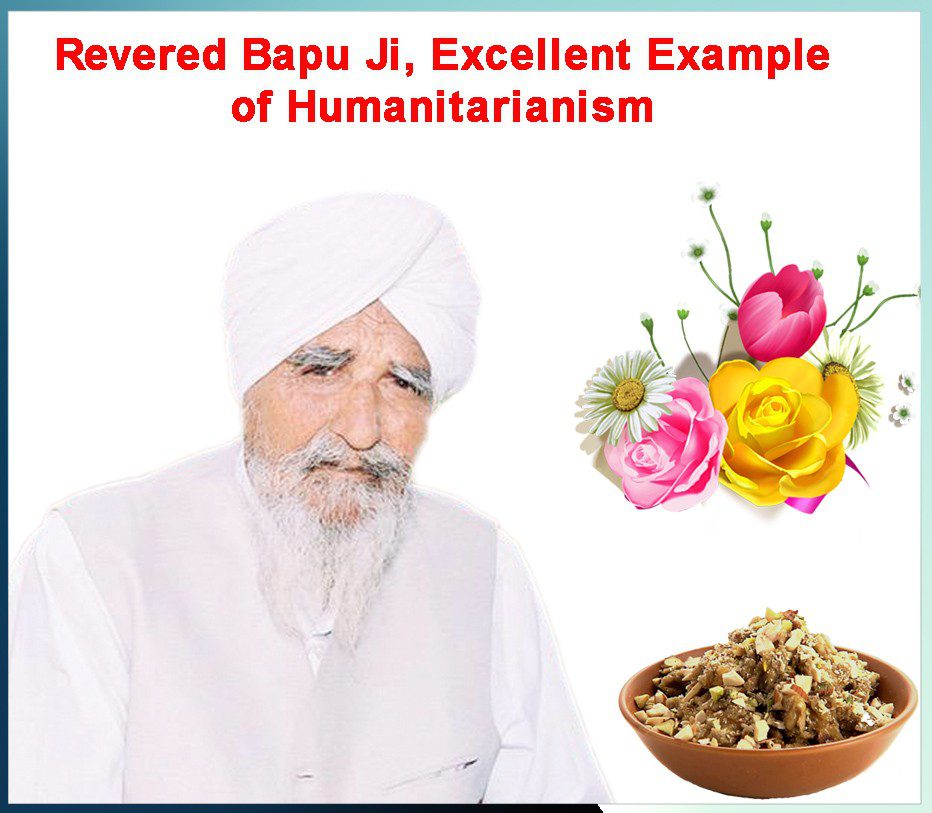 Special on Pious Remembrance Day (5th October)
The people live their lives in two styles, in selfishness and in humanitarian service.
In today's era, there is a prevalence of selfishness. Everybody follows it. In today's times, it is very rare to live for public welfare .
It means to live for others. Here the aim of the life becomes living for other person's interest in which, there is no place for oneself. The deeds are always done for others, i.e. to show sympathy towards society and people from care of the heart. To share the sorrows and pains of the poors, helpless and sufferers and take steps for their welfare. Such a life of humanitarian service makes the doer immortal. People start applauding for them. But there are very few people who live like that.
Their lives become an example for the people and by following their footprints, they also start feeling very proud of themselves. The very respectable Bapu Sire Magghar Singh Ji (Respectable father of Revered Saint Dr. MSG ) has been the owner of such a great personality, who has dedicated his life to the service to humanity.
An example of service and simplicity, the respectable Bapu Ji, for his whole life, has acted as messiah to the needy and the deprived. It is not easy to find a human like him who has benevolence, sympathy, amiability, affinity and brotherhood. Such rare humans take birth in this world and they are immortal, always. Even after leaving this world, people follow their life-styles. A lighthouse of human virtues bid adieu to this mortal world and went to the Eternal Abode (Sach-khand) on 5th of October, 2004.
Following the sacred teachings of his ideal life, Shah Satnam Ji Green 'S' Welfare Force Wing celebrates this day as 'Welfare Day'.
This day, dedicated to the welfare works, is celebrated every year in which, on behalf of the wing, the needy people are helped to the fullest. In the sacred direction of Revered Saint Dr. Gurmeet Ram Rahim Singh Ji Insan, this day has been dedicated to the society, specially. This is the true homage to the sacred humanitarian life of the respectable Bapu Ji. The sacred life of the respectable Bapu ji will become an excellent example for the humanity whose debt cannot be paid for.
Ideal Life:-
The respectable Bapu ji was born in the village Shri Gurusar Modia of Shri Ganganagar, district Rajasthan in the year 1929.
The name of the father of the respectable Bapu ji was Sire Chita Singh ji and the name of the mother was respectable sant kaur ji. Undoubtedly he was born to Sire Chita Singh and Sant Kaur ji but the respectable Bapu ji was adopted, in his childhood, by his respectable elder uncle Sire Santa Singh ji and Chand Kaur ji.
That is why, the respectable Bapu ji used to accept his elder uncle and aunt as his parents. Respectable uncle and aunt only had reared and fed the respectable Bapu ji and he progressed in his life under their able guidance. His complete life is full of good faith.
Life style:-
It will not be a hyperbole to say that the clean life of the respectable Bapu ji was a school of high sacraments. Big hearted and full of simplicity, the respectable Bapu ji need not on any introduction till far-off distances. Owner of a high dynasty and being the Sire of the village, he never allowed the thoughts of ego enter his mind.
Following an extremely simple life and excellent thoughts, he had infinite sympathy towards the poor and the disabled. He used to meet people with warm affection and was ever ready to help them. Whichever help came to his door walking, he never returned empty handed. If the respectable Bapu ji came to know that a certain house needs help then he would rather go to that house and help without being told, on his own.
One cannot find such a helper, anywhere. One will get many examples where the respectable Bapu ji got the daughters of poor families married by providing them with economic assistance, even without being told. The hungry and the thirsty used to be provided with ration material at their houses and also provided them with the fodder for their cattle, free of cost.
The respectable Bapu ji was a very big landlord. He never discriminated the servants in the field and never stopped them from taking any material, rather he used to tell them at the time of harvest that whatever are your needs, you may take, we will manage.
Such unprecedented glimpse of life of respectable Bapu ji, would bow in great respect. He was a hope for every needy person in the village and such a hope where there was a possibility of getting much more than expected.
Till such time the receiver's bags were not full, the respectable Bapu ji would not stop giving. An open-handed, a noble person, a devotee, an ideal man like him, is very difficult to find in the present era.
Priceless Fatherhood:-
The respectable Bapu ji was a pure and pious soul. Because of which, the Divine Power (Revered Saint Dr. MSG) took birth in his house. His feeling of devotion and the extremity of love for God has the compendium that Revered Guru Saint Dr. Gurmeet Ram Rahim Singh Ji Insan took birth in his house and granted them ,a high status. The Revered Guru Ji was born to the respectable Bapu Sire Magghar Singh ji and respectable mother Naseeb Kaur ji Insan on 15th of August 1967.
The Revered Guru Ji is the only child of the respectable parents and was born to them after 18 years of their marriage and He stayed with them till only 23 years of age. Afterwards the Revered Guru Ji was called at Dera Sacha Sauda by Param Pita, Shah Satnam Singh Ji Maharaj who made Him His successor on 23rd of September 1990.The respectable Bapu ji used to love his dear son very much! The respectable Bapu ji used to keep his piece of heart in front of him all the time and on His leaving him, would yearn like a fish out of water. This reclusion of his used to be intolerable.
His feeling of devotion towards his son used to be unique. Feeding the mixture of sweets to the Revered Guru Ji with his own hands, to take Him to the fields on his shoulders for excursion, wherever he went to meet the relatives ,he accompanied Him, i.e. all the time he would stare Him . He never allowed the Revered Guru Ji to walk.
Everybody would lift the young child on his shoulder, but the respectable Bapu ji had so much love for his son that he lifted Him on his shoulder even after He became of 13-14 years of age. Respectable Bapu ji would not allow his son to even walk thinking that He would become tired.
Most often when the respectable Bapu ji went to the fields, he would carry the rope of female camel, in his hands (as the camels used to plough the fields) and the Revered Guru Ji of 13-14 years of age, used to be on his shoulders and when people used to view this scene, they would become stunned! That is why, this view had become an identity of respectable Bapu ji and he was made famous that whenever somebody asked about the Sire of the village then people would tell him the identity that the person who had a rope of the female camel and had a 13-14 years of his son and whose legs touched his knees, then you should understand that he is the Sire of our village (Sri Gurusar modia).
Truly, such a great fatherhood used to be of respectable Bapu ji which was devoted to his son, completely.
An Epitome of Sacrifice:-
A father having too much love for his son, and he could not tolerate the separation of a moment from his son, in which he had his life(vitality of soul) and when he was asked to part with that thing, then how would he feel, this is a matter of serious thinking! Respectable Bapu ji faced such a time which could be said as the moment of severe test. But many-many thanks to respectable Bapu ji, who did not take even a moment in sacrificing everything of his own, in the moment of reckoning.
Such a time occurred on 23rd of September 1990, when Param Pita Shah Satnam Singh Ji Maharaj asked the respectable Bapu ji and revered mother to handover their only Son (Revered Guru Ji) to Dera Sacha Sauda.
The revered parents offered flowers at the feet of their Spiritual Master and gifted their piece of heart, their Son to their Spiritual Master with a smile. They did not even utter a word of pain. Instead, the revered parents prayed that 'O revered Spiritual Master, take everything of ours, everything is yours.
Take our land and property and give us a room, so that we may serve God by living here, have a look at Him(Revered Guru Ji).Truely, it is an unique event, which cannot be ever paid for. It is beyond the imagination of a common man. Accepting the order of their Spiritual Master with great respect, they dedicated their Son to humanity, It is a great sacrifice by the respectable parents. Such great personalities cannot be paid for, in any form.
It is a truth that respectable Bapu ji is no more, but his ideals, his excellent sacraments and his footprints encourage one to sacrifice everything for the good of humanity, even today and will keep on doing so.
His full life is an immortal ballad of sacrifice and is an incessant sacrifice for the society, for which we thank him again and again. A million times salutations to the revered Bapu ji!