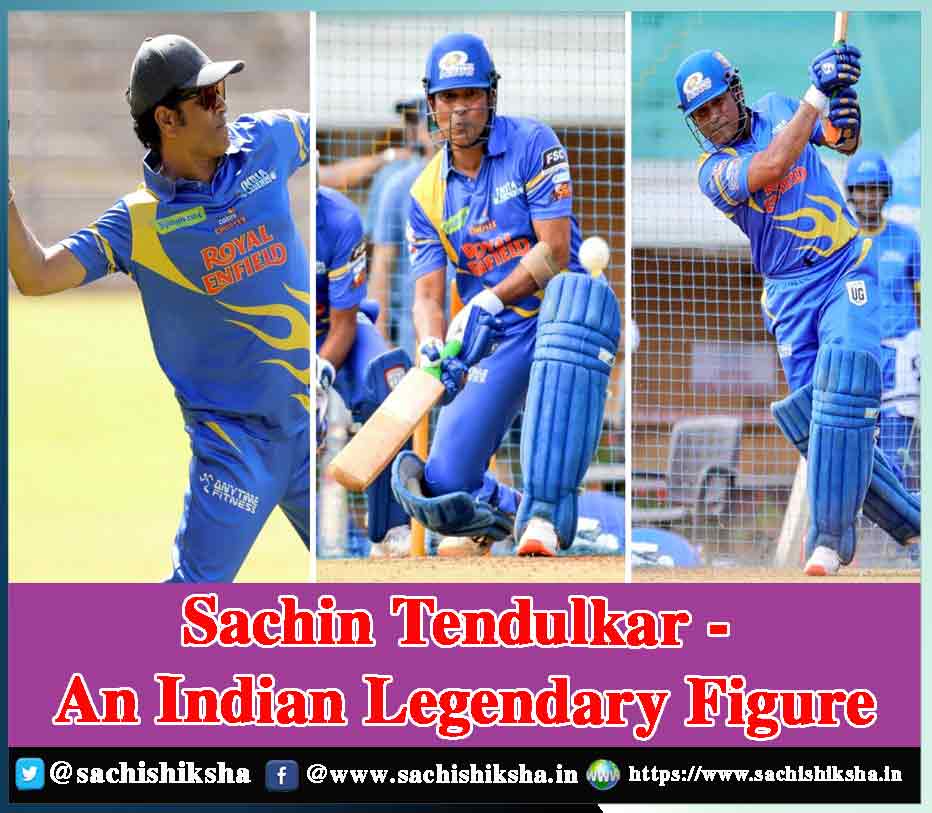 Sachin Tendulkar: An Indian Legendary Figure
Sachin is the name which was once and even now, the heartthrob of many people in India.
  Such was the craze to see him batting that when this man comes for batting the production rate in U.S.A. would decrease by 5%. And even though cricket is refereed as a team sport, Indians switched their televisions off once he got out. Such was his impact in the minds of the Indian cricket fans and such were the expectations during his whole career.
Sachin Tendulkar is the only sportsman to become the recipient of 'Bharat Ratna', the highest civilian award of the Republic of India. He comes from a low-middle class Marathi family in Mumbai. The 'little master' was an energetic child, having a knack for pranks from a very young age. It was this enthusiasm which led his older brother to take him to Sachin's first coach, Ramakant Achrekar.
At first he was rejected but later on he got selected. Sachin's mind was fixed on cricket when he saw the Indian team won the Cricket World Cup in 1983. From there on, the only goal he had in his mind was to win one, a dream which he was not able to fulfill till 2011, the arguably greatest and one of the last milestones he achieved in his long career.
He got selected in the senior Indian Cricket team at a very young age of 16 years, the youngest at that time. And even though his first matches were a flop, there is a great story that resonates in every cricket fan's mind. The story starts when a young Sachin is struck by a thunderous bouncer and his nose left broken and bleeding. But what happens later, struck all by the determination that young man has to play and represent his nation. With his nose bleeding and his team's physiotherapist out there, he said what can be said his most famous words, "Mein Khelega", meaning I will play and save his team from the defeat.
From a young stage of his career, he was compared to Don Bradman, often referred as the greatest batsman of all time. And this all was proved true when Bradman said that his ways of playing were remarkably very similar. From there on, Sachin never looked back, breaking as many records as one can. But this was not enough for him. The only thing he ever wanted was still not with him- the world cup.
He came very close in 2003 but failed in the finals. And even though he was the man of the tournament, scoring more runs than any men in a single season of world cup, a record which is still not broken, one could see the tears in his eyes while receiving the trophy. And when India lost in 2007 world cup in the group stage, he started believing that his dream could never be in his hands. And he started thinking about retiring from the game all together.
At this time, a call saved both his career and dream. It was a call from his childhood batting hero, Sir Vivian Richards and thus began his later stage of career. And like a phoenix rising from his ashes, he reached new heights scoring an astonishing 8 centuries at the age of 37. And then in 2011 when he was playing his last world cup, neither he nor the world could see this man without a world cup. And then after 22 years of wait, he had the most prized possession, he could have wished for.
In 2013, the 24 year of journey ended, when the 'God of Cricket', as often referred by many fans worldwide, Sachin was playing his 200th test match. The time when the whole nation had tears in the eyes, seeing the end of a golden era.
At the time of his retirement, he scored most runs in both, one-day internationals and tests, and has the record of most number of centuries in the respective formats of cricket. He was also the first man to score 200 in an ODI matches and also to score 100 centuries in international cricket.
Apart from cricket, Sachin has a political career, being a member of Rajya Sabha from 2012 to 2018. He also adopted village, Donja for development. He is also the richest cricketer in the world. He wrote his autobiography in 2014 ' Playing It My Way'. But he has not gone away from cricket. He is currently member of selection committee of the senior Indian cricket team and the mentor of IPL's most successful franchise, Mumbai Indians, which he also played for.
And even though Sachin has retired from cricket, he is till the one of the most popular and searched cricketer in the world. There might come better cricketers in the world but there would never be an emotion like Sachin, the man who ruled a billion hearts, a man who could mess sleeps of Indians, a man who made cricket famous across the globe.
Follow us on Facebook, Twitter, Instagram, and YouTube to get more updates related to Sachi Shiksha – The Famous Spiritual Magazine in India. Also Read Our Hindi and Punjabi Editions.