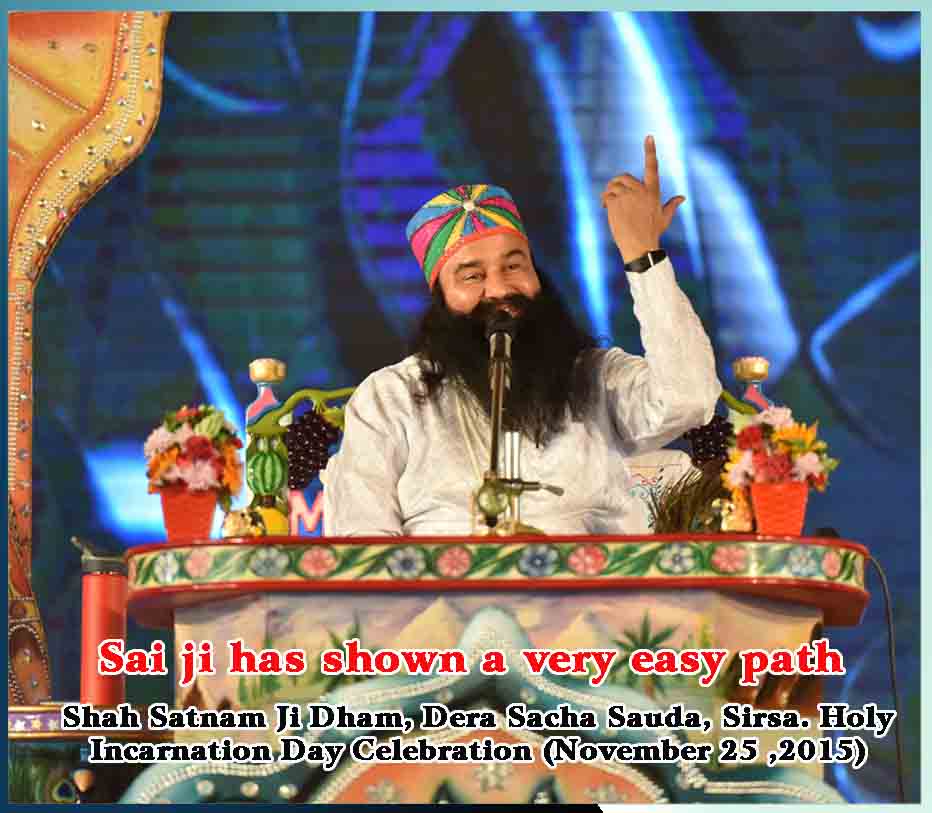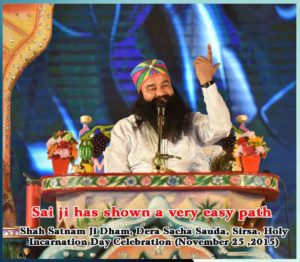 Sai ji has shown a very easy path
Shah Satnam Ji Dham, Dera Sacha Sauda, Sirsa. Holy Incarnation Day Celebration (November 25 ,2015)
Long live the beloved devotees of God! First of all, all of you have come well dressed and the one who has come to give the real beauty and shine on your faces…….. Because your faces today have a special glow.
We call that ultimate source of radiance Shah Satnam , Shah Mastan. Then that Divine Radiance , Master of both the worlds, Shah Mastana ji came to this world this day. How good that day would have been when there was brilliant light all over in the room.
That sister (Revered Bepwarwah Mastana ji's respected sister who witnessed that great moment with her own eyes) must have been amazed. That scene of the historic moment is beyond words. …..So, Sai Mastana ji or Benevolent Benefactor there are great many names. The meaning of saying all this is that today is the Incarnation Day of that real God. Congratulations to you all on the occasion of holy Incarnation Day Celebration.
Many many congratulations! good wishes and happiness to all of you! So many good sermons have been delivered by Beparwah Shah Mastana ji Maharaj for Dera Sacha Sauda which are unique and priceless. So, from the point of view of spirituality , whether you use `unique' or `amazing', all these descriptions would not be apt for that great experience. When we read history…..Vedas, Gita, Ramayan, Mahabharat, holy Gurbani, holy Quran Sharif, holy Bible, Sheikh Farid, Dhanna Bhakt, Kabir Das ji and many other saints you read that in the age of vices, God's words will be prominent, but it will be very difficult to recite it.
But Sai Mastana ji had an answer to that as well.
There are just three words given by Him and you have the liberty of taking God's Words while walking, running, taking rest, while working, eating. Once you take name of God and once you take that Method of Meditation , then be sure He will make your wishes fulfilled. Still if you don't recite the name of God then shame on you. If you have gone for a walk, take morning walk, or say you are going to the field, or going to school or college, If you are on your way to open your shop, just keep walking and keep reciting God's Words. Your work is not affected while doing so and you are also remembering God Almighty.
Well! Can there be anything easier than this? Isn't it a real and wonderful concession made for you? Do you know that following the same devotion, people used to do penance standing at the same place for hundreds of years in the ancient times? They had a long age, but so what? The waiting period for meeting God also used to be very long. Many people use to stand on the toes, or standing upside down on the hand.
They used to leave behind all their worldly belongings. They used to eat air, drink air and used to breathe in so much air in their lungs that it remained unknown whether they breathed or not. Their age therefore was of thousands of years. Usually you breathe 16-18 times in a minute, which is very normal.
This is the practice in the Age of Vices. But if you stop breathing according to pranayam, then there will be no breathing for a long time. Now people say the saints could do that. They could hold their breath for 4-5 minutes.
Only then will they breathe again. This was a great thing to do. On one hand while a normal person was breathing around 16 times in a minute and those saints will breathe once in ten minutes. Now you can calculate how longer they will live. Meaning they would live for thousands of years. The saints could do that, and yet the time period for meeting God was very long. …….And now you see, you are feeling sleepy and are on the verge of snoring, and your prayer is reaching God Almighty and the blessings are being showered. Isn't it a wonderful thing to happen? You are taking bath…..and you remember God. You are doing some household duty or official work, eating, cooking, snoozing in the office after a hard work, or taking rest somewhere, but remembering God. You are travelling in the bus and still remembering God. After all you are not the one driving the bus.
But even if you are driving the bus indeed you are not going to apply brakes through your tongue. Tongue is free. But the mind is not free at all. It continuously keeps ticking. It should always be active. If the mind closes you will be dead. However, you have to convert this tool. Instead of getting lost in the worldly affairs and useless things, you should be remembering God all the time. You should get lost in God, Ram, Allah, the Almighty……. Sai ji gave such a simple method of remembering God. Keep reciting three words. Your mind will be diverted towards God. You will be living a carefree life with no tension at all.
This way you will remain connected to God Almighty. You will be filled with joy and happiness. Such was Mastana Shah. He had seen how people came to sit in deep meditation.
They would neither speak nor move. Their eyes were closed. They concentrated on just one thing. But Sai ji used to keep dancing. He used to say to accept His divine dance. He said, it is alright. Now you dance in the love and for your passion for God. You dance in the love of true God Almighty…..If you danced for merriment or for some other purpose, it would have been different. But here you are dancing in the love of the God, it is accepted in the Eternal Abode as it is. Sai ji said all this. He called it `divine dance'.
A person showed Us a video where people were worshipping God. They were reciting God's Words. The people who look at them think they are deeply involved in the religious discourse. And then I came to know that this was not real.
I said, here also there is no real devotion. This is the Age of Vices. Although if you look at the video, it seems the people are engaged in real devotion, and taking the name of God. This is the Age of Vices at the worst. The disturbing situation in this 'Kaliyug' is that you indulge in all sorts of wrong deeds the entire day, perform sins, do cheating and try to cheat even God. On one hand you are participating in all sorts of sins and wrong deeds, but show that you are taking God's Words and that you are a devotee. If you are one such person you are not just cheating God, but cheating yourself as well.
You are digging your own grave. …..Sai ji has shown a very easy path and given a simple solution. Still if you do not recite the name of God, what can be done? We have told many people to keep reciting the name of God. They will say, it is not possible to recite the name of God. Somebody should ask them, when he utters bad words, abuses others then what? He does not care. If he thinks something evil then also he does not care. But when he feels hungry he eats. He does not forget his hunger. There are many people.
We have seen them Ourselves. Such persons used to be there earlier and perhaps have quit that habit by now. But they were such that if the food was just a little late then the plate and all the food would be thrown out in a flash in anger. We have seen this in many homes. Remember God and Remain Blessed: The purpose of saying all this is that people do not recite the name of God. They say they are not in the habit of doing so. Alright they do not have the habit. It you don't answer the call of Nature, what will happen, you can imagine yourself. Have you ever thought that today I have not remembered God, Allah, Wahe Guru, Ram and you are feeling restless? Never. You do not feel restless if you forget to take the name of God because it is useless for you.
This is just an example that We have given to you. Take other examples as well. For example you stand in front of the mirror for hours making up yourself. Don't feel bad dear children but this happens. Earlier the women used to do a lot of make-up. They do it even now. Even men do the same. But earlier women used to do more make-up. So one of the sisters did a lot of make-up, but unfortunately the rains came suddenly.
She had forgotten to take the umbrella. In fact she was walking on the road when the rains came all of a sudden. Maybe the quality of the make-up was not so good. The rains disturbed the face make-up of the lady. Even her son was confused where had the mother gone. A little later the child finally caught hold of lady and started shouting 'witch like auntie' . Where is my mother? That child had heard many horror stories before. He thought maybe this woman is a witch who has made his mother vanish through some black magic.
That woman shouted, `I will slap you. Don't shout like this. I am your mother.'' The body did not believe the lady. He said, this just cannot be possible. …It was after a lot of persuasion that the child finally recognized his mother.
It all happened due to the makeup spoiled by rain. The purpose of telling this incident is to let you know that it is your face and you are free to make it look like anything. Even if you want to resemble a witch you can do so. What have We got to do with all this and your face. But what We want to say is that you don't leave any opportunity to abuse others. You crack jokes on others and make fun of them. It looks as if you don't ask the person what happened, you will not feel the joy of the entire joke.
The womenfolk never stop for a moment. They keep criticizing others. Even when they are sitting in the religious discourse they continue speaking ill of others. Although you are expected to maintain silence in the religious discourse, but if you look around you, you will find that the backbiting continues all the time. It goes non-stop. Instead of concentrating on the religious discourse , these people keep making jokes and fun of others. People don't feel happy when they see somebody in a joyous mood. It has become the nature of people to find out mistakes and drawbacks of others. …So Sai Mastana ji Maharaj said, if you have to sing a song, sing God's Words. Keep singing the song silently, or sing in a low Volume where it is not heard outside the room. Sing God's Words like a song.
One advantage will be that your presence will be registered in the Eternal Abode. The other advantage will be that you will become a good bathroom singer. Both the objectives will be achieved so effortlessly. Just imagine how easy it is to recite God's Words. Because even if you want to eat the bread, you have to first cut a piece, then put some vegetable, then put it in the mouth, chew it, then swallow it, then let the stomach digest the food and finally the task will be completed. But if you recite God's Words, whether it goes inside or not, it will certainly get registered in the Eternal Abode of God Almighty.
What can be a better way to meet the God? Therefore, one feels obliged to give lakhs and crores of thanks to the Spiritual Guide. We Salute millions and billions of times to the Spiritual Guide for His act of kindness. Such is Sai Mastana ji Maharaj. Sai mastana ji delivered such great words for Dera Sacha Sauda that if someone takes one step forward, the Spiritual Guide will take millions of steps towards him.
And if you take improper advantage here, they act like iron balls. You will neither vomit, nor will go out through the other path. They will create deep internal injuries . This is what has been witnessed by people in the past. So It has been delivered by Shah Mastana Ji that here the scene of the Eternal Abode will be created. Shah Satnam ji and Shah Mastana Ji gave this message and you all are seeing this here. Anybody who comes here feels simply amazed and overwhelmed by the magical atmosphere. So many trees of various fruits are there such as cashew, mango, apple, grapes, everything is grown here in abundance.
Is there any plant which is not grown here? Even the herbs of various qualities are grown here. All the plants are grown in the hermitage. But if you care to make a survey around this place, you will only see sand and barren land. Crops are grown around this place, but it is done only for half a year. And the farmers around here did not work much earlier. But as the hermitage was set up and when they saw how farming could be done, they also started growing crops. Slowly they also started making a good earning from the crops. Now the landlords here are growing good crops.
Therefore, Sai Mastana ji has left a good impact on the region through His Holy words. No intellectual can ever understand the depth of the saying of Sai ji. His words can be understood only by people who drown themselves in God's love and affection. All the devotees, earlier were used to be secretaries, which is called 'Bhangidas' these days. We used to ask them several questions to satiate Our queries.
We also used to ask many questions to the people who had been initiated into God's Words. Many of those people used to either read the Quran Sharif or any other religious text We used to ask him to explain the meaning to Us. Some people used to read the text in Hindi and We asked them the meaning of texts. If We found somebody was reading the Bible, We would ask him to explain the text to Us. Similarly we used to ask questions to people who used to read the Garud Purana or some other Purana .
So the people who participated in the religious discourses use to understand the texts of the holy books much easier and in quick time as well. We tested this formula hundred per cent and found out that it was cent per cent true. We used to understand the text at a faster speed than others because We were connected to the people who in turn were connected to God. It is not very difficult to understand why this was so.
If you are connected to God Almighty, you will learn things extremely fast. What has language got to do with understanding the text if you are talking about God? Shah Mastana ji gave such a wonderful lesson which helps you excel in your divine as well as the material work. So, repeat God's Words and serve humanity.
Therefore, If you listen to the true words of the Spiritual Guide it is good, but you should also follow these priceless gems called words. It is not good if you just listen to the words of the Spiritual Guide, but do not follow Him. Therefore, follow the Guide and His teachings Love people selflessly, without wanting anything back in return. But you start thinking, he was standing near the stage, he is a well-known man. But dear brother what do you know of him? There is only one Spiritual Guide at a time .
The one that the Spiritual Master selects is the real Spiritual Guide. Don't make everyone your guide. Man is only man , always remember this. Whoever he may be, man is man and the Spiritual Guide is the Spiritual Guide and He is only one. Only the Spiritual Guide can deliver the sermons. A man can't deliver discourse.
Even the discourse is not of the Spiritual Guide. In fact the Spiritual Guide talks of Waheguru, Ram and they become the sermon for everyone. The holy sermons of Sai Mastana ji are coming true word by word. Shah Satnam ji, Shah Mastana ji's saying that `we will write, We will sing, We will make the music flow. We will do which you would have never imagined'. So did you ever think I will sing? Did you think I will make film? No, not at all. But those Spiritual Guides had uttered these words that time will come when these things will happen and they are happening now.
Mastana ji had said that such amazing things will be done that you will be totally surprised. But you could never imagine such things and now the film has brought about a revolution in the film industry. The youth like the film especially. At the same time the number of people taking the 'Gurumantra' is also increasing day by day and they are also discarding all their bad habits. Allthese things are happening because of the words of the Sai Mastana ji. He had said, these things many years ago, but they are happening now.
Many times the human beings cannot understand what the great men say because they do not have the power of understanding. As the time moves on the Spiritual Saint keeps changing His words and songs. Now if We make you listen to the old `ragas'….all the `ragas', whatever they were. These ragas were sung at different times.
If We sing those `ragas', we don't think, anybody will listen to them for a longer time. There are many `ragas' which give a different meaning to people depending upon how they interpret the song. Although in the past it used to be appreciated if you could take the pitch to a very high level or where did you use the `murkai'.
It also mattered earlier how you gave a feel to the song by changing the pitch of the song, making it come down or go up. But times have changed now. If you start singing those `ragas' now, then nobody will listen to you. Today only the modern ragas will be preferred by the music lovers. So why do the Spiritual Saints change by times.
Why do They do all such things. It is for heralding goodness to the world and to drive away the evil. They do not have any other objective. Sai ji had a recognition for `practically do the Method of Meditation'. Without any show off, without telling anybody and shouting from the rooftop, without any fanfare, you can recite God's Words. It is not as if only if you wear a white robe and take the name of God that you will be recognized as a true devotee. Even if you remember God while being naked, the effect will be the same and your prayer will be accepted. Were you not born naked? So what is the problem now if you take the name of God even without clothes? But don't confuse this with something else.
Don't think you can go for a walk without clothes. Who knows about you. You may start attempting such a thing. The above given instance is just an example that you can remember God anytime of the day, anywhere. The meaning of all this is that the God has nothing to do with your physical condition.
The only thing that matters to Him is that whether you are internally connected to Him or not. If it is connected then it is alright. Are you playing the tune that will reach Him? And God has made the tune reaching Him so easy.
There are just three words. One by one you can sing them . You can sing in tune or without any tune. You can even sing in baritone voice or soft voice. Just sing the song and remember God. Your prayer will be accepted in the Eternal Abode of God if you sing by heart. Such an easy way to reach your voice to Almighty God. It is just an easy path that anybody can travel. The more praises you sing of Sai Mastana ji, the less it is .
When Beparwah Mastana ji used to go for walk, some volunteers used to follow Him. They all walked. If He carried a stick in hand, the others too followed the same. And We must also tell you, many times, you see that We also change Our look. We keep trying different styles. Hundreds of changes I make to give it a new look for the sake of change. But do you know whether for the sake of the devotees or giving a challenge to the Negative Power. Mastana ji Maharaj once changed His look completely. One day He changed His look 100 per cent by shaving Himself. He cleared His beard and moustache, even tonsured His head. He cleaned Himself completely. If you think such changes are taking place in Dera Sacha Sauda these days, it is not true. Such things keep happening from time to time. Things happen according to the time. You may be wondering about it. But don't be worried at all. You may also wonder if the Pita Ji will be clean shaven one day. No, it is not so .
It was just for the sake of reference that We told you all this that changes have been done before. But it can't be vowed such a thing will happen again or not. It is, after all, home grown crop. Hair will grow again, whenever it is necessary. It is not as if you don't cut it as per your wish. Don't you cut the nail? Don't you brush your teeth? Nails will have to be cut or they will scratch your own body. You also wear clothes and shoes as well because the feet is not strong enough to be able to walk without hurting yourself or getting injured. People in the ancient times used to walk and run bare foot.
The tribals were like that whom We had reformed in the film `MSG 2 the Messenger'. Those tribal used to run barefoot in the jungles so fast that the thorns would be broken when they put their feet on them. So powerful were the legs of the people then. Just imagine what will happen If you are able to copy those people. What We mean to tell you all is that it is the body of human being and you can keep it the way you want.
It will become the way you want it to be. If you want it to be like paper, the body will become like paper. If you want it to be flexible it will be flexible. If you want it to be powerful, if you want to exercise and remain fit, your body will be like that. Your fit body will have no problem at all. Every person must exercise on a regular basis. You must do exercise every day. But keep in mind one thing.
Never, never use any steroid injection to improve the strength of your body or its shape. There are steroid injections which will swell the muscles of the body in quick time. Well, while it is true that the muscles of the body get strengthened, it is also true at the same time that there are many side effects of such steroid and injections, according to the Ayurveda.Ayurveda says that such injections have a bad effect on the liver, heart and mind. They also adversely affect our nervous system.
Therefore, one should never take such drugs or injections. But you are free to build a strong body. You can do exercises. Make efforts to keep your body fit and strong. You can bring some exercise machine at home. We had sent some children to the `Tug-of-War' competition and they had reached up to the Asian Championship. We had made those children exercise on the fodder cutting machine and they used to exercise continuously till they fainted for a few seconds. They went to participate in the game for the first time. They won medal at the national games and reached the Asian Championship.
It is not so easy to exercise on the cutting machine. First you have to stretch your body and stand on your paw then you have to bend down. It is a complete bending and stretching exercise. Your muscles get strengthened and you become powerful. The machine is a cent-percent gymnasium. In fact, it is better than the gym because there is no proper exercise for the fingers but here the cutting machine facilitates all that.
Your whole body gets exercised. You do the exercise and all the muscles of the body will be toned. You will perspire profusely. Besides, it is also a terrific exercise for the heart.If you are poor and then think you can't do such exercise, then you turn upside down and stretch on the floor. Near your naval, you put a line on the ground.
You also draw a line near your head. Put down both the hands. Take your body from the naval line to the head line. Then get up from the place and take your nose till the naval line and then again take your nose to the head line. This is called `dand pelna'(to do gym exercise). This is a 100 per cent gym of your entire body.
It is very helpful and you don't need any money at all for this exercise. Some children tell their parents that they want `dumble' for exercise. Sometime the children say they want this or that equipment. Or they will say this or that exercise is too tough and they cannot perform it.
These children only pester their parents with more and more demands. But all this is wrong. The fact is that they are not at all interested in doing any exercise. If you really want to do some good exercise then you do not need any equipment at all. You can do exercise even otherwise without any gadgets and sports equipment. You can run, walk.
You don't even need the trade mill. Stand the cycle on standing mode and do exercise by paddling unless you feel out of breath. Its like trade mill. If you do so you will not even get the knee pain that many people experience. But trade mill can cause you knee pain. Instead of that, it is better to simply take a brisk walk or better still a run. Even cycling is such a good exercise. It is indeed one of the best exercises.
Sai ji takes care of your worldly affairs and He is also the master of your spiritual affairs. It is because of this that He makes Us say these things to you. The main issue is that you should remain fit and healthy. If you keep sitting at one place all the time, you will be a gone case soon. Your muscles will be spoiled. But if you make good use of your muscles, they will be in a fine condition and will serve you for long.
If you exercise regularly, your body will be fit and fine. If you keep exercising regularly, your muscles will never get stiff or tight and you will always remain healthy. You should make exercise a part of your daily life. Make a habit of daily exercise and remembering God . Even as you are exercising, or cycling or swimming, you can easily remember God and recite holy words. Do whatever devotion is possible for you. The important thing is that you remember God with full devotion. If you remember God He will remember you and you will remain blessed all the time. But if you don't remember God what can anybody do? You will not be blessed at all. Suppose you have a huge amount of ghee, dry fruits and sweets.
Just bowing the head before them will not server any purpose. You have to eat good food as well. Then you will get energy and strength and stamina. There are many people in this world who are miser. Some people are extremely miser.
They just don't want to spend money on anything, but want to store it all the time. We will tell you a story. Actually it is a true story that We must let you know. We have said similar things in the past, but feel the nedd to tell you now again. It is a true story and here it goes: Some people were outside their homes.
They used to do some work. Once some ghee came from their house. One of them said friend, it is one year and it is only now that my ghee is over. The rest of the people looked at this person in disbelief. They asked how was this possible that his ghee had lasted so long? He said he had one kilogram of ghee in a can. I used to put the spoon inside the can filled with ghee and then put the spoon back on the bread and then I ate it.
This way my ghee lasted for a long time. What he said was true, but it looked like a joke to many others. The second person said he too has saved half the can of ghee. Others started asking him how this had been made possible? He said he put the spoon in the ghee jar and then takes it out, puts the spoon on the bread and eats it. The third person said he had saved the full jar of the ghee The other two persons looked at him in disbelief and asked how he had managed to save the entire jar of ghee.
He said he lifts the jar of ghee in one hand and the bread in the other hand. I then show bread and ghee to each other. Afterwards I just eat the bread. This way I have managed to save the entire jar of ghee for such a long time. ….Therefore you cannot achieve anything in spirituality just by showing off. Neither do you achieve anything showing the spoon to the ghee and vice versa. Therefore the Sai ji showed Us all a very easy way. But you have to remember God yourself and nobody else will do it for you. If you do not remember God, if you do not worship Him, how will you get the good result that you are expecting? The meaning of all this is that you get easily interested in other works.
If you have to indulge in gossips then you will talk about this or that person, make tall claims, discuss negative points of others. People even while away time by playing cards. In old times they used to play in villages, now it is not known whether they pay this game or not. Old people will be sitting and playing cards and they will create so much noise. They will throw down the card with such force as if they had slapped the person sitting in front. What is all this? Human beings get interested in all useless activities so easily. They will speak lies, indulge in cheating, abuse others, do all sorts of negative activities….. But they will not pay much attention to what the Spiritual Master is saying and teaching.
If someone else says something nasty, then they will easily believe him, , but if the Spiritual Guide says something they will just neglect. It was the Spiritual Guide which gave you everything. This is the Spiritual Guide on whom everybody has full faith and who is easily trusted. But people forget His good advice in no time.
People will do everything for their children, but if the Spiritual Guide says they will not pay attention. But only if they believed the Spiritual Guide and do good to their children as well as the parents, then they will be the beneficiary of the blessings of God. ….Then, Sai mastana ji showed us the way. And what a good path it is.
There is no bunker , no stone, no thorns, no ditches on the road here. The path is smooth. But the feet will be firm and not slip. You will keep walking. A great internal peace will envelope you. It will fill you with blissful joy and happiness. Your face will start glowing. Your heart will be content. You will experience a unique peace and happiness. You cannot even imagine such a situation. You can experience the divine visions in just a few seconds, only if you follow the holy words in letter and spirit and If you learn to follow the words of the Spiritual Saint. Blessings ! Blessings!
—-0—-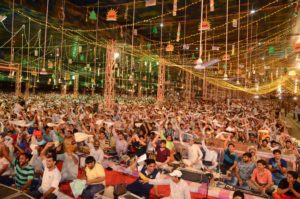 Follow us on Facebook, Twitter, Google+, LinkedIn and Instagram, YouTube to get more updates related to sachi shiksha Spiritual Magazine, articles.