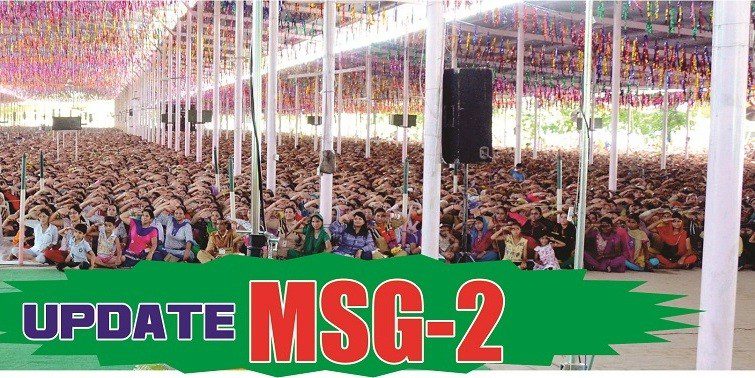 Update MSG-2 A meeting was held on Sunday 28th of August at Shah Satnam Ji Ashram, Barnawa (U.P.) in which 3 lac People from Haryana, Punjab, Himachal Pradesh
, Rajasthan, U.P. and Delhi participated. During The Meeting Rev.Guru Ji launched video song 'Party Dhoomdham Se.'
For the promotion A Committee is formed Named MSG-2 promotion Road Show Commettee.
All Sewadar pledged For Doing Their Best For The Promotional  Activities Regarding MSG-2 And They will Do The Maximum Service Specially In The First Week Of Movie Releasing From 18 To 25 Sept.
In this process the following 3 World Records are made.
*3 Lac People Saluted the Revered Guru ji with Rakhi tied  to their right hands.
*3 Lac people danced to the tunes of 'Party Dhoom-Dham Se' sung by the Revered Guru ji for MSG-2.
*Revered Guru ji took Selfie with 3 Lac people waving with their hands
Prior to this the fans congratulated the Revered Guru ji with world's largest greeting Card masque on 22nd Aug, a masque of size 56ftx76ft=4256 square feet which took 19,412 greeting cards, at MSG sports complex Shah Satnam Ji Dham, Sirsa (Hry.)
Follow us on Facebook, Twitter, Google+, LinkedIn and Instagram, YouTube to get more updates related to sachi shiksha Spiritual Magazine, articles.